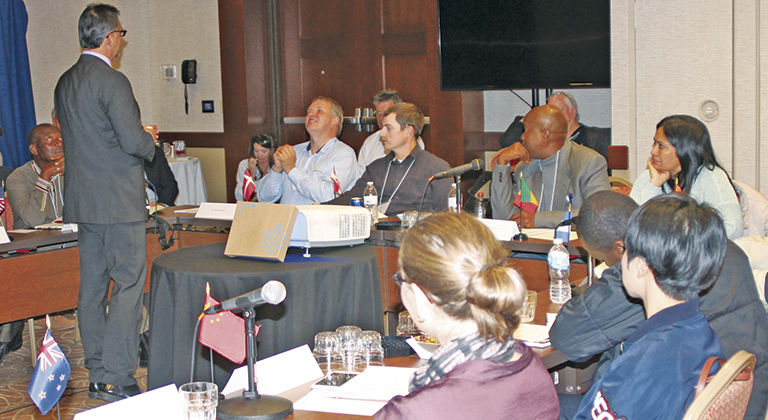 DES MOINES — Trade issues ranked high on the list of concerns of many on a panel of farmers from around the world who met in conjunction with the World Food Prize events here Oct. 17.
The 12th annual global farmer roundtable, sponsored by the Global Farmer Network, featured farmers from 14 nations. While the discussion ranged from consumer fears to access to seed and land, trade was one of the timely issues that united a number of the producers.
Canada exports about 75 to 80 percent of its agricultural production, said Jake Leguee, who farms with his family in Saskatchewan. But the push by President Trump to renegotiate the North American Free Trade Agreement (NAFTA), and reconsider or reject other trade agreements, is a problem.
"The looming shadow over all of that is President Trump," Leguee said. "We just don't know where that's going to go."
"We're price-takers … so any dispute in the trade market is a disruption on the farm," said Jennifer Schmidt, who farms in Maryland.
Andrew Osmond, who farms in the United Kingdom, is facing a similar trade problem due to Britain's withdrawal from the European Union, the so-called Brexit.
"It's a huge issue," Osmond said.
Farmers will simply have to adapt, he said, but it will make trade more difficult.
And Brexit could impact farmers in places such as New Zealand, as well, according to Mel Poulton, who raises beef and lamb there with her husband, Mike. The fact that the UK has been part of the EU has allowed New Zealand to ship to the EU through the UK.
Brexit could potentially help some farmers in Europe, said Knud Bay-Smidt, who farms in Denmark. Since some laborers may be less likely to take jobs in Britain, it could make farm labor more available in Europe, he explained.
And some farmers are actually seeing an improvement on the trade front. For example, Argentina has been a protectionist country for most of the past decade, but it is starting to reduce trade barriers now, said Pedro Manuel Vigneau, who farms there.
"Twelve years ago we said goodbye to the world," he said, describing large taxes that were put on exports. "We are starting to say hello to the world again."
All of the farmers said issues of consumer acceptance and misinformation are a problem, especially in regard to environmental issues and technology. Too often, they said, consumers or environmental groups paint farmers as bad or all farm chemicals as evil.
Bay-Smidt described the atmosphere as "chemo-phobic," and said European consumers and governments appear to want to tell the rest of the world what to do.
Schmidt said her farm in the Chesapeake Bay region had trouble finding poultry manure to use as fertilizer because of pressure from environmental regulators.
But for the farmers from Africa, the bigger concerns were issues related to access to land, capital and inputs. Banks are often unwilling to lend to small farmers or those who want to produce items that are not for the export market, several said.
"Our problem is access to land," said Chibuike Emmanuel, who runs a catfish farm in Nigeria.
In some nations, the government owns much of the land and it can only be leased. In others, the problem is there is no insurance or similar way of reducing risk.
All of the producers did say they have seen the advantages of new technology and they expect that to continue in a variety of ways, from the use of cell phones to data gathering to weather sensors or stations.
Greenhouses and irrigation are a big part of the operation for Amadou Sidibe, who farms in Mali. Sidibe, who is also an architect, wants to add solar panels to his farm.