Editor's note: To mark National Ag Day coming up March 24, we rounded up statistics that make Iowa agriculture unique.
After a 30-year career in agriculture statistics, and 10 of those in Iowa, Greg Thessen said he has picked up on a few trends in the state.
Thessen is the director of the USDA National Agricultural Statistics Service Upper Midwest Regional Office. He said one of the larger trends in Iowa is how younger farmers are getting involved in the business.
One thing that hasn't changed is the state's dominance in many commodities.
"We're No. 1 in hogs and pigs, and we are ranked fairly high in cattle numbers as well," Thessen said. "They seem to continue to grow."
Iowa's hog production is more than double that of the second place state, North Carolina, according to the 2019 rankings on the USDA NASS website. In cattle inventory, Iowa ranks eighth behind South Dakota, and Iowa ranks fourth for total cattle and calves on feed.
While Iowa's total number of cattle and calves have remained largely steady over the past five years, Thessen pointed out the number of cattle on feed has increased nearly 100,000 head since 2015. Hogs have seen steady population increases in Iowa, from 18.8 million head in 2010 to 23.7 million head in 2019.
On the grain side of the charts, many Iowans know the state is focused largely on two crops, corn and soybeans. Corn has taken up at least 13 million acres each of the past five years and soybeans have ranged from 9.7 million to 10 million acres since 2014.
"It hasn't changed a whole lot," Thessen said. "Farmers here seem to be pretty much set on their corn-soybean rotations."
While the domination of those two crops is unlikely to change, other crops have carved out a niche in Iowa agriculture. Iowa ranks eighth in the nation in oat production and alfalfa production.
Oats accounted for 135,000 planted acres in 2018, while alfalfa had 620,000 acres harvested that same year.
"Oats are quite a bit smaller as far as the amount of acres, but it still would be the third largest grown crop here in the state," Thessen said.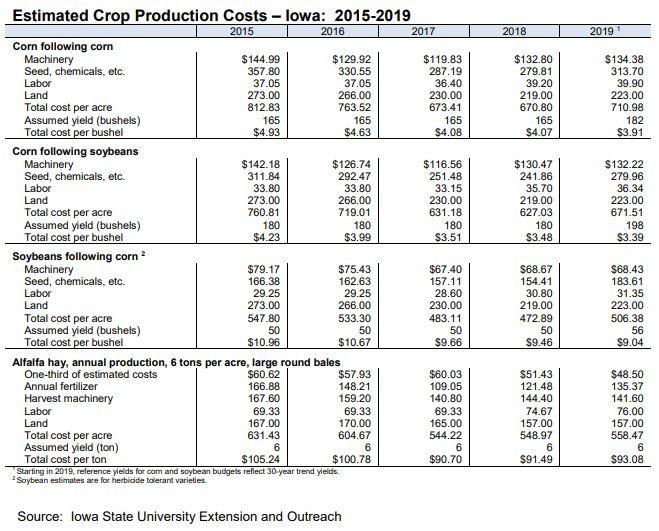 One negative trend in Iowa agriculture has been the overall decline in farms. Since 2014, the total number of farms has declined by 1,700 through 2018. However, it is not due to a loss of farmland, as the average size of a farm has grown to 356 acres.
"I would say the number of farms continue to decline, but it's not as rapid as it has been in previous decades," Thessen said. "That's more stress on the farmers."