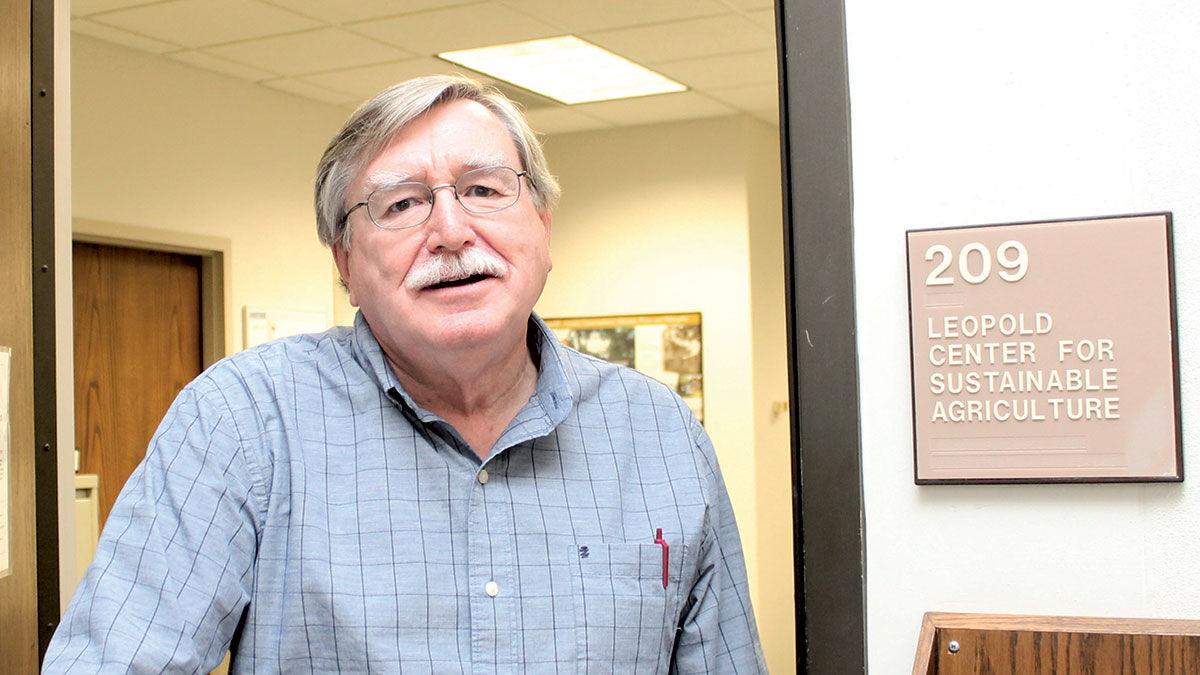 AMES, Iowa — July 1 marked the end of another era for the Leopold Center for Sustainable Agriculture at Iowa State University when Mark Rasmussen retired as its director and moved his things to an office across campus where he and other "emeritus" professors gather.
"We call it GITMO," he says with a laugh as he looks around his new digs.
The phrase, of course, refers to the prison in Cuba, but it is meant in jest by a group of older professors who approach life with a sense of humor. That humor has been an important coping mechanism for Rasmussen, who served as director of the Leopold Center for nine years and was the man in charge when the legislature blindsided its supporters by defunding it in 2017.
That was a dark day, Rasmussen says.
"Agriculture has a thin skin," he says.
The center was formed as part of the Iowa Groundwater Protection Act in 1987, and it was at least in part a response to the farm crisis of the 1980s. As such, it was meant to challenge the status quo and to question the way agriculture functions in the state. But when part of the job is to question the way things are done, it shouldn't be a surprise that some people get upset, Rasmussen says.
Rasmussen did a little more upsetting recently when he questioned the formation of a carbon sequestration task force in Iowa that had no representation from environmental organizations. He openly questioned the wisdom of making ethanol out of corn, saying that it encouraged more row-crop production on land that might be better used as pasture and in some ways was like "putting dirt in your gas tank."
"I upset the industry by talking about that," he says.
But he says his point wasn't that ethanol production wrong, but rather that there needs to be an open discussion about what agricultural practices and products actually do when it comes to carbon and water quality and the environment. Agriculture clearly has a part to play in carbon sequestration and climate change, he says, but there are limits to that part as well.
"We need to know a lot more," he says.
All of this controversy is just part of the deal when it comes to the idea of the Leopold Center, Rasmussen says.
But the center is a shadow of what it once was, thanks to the political pressure that led to its defunding. When it was formed, the funding came primarily from a fee on fertilizer sales. When the legislature suddenly defunded the center in 2017, the only money left was a small pool from the interest earned by its endowment. When the defunding happened, legislators who were pushing it also approved language to eliminate the center, but Gov. Terry Branstad was pressured by numerous supporters of the center and ended up vetoing that part of the legislation.
It didn't hurt that the organization's supporters pointed out the state and the university couldn't use the endowment because it was strictly for use by the center. Since then, Rasmussen has been a one-man-show, trying to use his small pool of money wisely by funding scholarships and using it to bring in additional matching funds for various research projects. 
Now that he is retiring, the interim director of the center is Stephen Dinsmore, chair of the Department of Natural Resource Ecology and Management in the College of Agriculture at ISU.
For Rasmussen, the journey to this desk on campus has been a long one. He grew up on a farm in Nebraska and earned bachelor's and master's degrees in animal science from the University of Nebraska. He farmed for a time in the late 1970s.
"Then the '80s hit," he says.
He left the farm and earned a Ph.D. from the University of Illinois in dairy science. He worked for a time at a veterinary research farm in Tennessee started by the Eastman Company before going to the National Animal Disease Lab in 1988. He later worked for a company that was looking at algae production for energy and also at the center for veterinary medicine. He came to Iowa State to head the Leopold Center in 2012.
Throughout that long career, Rasmussen maintained a dedication to both farming and science, as well as a love for animal agriculture. Research is important, and the need for it is never-ending, he says.
And agriculture needs to make sure it is working for both the farmers and for the land. Too many farms are one-dimensional, he says.
"Too many kids don't know what the agricultural environment was when farms were smaller," he says.
That doesn't mean agriculture needs to go backwards, he adds. It means it needs to look beyond the narrow confines of specialization to welcome more diverse farms.
Just as important, he says, researchers need public funding and public support because research that depends solely on private industry funding will breed researchers that are afraid to anger that constituency.
And he adds that, unfortunately, the Leopold Center's fate reinforces that fear. The hope, he says, is that the center today can operate freely and without interference in its own small way.