WEST DES MOINES, Iowa — When Mickey Goggin talks about the refugees he works with through the Global Greens program, he beams with pride.
"They're great farmers," he says. "They grow delicious food."
They are displaced people who are hungering for a taste of home, as well as for a chance to grow and prosper and become valuable citizens in a new country, he says. And that is where the Global Greens program comes into play.
The program was started by Lutheran Services in Iowa (LSI) and is aimed, in part, at helping refugees who have fled regions of the world afflicted by violence or unrest to make a home here in the United States.
It began in 2010 and has grown, allowing the families to follow several paths to success, according to Goggin, an economic development supervisor in the program.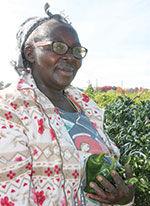 The idea goes something like this: A family starts with a 10x10-foot plot of land in a city garden in Des Moines. They grow fruits and vegetables on that plot for a year, often for their own use. Some also sell produce to friends and neighbors.
The organization runs its own farmers market and also has a booth at the Des Moines farmers market. A CSA (community supported agriculture) where the public can buy memberships and get weekly produce boxes is also a part of the operation.
If all goes well on the small plot, the family may graduate to a larger 50x50-foot plot on a 6.5 acre tract in West Des Moines. The area is fenced and includes a barn with a washing station and other items to help the farmers process their crops and prepare them for sale.
"We have about 20 families here (at the 6.5 acre tract)," says Jess Soulis, farm marketing specialist for Global Greens. "They have larger plots and some shared infrastructure."
Some families then move on to a quarter-acre plot of land and eventually may go beyond that to 2-3 acre plots.
The operation includes farmers who came to the area from places such as Burundi, Bhutan, Burma and Rwanda.
The program's leaders estimate that about 280 families at 18 sites have benefited from Global Greens. Additionally, it recently received a USDA grant for $24,000.
Global Greens has multiple goals, Goggin says. For some, it offers a simple opportunity to farm again as they may have done in their home country. For others, it's a chance to grow crops or foods that are not common or readily available in the supermarket.
For many refugees, it offers a chance to become entrepreneurs and to work toward a better life in Iowa. They can augment their income, or they might eventually become full-time farmers and businesspeople.
These refugees are people who want to make their way in the world, says Goggin. Some of them were farmers in their former homelands, while others see this as an opportunity to become farmers here.