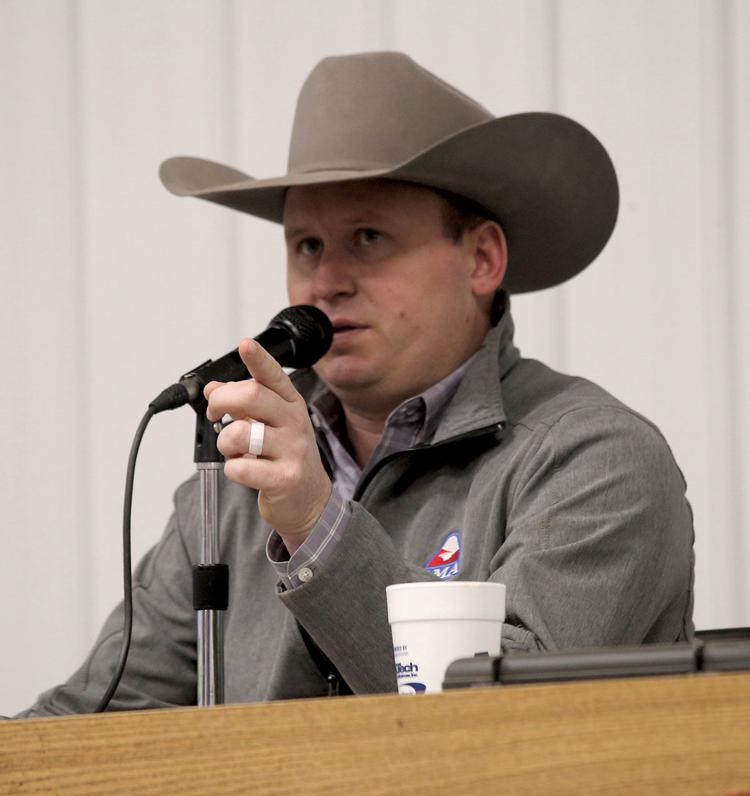 CLARINDA, Iowa — Russele Sleep's eyes scan the crowd as a couple dozen heifers fill the sale ring.
He looks up from the constant motion in the ring, searching for bids while his voice settles into a chant similar to those heard at livestock auctions for decades.
"When the bidding is hot, that's when it really gets fun," Sleep says. "It's pretty exciting."
Sleep, a native of Bedford, Iowa, works as a contract auctioneer for six livestock markets in Iowa, Missouri and Kansas. He also raises cattle with his family in Taylor County. He completed auctioneer's school in February 2004 and immediately started working in Maryville, Missouri. After two years, he gave up his position to become a full-time contract auctioneer.
"I always went to cattle sales as a boy, and I knew I always wanted to be involved somehow in the livestock auction business," Sleep says. "I went to auctioneer's school and it just seemed to come naturally to me."
Over time, his reputation grew to where it is today — working markets in Clarinda and Russell, Iowa; Green City and Unionville, Missouri; and Fort Scott, Kansas. And in 2019, he won the World Livestock Auctioneer Championship.
"That was pretty special," Sleep says. "It's still hard to believe I won that."
His winning chant can be heard online at bit.ly/385ylVy.
His work schedule is indicative of the demand for good livestock auctioneers, says Kristen Parman, vice president of marketing services for the Livestock Marketing Association.
"A good auctioneer knows the value and the quality of the livestock they are selling," she says. "There is definitely a demand and opportunities for new talent to work in the business."
Parman says there are several auctioneer schools in the U.S. She says the livestock markets LMA represents are generally on the lookout for new talent coming out of the schools.
"Traditionally, the market owner was also the auctioneer, but we see markets where the owner is not an auctioneer," she says. "They're looking for someone to come in to work on a contract. It's a great situation for both the owner and the auctioneer."
Even with advances in technology at the livestock markets, Parman says there is still no substitute for the auctioneer.
"They know the livestock, they know the markets, and they know the important role they play in the sale," she says.
Sleep says his career path has been what he had hoped for when he left auctioneer's school in 2004, including meeting his goal of winning the world title.
He recognizes that while livestock markets may have changed somewhat when it comes to new technology and guidelines, the role of the auctioneer has remained relatively the same.
"In our day and age, there are so many online auctions, and that is a great way to market livestock," Sleep says. "But I still think you are going to get more out of cattle at a live auction. You want that bidding competition and excitement to build. That's why I think there is always going to be a place for someone like me."
Some things, he adds, do not need to change.
"Auctioneering is something that has been happening for hundreds of years," Sleep says. "We really are the last of a dying breed to continue to conduct business the way we do."