More than 25 percent of the public schools in America are rural, with one in six students from rural areas.
This is according to the Why Rural Matters 2015-16 report, a biennial report released in June 2017 which examines rural education across the nation — the demographics and challenges that face some rural schools.
"The challenges students face in many rural places are staggering," write the report's authors, Daniel Schowalter of Eastern Mennonite University, Robert Klein of Ohio University, Jerry Johnson of University of Central Florida and Sara L. Hartman of Ohio University. "Lack of adequate resources, struggles with teacher recruitment and retention, a shortage of early childhood services and other challenges continue to daunt many rural communities."
In addition, only 17 percent of state education funding went to rural districts at the time of the report, they said.
But Rural School Advocates of Iowa board member and Clarion-Goldfield-Dows district superintendent Robert Olson said there has been recent positive momentum in the state.
"When you are sparsely populated, it costs more to move your students," Olson said. "... One good move the legislature has done is to provide some funding for rural schools that have high transportation costs. It's not there yet, but they've made a step."
More than half of Iowa's school districts are classified as rural, coming in at 50.3 percent, 12th in the nation percentage wise. Illinois checked in with 20.9 percent of schools classifying as rural, according to the report, and 56.7 percent of those being "small rural school districts."
In terms of college readiness, the overall graduation rate in rural schools was 88.4 percent, compared to the national average of 87.3 percent
Iowa had one of the best rural graduation rates at 93.2 percent, but where the state lacks is the percentage of juniors and seniors taking advanced placement classes. Only 17.1 percent of students are taking the AP classes, while the national average is 28 percent.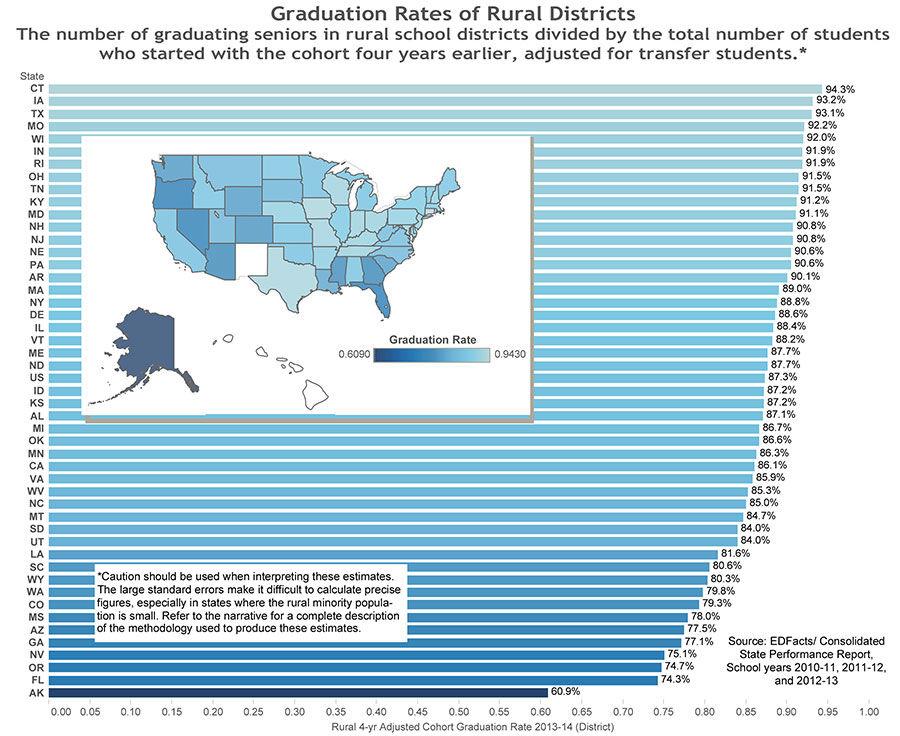 However, Olson said these numbers can be misleading as his school doesn't offer AP classes, and instead offers classes in conjunction with the local community college.
"When students are done with those classes, students receive a grade and credit," he said. "Those classes are at no cost to the student. The AP classes, you take the class and when it's done you can take a proficiency test at the end, and if you score high enough you get the credit. That class also costs money."
Missouri, like Iowa, also comes in high on graduation rate, with 92.2 percent of rural students graduating (sixth best in the country).
The state's worst national ranking comes in the form of instructional salaries, where Missouri spends the second lowest amount at $44,117 (national average is $57,798) behind only Kansas.
---