NEW HAMPTON, Iowa — High school students here are learning MIG welding from Ashley Mattke, industrial technology teacher.
Each takes a turn and then they study each other's work. When they get overly ambitious, Mattke reminds them "we're taking baby steps."
Welding is one of the skills Mattke teaches in the new ag-industrial technology center at New Hampton High School. Students are also learning to operate a plasma table, a lathe, a mill, a sand blaster and a pipe bender, as well as table and band saws.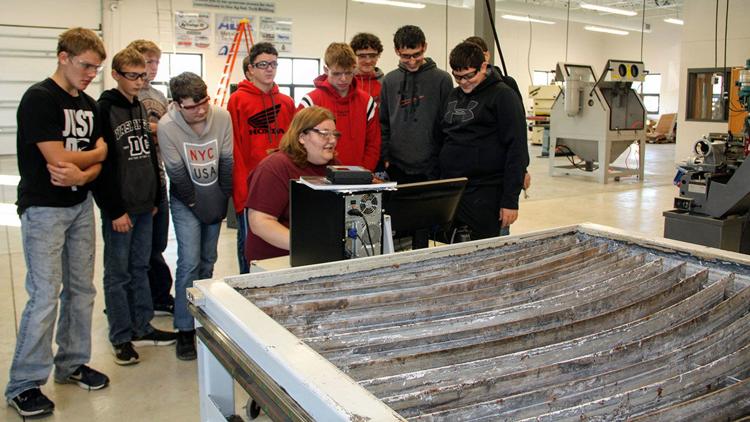 The center was built using some out-of-the-box thinking on the part of school administration, ag education and industrial technology staff, New Hampton FFA Alumni, and community businesses and individuals.
Students started classes in the new shop at the end of October.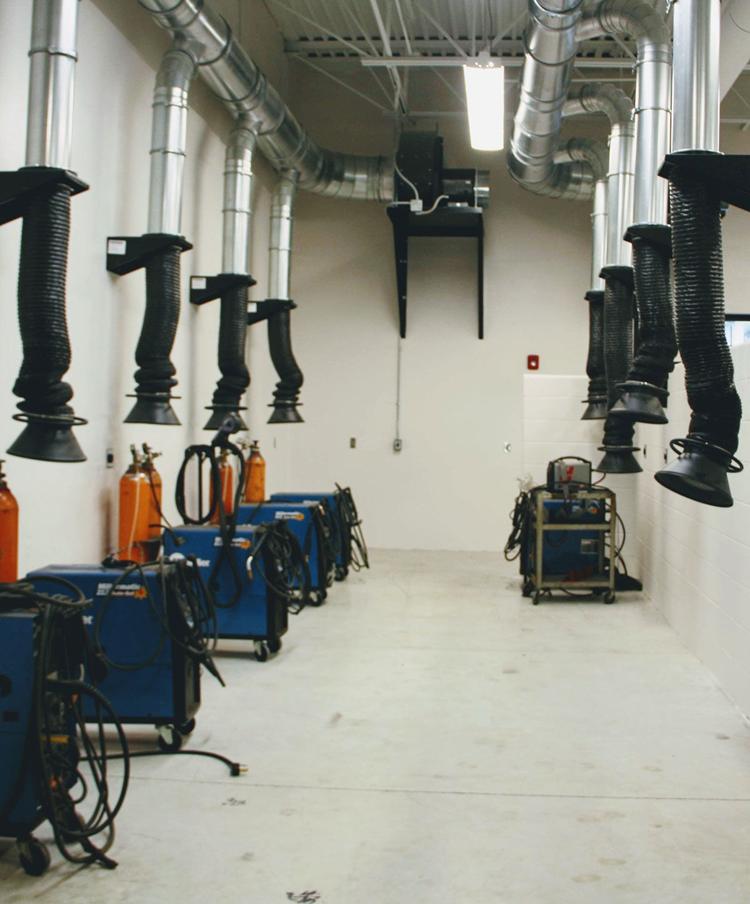 "This is definitely a lot nicer than the old one," said sophomore Connor Noehl. "It's nice to learn with new stuff and know what you're doing."
What he learns in industrial technology is a lot more applicable to future jobs than his other classes, Noehl said.
"This is something I'll probably use in my life," he said. "This is something everyone should know, just the basics of stuff."
Junior Eric Plagman said the new center is more open than the old, cramped facilities.
"You don't feel crowded, and it feels safer," Plagman said.
Freshman FFA member Quinten Reicks likes how there are many things a student can do out in the shop. There's more space to work with, and newer equipment.
"Welding, sand blasting, a plasma table, a lot of that equipment we don't have in our home shop," said Reicks, who likes to refurbish tractors and cars. "It will be nice to be able to experience some of those machines."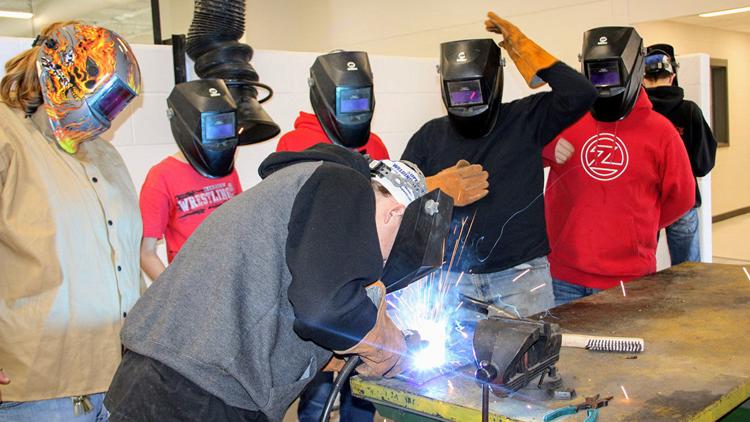 Plans for the ag-industrial technology center were originally part of the bond issue for the new middle school, said agricultural education teacher Jim Russ. Plans were for a smaller facility than what they had hoped for, but it was what the money would cover.
But before construction started, school board members met with ag and industrial technology staff and said they thought there would be about $500,000 left in the contingency fund and asked what they would do with it if there was money left. The teachers proposed a 36x80-foot addition to what was already planned.
At the meeting, the contractor said if they did the work at the time of construction, they could save $200,000 (making the cost $300,000) because they wouldn't have to pour an additional foundation, build an extra wall, cut windows in and another door, Russ said.
Russ, Mattke and industrial technology instructor at the time Mike Kuennen decided they needed to raise the funds for the larger addition. They took their proposal to Superintendent Jay Jurrens.
New Hampton FFA Alumni agreed to fundraise and the school board gave them one month. The FFA Alumni raised $60,000. In addition, ATEK Metal Technologies, a New Hampton foundry manufacturing business, and Northeast Iowa Community College each pledged $100,000 to the project. The school board agreed to a larger ag-industrial tech center.
"Basically, we doubled the size of the shop area," Russ said.
Emily Schwickerath, FFA Alumni secretary, said the New Hampton group believes in students learning hands-on, real-life material, and the shop that was proposed to be built just wasn't going to be big enough for the students and instructors.
"The alumni banded together to contact several local businesses and individuals within the school district to spread the word that we would like to give our students and our school a shop it deserves," Schwickerath said. "Individual alumni members also donated funds to the shop."
The center is a "fantastic addition" to the New Hampton Community School District and to the ag/IT program at the school, said Schwickerath, who is assistant vice president and ag lender at Bank Iowa in Lawler.
"It is going to open so many doors to the kids for several decades down the road," she said. "I am so excited to see the present and future students be able to use the center to further their education so they can be even more successful after they leave high school than they may have been without the experience of learning different trades."
The new shop has created more space for ag education classes, which are now held in the old shop, which has been cleaned and painted. Before there was just one ag classroom with seating for 24.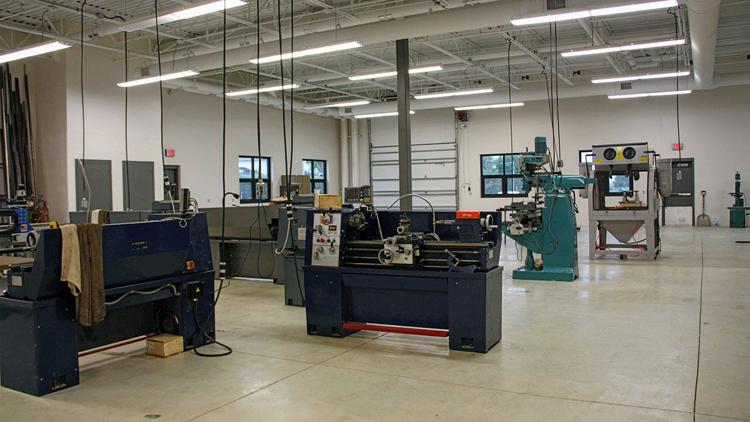 "Doing the Curriculum for Agricultural Science Education or CASE classes which have a lot of labs was really cramped," Russ said. "Now we have room to spread out."