VINTON, Iowa — Mary Jo Hainstock believes school lunches can be nutritious and fresh, and if things go as planned, her students will be eating even more locally grown food.
Hainstock, who serves as superintendent for the Vinton- Shellsburg Community School District in Benton County, Iowa, is part of a team working to connect the school and local growers. The goal: adding more locally grown fruits and vegetables, as well as locally raised meat.
Vinton-Shellsburg recently received a Farm to School grant from the USDA to assist in planning the program in the district.
"We have had a fairly active Farm to School chapter here for four years," Hainstock says. "We had this as a goal, and the grant really helped us refocus on what we wanted to do."
The chapter includes community members, farmers, livestock producers, Iowa State Extension and produce growers, among others.
"We've been working to build awareness of the Farm to School program," Hainstock says. "It's important that we're able to connect the kids to the source of some of the food they eat."
The program was featured at the district's back to school night recently, where locally sourced food was available for tasting. A meeting is also planned in October for growers and producers who are interested in being part of the Farm to School program.
"We have a lot of interest, and we are looking for farmers who are able to provide us with X amount of apples or X amount of tomatoes at a specific time," Hainstock says, adding some local residents have been donating produce and fruit for the school's salad bar.
Many schools contract with local growers on various items, says Chelsea Krist, Farm to School coordinator for Iowa State Extension. Some may purchase what Krist calls "second foods" — the less attractive fruits and vegetables which may not sell at a farmers market, for example.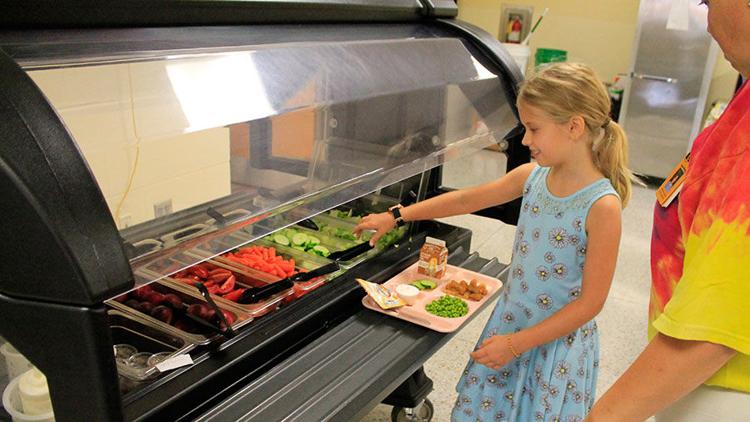 Interest continues to skyrocket in farm-to-school programs, she says. Iowa, Illinois and Missouri programs are part of the National Farm to School Network, an "information, advocacy and networking hub for communities working to bring local food sourcing, school gardens and food and agriculture education into schools," according to its website.
Iowa's Farm to School program was created in 2007.
Interest in the program varies, from schools creating their own vegetable gardens to districts working with local growers and producers, she says. She says most schools are unable to meet their needs completely through local sources, using the Farm to School program to supplement other resources.
Most schools develop a committee to look into locally sourced food. Krist says her office is available to help them start, and to offer guidance throughout the process,
"We're looking at schools with a school-wide culture of health and wellness," she says. "They want to offer their students fresh and healthy food."
ISU Extension also offers other technical support, Krist says. Food service personnel may require training, since many have not handled fresh food.
"The food service departments we have worked with are all very excited about working with fresh food," Krist says.
Oct. 11 is Iowa's second annual Local Food Day, and she says programs will be taking place around the state to promote local growers and producers.
"We just continue to have more and more interest in the program," Krist says. "We think it's just going to grow."
Hainstock says the school district will continue to work to identify partners who are capable of providing the amount of food needed by students.
"We literally have to watch our pennies when it comes to the school lunch program, so we have to make sure this works financially as well," she says. "That's one of the biggest challenges we face."
Hainstock says several growers near the eastern Iowa school have expressed interest in possibly expanding an existing garden or field to supply produce to the district.
She adds both students and school personnel take notice when fresh food is available.
"The kids have been very supportive, and our staff has taken training so they can properly prepare what we are serving," Hainstock says. "They're working together on recipes for things the kids might like.
"I think everyone is excited about the farm-to-school program and what we hope it will eventually become."