DES MOINES — From increased ease of use in displays to additional sensors to alert farmers of an issue, the next big (or small) thing is always changing in agriculture technology, but one word continued to be thrown around at the Iowa Power Farming Show Jan. 29-31 in Des Moines: autonomous.
Scott Meldrum, an associate with John Deere, said he expects continued advancement of autonomous technology, and said soon we could be seeing tractors running by themselves in the field.
"I really think that artificial intelligence or autonomy is going to play a factor in farming," Meldrum said. "It may not be in the next one or two years, but in the next five or 10 for sure.
"Our skilled labor force is dwindling and our machines aren't getting any smaller. If we have something that can be done autonomously in the field, we are probably going to start seeing it go that way."
Advantages of autonomous vehicles are easy to spot, from efficiency to limiting the amount of hired help a farmer might need.
However, one of the challenges is going to be convincing farmers that this is technology they can trust.
"There has to be some form of a trust factor," Meldrum said. "Someday you may see a tractor alone in the field, but I think the autonomous grain cart, so it's not off on its own, is probably the first baby step. I think that maybe you could see something in the tillage realm where there's maybe two pieces of equipment, a leader and a follower type of thing."
With very new technology, the other factor that could make farmers hesitate to make purchases of an unknown commodity is cost.
"The biggest challenge is showing the customers that return on investment, and is it really worth it for them to spend the money and see the value in that," said David Brennan, territory sales manager for Case IH. "Those options can be expensive, especially when we roll it all together."
Bruce Ristau, district sales manager for Kinze, echoed those thoughts. He noted that farmers could shy away from technology they either don't know how to use or that is difficult to learn.
"They want it to work," Ristau said. "They want it to continue to be simple because you just don't know who's going to be running that tractor."
Kinze's new Blue Vantage display was being promoted at the show, and it features the ability to begin running a planter with three pushes of a button by the producer. Ristau said that farmers can make the process as detailed as their operation requires, but simplicity is the goal they hope to offer.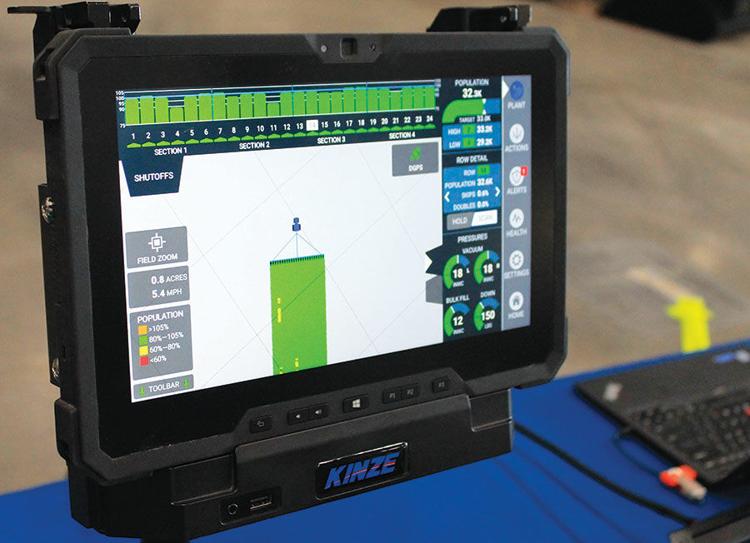 Along with new technological advances comes the valuable data farmers use to make decisions for their operations. Meldrum said with increased readings, farmers can adjust on the fly and make sure they are doing what is best for their farm.
"Every single piece of equipment or operation that we are doing on the farm is going to gather data in some way," Meldrum said. "We are gathering tillage data now, so that factors into decision making. Data-driven decisions are what these growers need, so they need good solid verifiable data to make those decisions out of."
Once farmers buy in, Meldrum said imagination will be the only thing holding technology back.
"Going from there, the sky is the limit eventually, but we've got to baby step to get there so the farmers trust it," he said.