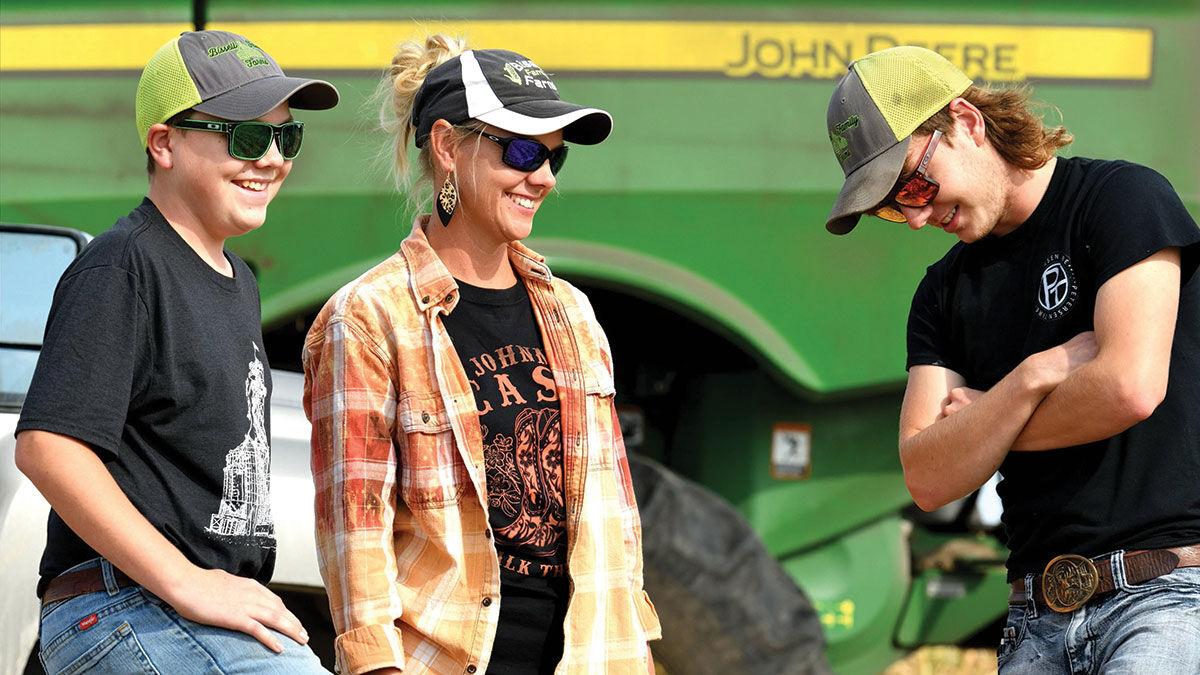 As children grow, they learn how to live by watching and imitating their parents, whether that's through word or deed.
As a mother of two boys, Aimee Bissell hopes to be that example in the field and in life.
"When they were young, I got to thinking that I want those boys to marry somebody that's strong, independent but also really supportive of their spouse," she said. "The best way for me to achieve that for them is to show them what it looks like. That's why I want to be the best mom I can be, the best wife and best supporter I can be in whatever fashion that looks like."
Bissell farms with her husband Klint near Bedford, Iowa, with their two sons, Braydon, 17, and Tucker, 13. Aimee said the boys are definitely taking after their parents and always thinking about farming, even when they are at school. As Braden and Tucker have grown, they have continued to assist their parents in the field.
As a mother, Aimee said she couldn't ask for more.
"It's pretty much all they think about," Aimee said. "The role I have in the spring, I love it. I don't run either planter. I get to watch it all happen. I like planning and organizing — that's fun for me. So I make sure the seed tender has the correct seed in it and that means I get to interact with each of them multiple times a day."
She said taking on what she called the "gopher" role, going back-and-forth getting them set up with what they need, allows her to stay a big part of her sons' lives even during the busiest times of the year.
Aimee is a licensed respiratory therapist and has worked in a hospital for nearly 20 years in addition to farming. However, she recently decided to focus entirely on farming and the family, as the hours were cutting into what she wanted to be doing.
"I chose not to continue that lifestyle of having that 12-hour shift job and taking calls and having that responsibility," Bissell said. "I wanted to have a lot more control over my life and their lives. We wanted more control over our own success."
Bissell said she hopes to teach her sons life skills by having them involved in many aspects of the operation. Teaching communication and holding a relationship with dealers is something that can only be taught through experience. She said being organized is also a key skill she wants to pass along, as office work can be a "leaky area" for some operations.
"That's not always the stuff they would like to do, but I get to teach the boys how important that stuff is," she said. "We can increase our bottom line just by some of the documentation we do and the research we are able to do on a farm. But it takes time in an office to do that."
While the boys will ultimately decide where their life's path will take them, if they decide to continue farming, Aimee said she hopes the farm will be able to help them get a start wherever they decide to go.
"It's fun," she said. "It's so cool to just look at what we are creating. We are borrowing this farm ground from our children, or that's how we see it. Some of their fondest memories as they get older and have children of their own will include us on the farm. Not a toy, not a trip we took, but the livelihood we built for them."