CLEAR LAKE, Iowa — Casey Schlichting knows he is one of the lucky ones when it comes to high-speed internet access.
"We are online so much any more, I don't know how you could survive without it," Schlichting says. "Everything we do is online."
Luckily, he lives near the freeway and an urban area. He has excellent internet access. The same is not true of everyone.
The 2017 Census of Agriculture reports about 75% of farmers in the United States have internet access, and in Iowa that figure is more like 80%. The Federal Communication Commission (FCC) echoes that figure, but some lawmakers say it's inaccurate and doesn't reflect gaps in service or areas where there is access, but it is slow.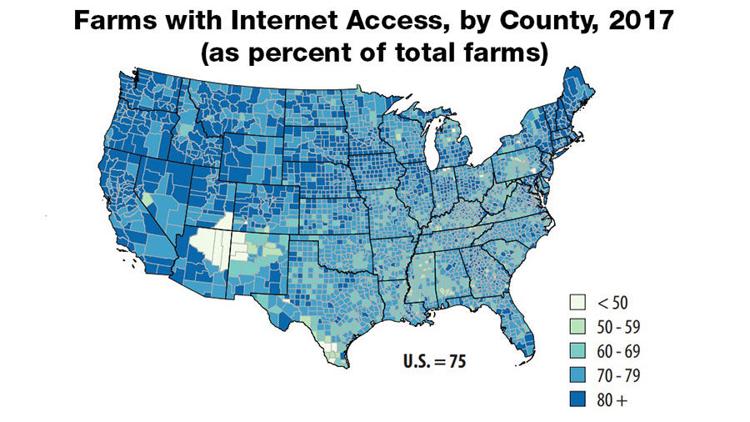 "I was surprised to see those numbers," said Mark Schleusener, Illinois state statistician with the National Agricultural Statistics Service.
He speculates one factor may be the aging of farmers. The ag census lists the average age of farmers and ranchers at 57.5.
"And for a fair number of people, (internet service) was not part of their farm operation, and they don't need it," Schleusener said. "Lot and lots of farmers have mobile phones that will do just about everything. Still, connectivity in the rural areas is a big issue."
Sen. Charles Grassley, R-Iowa, and Sen. Joni Ernst, R-Iowa, co-signed a letter to FCC Chairman Ajit Pai in July regarding the FCC's role in ensuring the accuracy of broadband maps.
In their letter they cite the example of Chickasaw County, a rural area in northeastern Iowa. The FCC reports universal broadband access, the senators say, but usage data from technology companies suggests that only 5.9% of the county's residents have high-speed internet.
Although progress has been made in the past two decades, a digital gap still exists,
Grassley says, adding that a recent Pew Research Center survey indicates there is a 12-percentage-point gap in home broadband connectivity between rural residents and everyone else. It also says access to high-speed internet is much lower in rural areas.
At the state level, officials have talked about issues related to internet access and speed in rural areas. In 2015 the legislature passed the Connect Every Acre Act aimed at boosting rural broadband access. Gov. Kim Reynolds started the Governor's Empower Rural Iowa Initiative aimed at boosting the economy in rural areas, and one of the items that initiative has emphasized is rural high-speed broadband access.
Still, it isn't an easy process. Just as was the case with electricity in the 1930s, it is more expensive to get high-speed access to rural areas than it is for urban areas, thanks to lower population density.
In Illinois, Director of Agriculture John Sullivan, who is leading the state's latest push to improve rural internet service, doesn't have to go far to find an example of the need. It's right on his farm.
"There are unserved and underserved areas of the state," Sullivan said in an interview with IFT. "At my home I have internet service, but it's not adequate. It's not consistent. It's impossible to do any kind of computer work at home. If I have to do a webinar or something, I can't do that from my home."
It is a complex issue. Options include laying of fiber optic cable, fixed wireless or other infrastructure. And part of the solution will necessarily involve avoiding duplication of work. The federal government, private enterprise and non-profit organizations are also working on improving broadband coverage.
"The next thing we have to decide is where we concentrate our efforts," Sullivan said. "Do we look at the unserved areas, or do we look at the under-served areas? Are we going to concentrate on getting the speeds up to a specific level?
"In our calculations, we've also taken into account that technology is changing every day. A few years down the road, that will make providing additional services we don't even know exist yet. There is a lot of work yet to do."
Additional reporting by Nat Williams.