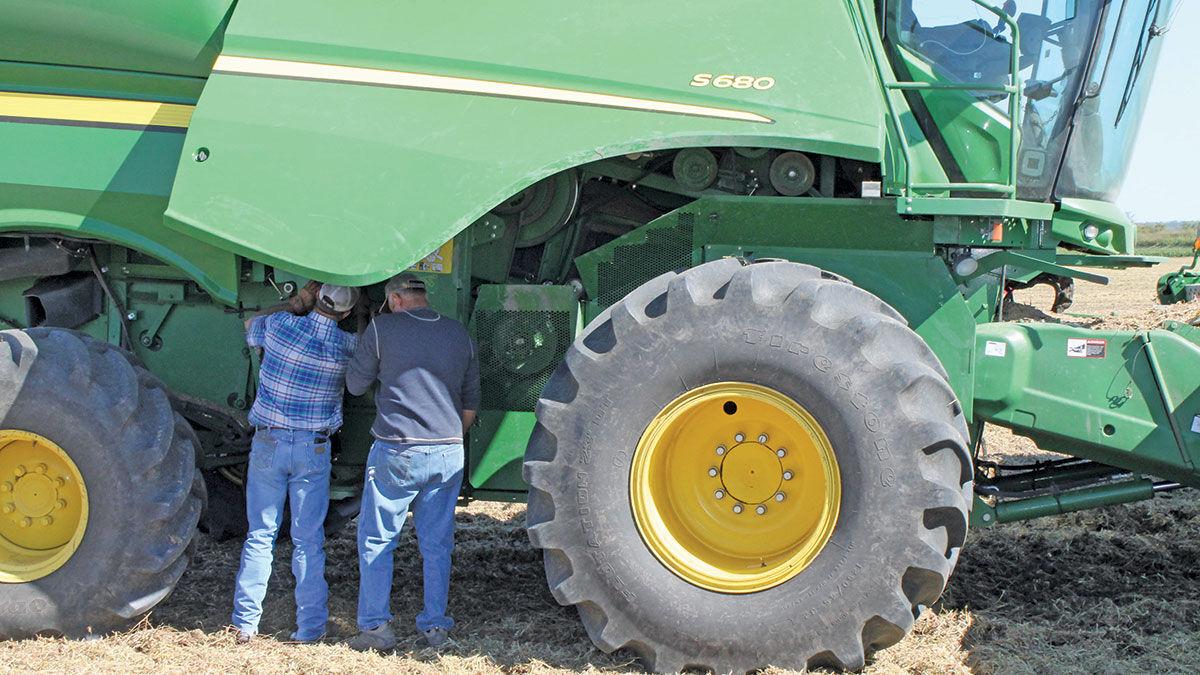 Harvest season is rapidly approaching for corn and soybean farmers, and any delays in the field are going to be a point of frustration. Delays from weather are tough to control, but preparing equipment for a full season is a way to hedge against any interruptions this fall.
When it comes to machine prep, don't overthink it, said Doyle Huyser of Kruseman Implement in Sully, Iowa. Getting an inspection from a dealer is the best way to get any issues quickly identified.
One concern for equipment dealers is that for any farmers who have put off their inspection, the COVID shortages may mean a little extra time to get anything done.
"It's starting to get hard to get parts now," Huyser said. "People who have been waiting until the last minute and think they are going to get it back in two or three weeks, that doesn't work so well. You have to plan ahead well before harvest."
The shortages extend through parts and machinery, Huyser said, noting it's hard to find used machines for farmers looking for an updated model.
When it comes to being prepared, nothing beats a good checkup, he said.
For combine headers, make sure electrical connections are secure and hydraulics are clean, said Michael Schmidt of Central Illinois Ag.
"Inspect those areas," Schmidt said. "If you have an oil leak or anything, let's get it checked before the season starts."
He said a key spot to get checked out is the top sprocket drive and rock track drive. He said there can wear in those areas and it might cause a stoppage in the field. If it's spotted ahead of time, it should be a quick turnaround.
He said many of the flagship Case IH combines have a two-stage unload systems, and if those chains are loose, it could shock the load drive mechanisms.
"We recommend you oil those daily," Schmidt said. "If you aren't, annually replace them at the start of the season. It's a small expense to minimize any downtime."
Schmidt said be careful of any openings in the combine, as that could be a spot for mice or other rodents to get inside and cause havoc on wiring.
"If you see anything hanging or dangling, give it a wiggle and maybe you'll break something loose before it goes into the field and breaks," he said.
Ryan Bergman, Iowa State University Extension specialist, said maintenance isn't always about efficiency, but safety as well. Cleaning mirrors and windows in the combines will help those in the cab avoid possible mishaps in the field, while cleaning lights on the combine will add safety on the roads between fields.
"Try to keep glass cleaner and paper towels or rags in your cab to clean your machine daily and prevent accidents that can occur from not seeing a car or other obstacle on the road," Bergman said
If rains come in and harvest is delayed, be careful of getting stuck in the field, he said. If that does happen, ensure that tow ropes are in good working condition.
"Use tow ropes in good condition instead of chains, but if you are using chains, make sure both ends are in good condition," Bergman said. "It's best to stand far away and communicate with the operator of the equipment using either cell phones or two-way radios."