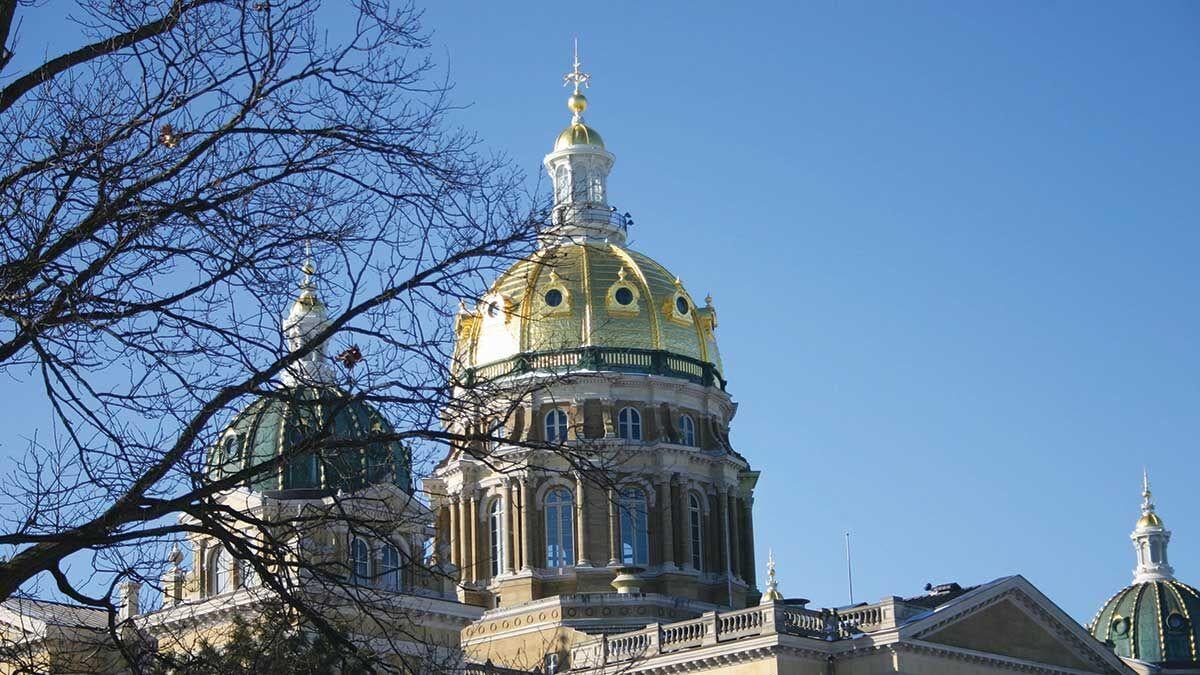 Tax cuts appear to be on the agenda when the Iowa legislature convenes next week, and while many Iowa agricultural leaders would welcome cuts, they are also interested in other things.
"First off, there are some dollars there," says Iowa Cattlemen's Association Chief Executive Officer Matt Deppe. "That's good and challenging at the same time."
The good thing is that there could be the possibility of funding for new programs or increasing funding for important programs, Deppe says. And tax reform could be a good thing. On the other side of the coin, some types of tax cuts could put more pressure on local governments or property taxes, and that could hurt farmers.
Republican legislative leaders said in December they plan to look at large tax cuts, and some have said they would like to reduce or completely eliminate the state's income tax. Democrats, who have relatively little power in the Republican-
controlled legislature, have said they would prefer targeted tax cuts aimed at low and middle- income families and small businesses. They have also said a significant part of the state's present budget surplus was due to a large influx of one-time money from the federal government in the form of COVID aid.
The idea of totally eliminating the income tax concerns Iowa Farmers Union President Aaron Lehman.
"It's a huge chunk of money," Lehman says. "My concern is that it would be a shift in tax burden."
Deppe says farmers are looking for stability and predictability when it comes to tax policy.
"Clarity is important," he says.
Either way, it appears the legislature is headed toward a tax cut or tax reform debate in 2022.
Of course, agricultural leaders have other issues they would like to see the legislature discuss. One is the effort to help the state's meat lockers. In 2021 the state passed legislation aimed at helping that industry in the wake of COVID-19. The recent supply chain issues continue to shine a spotlight on that effort, and there could be another push to help that industry.
"There is a tremendous potential to help rural communities," Lehman says.
A state task force that is looking at that industry also looked at the shortage of agricultural labor, Deppe says. Whether that will lead to more job training programs or loosened labor rules or other efforts to recruit workers to come to Iowa is still up in the air.
Local foods are also important, Lehman says, and a state program to help schools use local foods could be expanded. Again, he says that local foods and the support of local foods programs are good ways of boosting rural economies.
Iowa Secretary of Agriculture Mike Naig has talked about bringing back and expanding the "Choose Iowa" marketing program, and that could have support from agricultural groups.
Ethanol and biofuels may be a topic of discussion at some point, and it is possible the state may consider some additional funding for programs for biofuel infrastructure. Last year Gov. Kim Reynolds proposed a state biofuel standard, but that legislation failed to pass.
Finally, clean water remains a concern. In 2018 the legislature passed Senate File 512, which provided a long-term revenue stream for water quality efforts in the state. Naig has praised that bill, saying it has allowed farmers and policy-makers to work on long-term efforts.
But when it was passed, leaders of both political parties said it was only a first step in the effort to improve Iowa's water quality and that more would need to be done. Since then, the legislature has taken no further steps, and environmental groups are saying that now, with a healthy budget, would be the logical time to put more funds into water-quality efforts.
"We've still got a long, long way to go," Lehman says.