MONONA, Iowa — After she moved to Iowa, Michelle Miller learned she had been lied to.
Miller, a Midwesterner by birth, went to Los Angeles for college and, after watching some documentaries and reading pointed articles, started to form some ideas about life in the food-producing world.
"When I lived in L.A., you just learned so much about what you think you know about food," Miller said. "You see those movies like 'Food, Inc.' and crazy animal cruelty videos about factory farming, and I had really become influenced by that."
However, after meeting her boyfriend and moving to Iowa, she began to realize much of what she believed was based on misconceptions.
"I was the girl who was an anti-GMO activist living in downtown Chicago only shopping at Whole Foods," she said. "That's what inspired me to speak out, because I was pissed that I was lied to."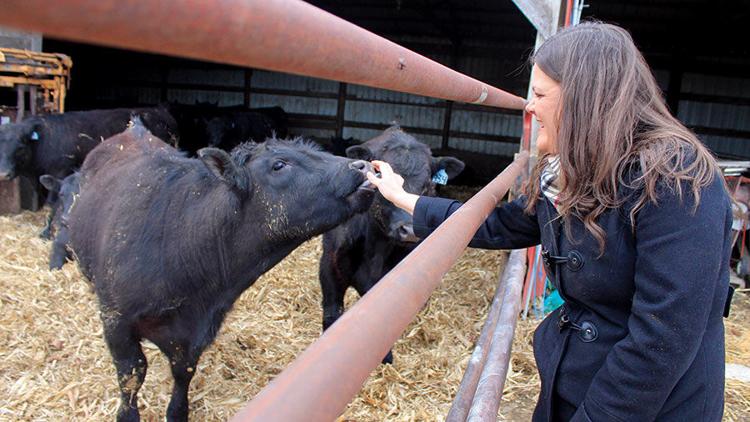 Miller created a blog, "The Farm Babe," and it has grown much faster than she ever thought.
"When I was first starting to learn these myths, I went from super anti-GMO to super pro-GMO," Miller said. "I wanted to have a creative outlet to talk about it. I was just going to start this page as a hobby, and maybe I'll get a thousand followers. Then it's turned into a full-time career."
The next big moment for Miller will be next month when she will appear on a television show hosted by Dr. Drew Pinsky. She said this is important because she would like to see more celebrities in farmers' corner.
"I feel like that's one of the biggest ways our industry is dropping the ball," Miller said. "Can we just get a freaking Kardashian on a farm already? I'm excited to be in front of Dr. Drew because hopefully this opens up some more opportunities to connect with Hollywood."
Miller grew up in Wisconsin, where she was involved in 4-H.
She eventually moved to Pensacola Beach, Florida, where working as a bartender, she met Iowa farmer Doug Sass who was visiting his sister. The two hit it off, and she moved to Iowa around 2014. Six months later, she started her blog, which took off with the help of a few viral posts.
"I used to only buy organic foods because I thought they didn't use pesticides, and I'd look for labels that said 'no added hormones in poultry,' but there's no such thing as that," she said.
Miller said when she originally learned Doug was growing GMO crops, she was surprised.
"How could this great guy be growing something so terrible?" she thought, then after learning more, "I thought 'if I'm wrong about this, what else am I wrong about?'
Miller said that pushed her to do more research, and the more she dug into the topic, the more she realized a lot of food labels are misleading or wrong. Much of her research consists of her going directly to the source. One of her favorite sites to tour are so-called concentrated animal feeding operations.
Due to the popularity of her blog, she has been invited to see many different operations, including going to Burnbrae Farms, one of Canada's largest producers. She said food companies are realizing more and more that transparency is important.
"I just want consumers to be informed," Miller said. "If you want to talk about GMOs, talk to the scientists that develop them. If you want to talk about how the food is produced, talk to the farmers or pesticide applicators. There's this amazing science that happens behind everything in our industry that is something to be so proud of. It kills me to know it's drowned out by misinformation."
Miller's following has also allowed her to start doing the convention circuit, with her first speaking engagement in December of 2015. Speaking at farm and food conferences gives her a chance to chat first-hand with scientists and professors and other experts in the field.
Her travels have taken her from a 50,000-acre vegetable farm in California to a coffee farm in Costa Rica. She said she averages 40 events per year. One of her favorite speaking engagements was the National Association for Plant Biotechnology in Dublin, Ireland.
"It's been an amazing opportunity," she said. "I just want to shout this information at the top of a mountain. I want everyone I know to come to a CAFO, and want you all to learn the real facts."
While at these events, her talk varies based on the audience, but largely focuses on how producers can more effectively advocate for their products. She said some of her favorites are when she comes face to face with a room of consumers.
"That's when I do topics like myth-busting in the grocery aisle," she said. "Is it worth it to pay $6 for a dozen eggs? These are city consumers that probably have never been to a commercial farm. They are so eager for information but they have never talked to farmers or haven't met a scientist to properly learn what a GMO is."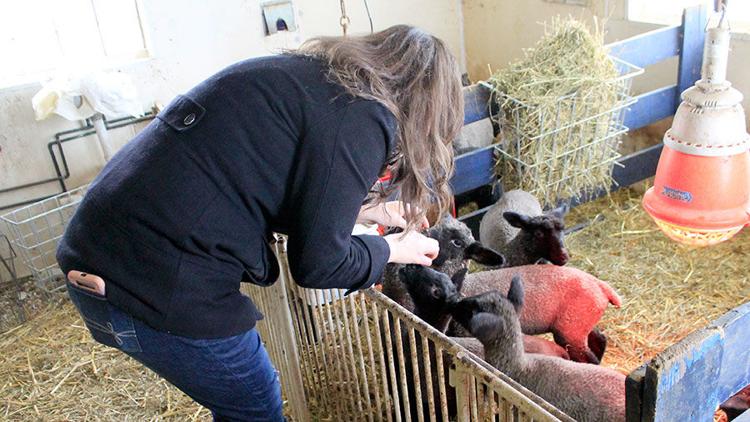 While not speaking at events or working on her full-time blog, Miller tries to be hands-on on the farm. She and Sass work with sheep and cows in addition to a row-crop operation.
"Between keeping up on social media, keeping a clean house and keep my sanity by having a social life as best I can, it keeps me pretty busy," she said. "I also do farmers markets, so we sell our beef and lamb direct in the community here."
As far as what's next, Miller said she wants to reach more people who aren't involved in agriculture.
"They are the people who need to hear our message the most," she said. "I continue to preach to the choir, which is great and I love it, but if we keep talking to ourselves we are going to get into the same predicaments. We all want the same things. We just need to understand what these terms mean."