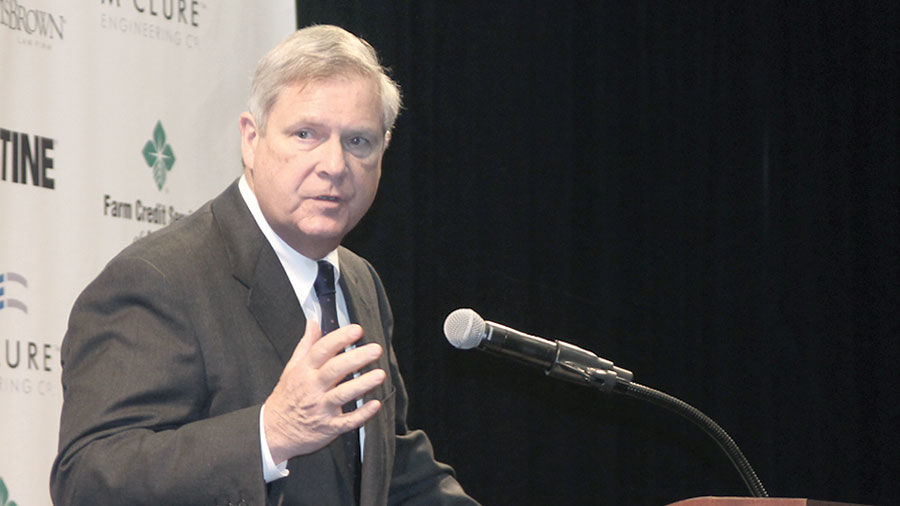 Call it déjà vu.
Former Iowa Governor Tom Vilsack, who served as Secretary of Agriculture for eight years under President Barack Obama, is going back to the USDA.
President-elect Joe Biden has nominated Vilsack to lead the agency.
While there is some opposition to the move, most in Iowa and around the Midwest praised it.
"Having an Iowan in that role is absolutely a positive for the state," says Iowa Secretary of Agriculture Mike Naig, a Republican. "And Tom Vilsack can hit the ground running."
Vilsack, a Democrat, was expected to be named to the position by President-elect Joe Biden, who worked with Vilsack during the Obama administration. The move was seen by many as a compromise between the traditional farm interests and the more liberal urban wing of the Democratic Party.
Early speculation had focused on former North Dakota Senator Heidi Heitkamp and Ohio Representative Marcia Fudge to lead the agency. Heitkamp is a relatively conservative Democrat who has focused more on commodity programs and traditional agriculture, while Fudge, an African-American, has generally been linked more with the food and rural economic development side of USDA during her time on the House Agriculture Committee.
Fudge is now expected to be named Secretary of Housing and Urban Development (HUD).
The pick may offer Democrats a chance to move ahead on issues such as climate change while still improving their relationship with rural voters who have drifted away from the party, according to former Iowa Secretary of Agriculture Patty Judge, who worked with Vilsack on an effort to improve Democratic standing in rural areas.
"We tried to elevate rural issues during the campaign," Judge said. "I think it's a great opportunity for us to push the reset button."
Iowa Farm Bureau President Craig Hill also praised the choice.
"Tom Vilsack did a pretty good job," Hill said of the former governor's last time around at USDA.
He said Vilsack is knowledgeable on issues such as biofuels, trade and climate.
"He's pretty much a known quantity," Hill said.
Hill said governors have often been good choices at USDA because the department is so large that lawmakers with experience managing entire states are sometimes better equipped to deal with the challenges of the job. Present Secretary of Agriculture Sonny Perdue is former governor of Georgia. Former governors such as Mike Johanns of Nebraska and Ed Schafer of North Dakota have also served as recent secretaries of agriculture.
Numerous agricultural organizations issued statements in response to the news that Vilsack would be named secretary of agriculture
Colin Woodall, CEO of the National Cattlemen's Beef Association, said that "former USDA Secretary Tom Vilsack is adding another chapter to an already storied career in agriculture."
"He has the unique skill set to be able to hit the ground running on day one, and cattle producers are thankful for this continuity," Woodall said in a news release. "Secretary Vilsack knows the issues facing America's cattle producers and can utilize his extensive experience to showcase the positive impact we have on food security, nutrition, and our natural resources. We look forward to working with him for the betterment of beef farmers and ranchers."
National Farmers Union President Rob Larew issued a statement saying that "between pandemic recovery, the imminent threat of climate change, rampant corporate power, and chronic overproduction, family farmers and ranchers have significant challenges ahead of them … and they need a strong Secretary of Agriculture behind them to make it through in one piece. After eight years leading USDA, Tom Vilsack has the necessary qualifications and experience to steer the agency through these turbulent times."
Vilsack would not be the first Secretary of Agriculture to serve under more than one president, but he would be the first to do so in non-consecutive fashion. Several secretaries have served one president and then remained in the position when a president died or was succeeded by their vice president. Iowa native James "Tama Jim" Wilson actually served under three presidents (McKinley, Theodore Roosevelt and William Howard Taft) and set the record by serving for 16 years from 1897-1913.
Vilsack, if approved, would be the first to serve, leave, and then return. He would become the only secretary since Wilson to serve more than eight years.
Vilsack is the fifth Iowan to serve at the helm of the USDA. Wilson was the first. Edwin Meredith served under Woodrow Wilson from 1920-21. Henry C. Wallace served under Warren Harding and Calvin Coolidge from 1921-24. Henry A. Wallace served under Franklin Roosevelt from 1933-40. Vilsack, who served as governor of Iowa from 1999-2007, served under Barack Obama from 2009-17.
He would become both the 30th and the 32nd U.S. Secretary of Agriculture, putting him in a similar situation as Grover Cleveland, who served as both the 22nd and 24th president of the United States when he served non-consecutive terms.
He would come into office just as farm commodity prices appear to be rising, but when farmers likely face a dramatic reduction in government payments. Those government payments over the past three years were historically huge and were also not based on traditional farm programs or on specific laws passed by Congress. Instead, those trade and COVID-19 related programs were funded through Commodity Credit Corporation payments.
There is also some pressure for USDA to focus more on the environment and climate, and there is a need for infrastructure improvements in agriculture, both in the form of roads and locks and dams, but also in the form of research dollars and especially for rural broadband.
Judge said Vilsack is uniquely qualified to deal with those issues.
"He understands so well the issues we're facing," she said.