Flooding grabbed the headlines in 2019, but extremes on both sides of the precipitation scale affected farmers in the Midwest last year.
While some farmers were bailing out their fields due to snow melt and spring rains, others only a couple hundred miles away found themselves stuck on the United States Drought Monitor this summer as the faucet seemed to turn off.
"We've had extremes over the last few years," said Justin Glisan, climatologist for the state of Iowa. "That's what our trends are showing us. We are getting more precipitation earlier in spring, when farmers want to start field work or start thinking about getting into the field. Then around the second week of July, the faucet turns off and stays off for three weeks, and we start to ramp back up late September into October."
He said that trend shift has come over the last 20 years of data.
The biggest factor for predicting what precipitation in 2020 will look like is the ENSO cycle (El Niño Southern Oscillation). Periods of El Niño, or warmer water in the Pacific Ocean, tend to bring warmer weather and dryer than average seasons, while La Niña, a period of below-average sea surface temperature, works in the opposite fashion.
Nicholas Stewart, meteorologist with KGAN and KFXA-TV in Cedar Rapids, Iowa, said the U.S. is looking at a neutral pattern now — neither an El Niño nor La Niña pattern. However, there are some spots of the northern Pacific Ocean that might affect weather patterns this spring.
"Ocean temperatures in the North Pacific are still very, very warm in many places, nearly one and a half to three degrees above normal," Stewart said. "That tends to favor a large ridge forming in the western U.S., and when something is that amplified, it has to come crashing down somewhere, and that typically means a big trough in the central and eastern United States."
He said this is a similar pattern as to what happened in 2019, which makes forecasters expect another wet, and potentially cooler, spring.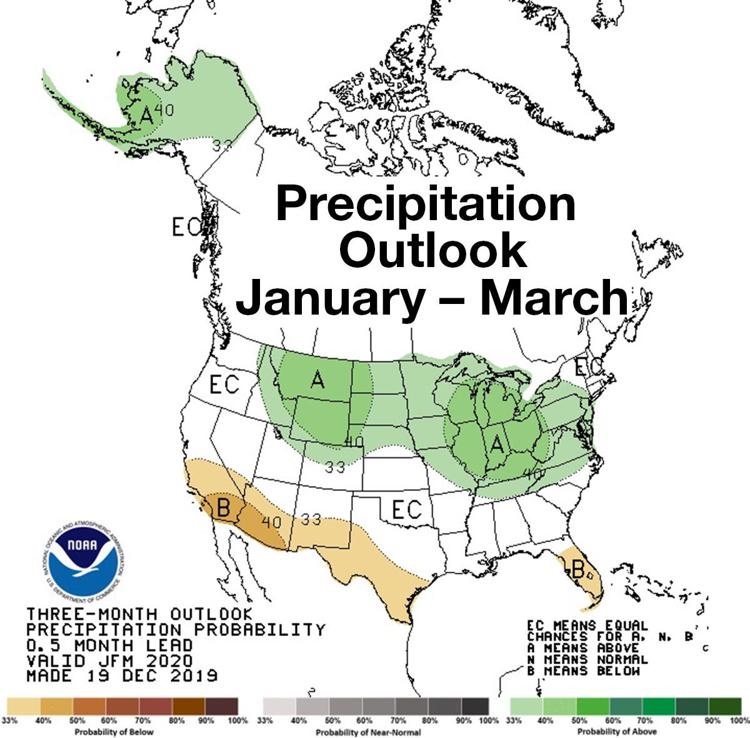 However, based on the recent three-month outlook models, Glisan said it's too early to tell just how temperatures will shake out.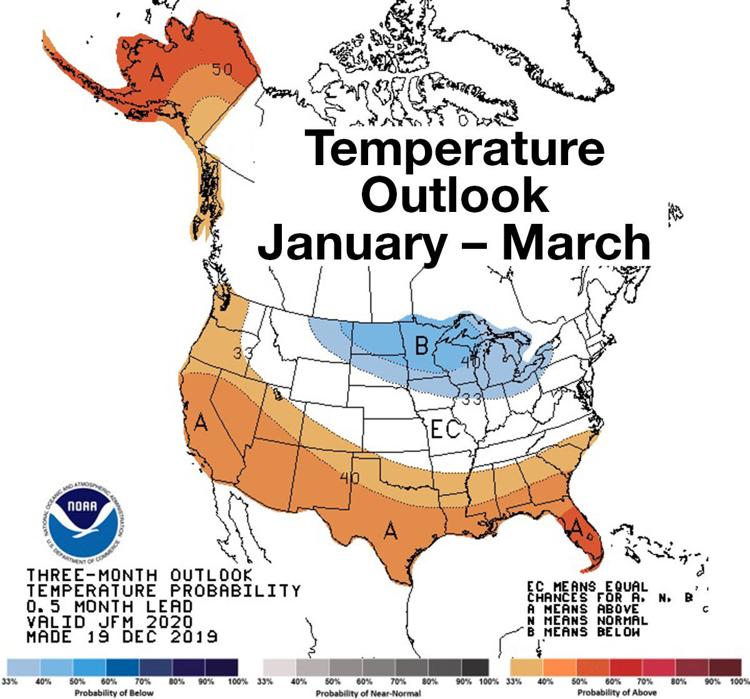 "We don't have a good idea temperature-wise what is going to happen across much of the upper Midwest," he said. "Temperature outlooks are showing an equal chance of below- or above-normal conditions toward the southern parts of Iowa and northern Missouri, but there are elevated probabilities of colder than average temperatures in northern Iowa and the upper Midwest."
Glisan and Stewart both said paying attention to where the snowpack is this winter will be very important for farmers this spring. Last year's snowpack in the northern part of the country led to a lot of the flooding seen in areas along the Missouri and Mississippi rivers.
"We don't want to get into a rapid melting event like we did last March," he said. "Moving into that first week of March we had all the pieces set up for a rapid melting event. Keep an eye on the short-term outlooks and soil conditions."
Stewart predicted that with the current soil saturation across the Dakotas and Minnesota, which he noted are in the 99th percentile, flooding will remain an issue going into 2020.
"If you keep getting even just normal precipitation, we are probably going to be dealing with flooding in the major rivers like the Mississippi and the Missouri," he said. "Then it's just a question of if we get a really active spring, it could build upon itself."