Editor's note: This is part of a series on programs for women farmers and landowners.
---
AMES, Iowa — The best way to find out what someone wants is to ask.
Women, Land and Legacy started 15 years ago. In 2003, a task force was asked to come up with ways for USDA to reach more women landowners.
"Women own close to 50% of the land in Iowa," said Wren Almitra, Women, Land and Legacy coordinator.
Representatives of NRCS, FSA and Extension as well as nonprofit organizations joined Denise O'Brien, co-founder of the Women, Food and Agriculture Network, on the task force.
"The story I heard was that they were hemming and hawing about the best way to reach women, and they came to realize that they couldn't assume women across Iowa have the same needs and interests," Almitra said. "They didn't feel comfortable putting out events when they didn't really know what the needs were."
Women, Land and Legacy grew out of that unknown.
"They went out and asked what women at the local level wanted and then they listened to them," she said.
WLL started in 2004 with a handful of counties and took off from there. Today there are 30 active counties, and Almitra is talking to nine new counties about starting local teams. Some teams work as clusters across county boundaries.
"The local teams are the boots on the ground," she said. "They do all the coordination and outreach."
Women landowners in the county are important to the local team, which starts by planning a listening session.
"You're inviting all women in the county to come together to share what their connection is to the land and share resources that would be helpful to them," Almitra said. "They discuss what topics are a priority. Team members provide information and education based on top priorities."
Teams have one to four learning sessions per year. Land care, soil health, the family-business relationship and transitioning the land and farm business are all topics. Farm and conservation tours are popular.
In 2014, Women, Land and Legacy started partnering with the Women, Food and Agriculture Network.
"It's a great partnership," said Almitra, who has been coordinating the program since 2015. Prior to that she worked for the Johnson County SWCD and was one of the people who started WLL in the county in 2014.
"WLL creates a safe and comfortable space where women can really use their voices," Almitra said. "It's about women feeling empowered. They can ask the questions they need to ask and get information in a way that makes sense to them."
It's also a program for agencies and ag partners to learn how to connect with more women.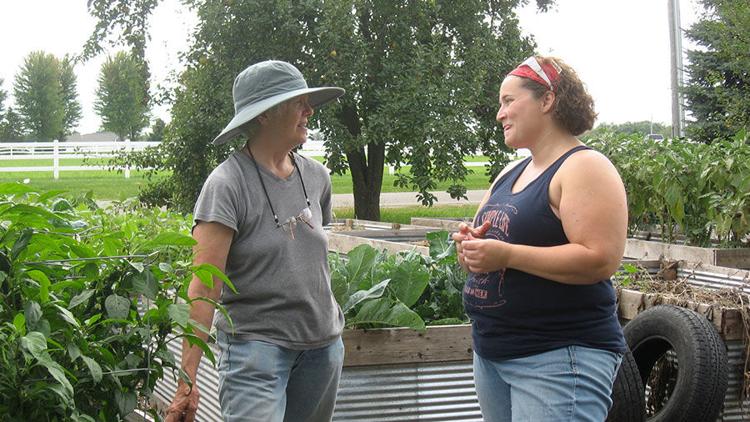 Johnson County's WLL group partnered with the Burr Oak Land Trust to provide hands-on sessions on how to use and take care of chainsaws and other hand tools, safely manage chemicals used in land management and maintain ATVs. They set up a "farm crawl" highlighting women farmers in the county.
Iowa County, which has one of the longest running WLL teams, has been hosting an annual Iowa women landowners conference each year. A newly formed team in Buchanan County is planning a conference on May 17.
Almitra would like to see WLL expand to other states.
"We think it's applicable everywhere," she said.
For information see https://womenlandandlegacy.org/.
Expanding the network
Almitra also coordinates Harvesting Our Potential, a Women Food and Agriculture Network mentorship program which matches aspiring women farmers with experienced women mentors. More information is at https://wfan.org/.