NORWALK, Iowa — Ben Brown is quiet, but his face lights up when he is asked about his farm. It's clear he loves talking about the science of it, about choosing seed and experimenting with different treatments.
As he talks, he climbs up into a tractor cab and gets ready to plant a small food plot of soybeans. His 5-foot-tall frame seems small for the big tractor.
He's not small, mind you. It's just that Ben is only 11 years old.
"Ben has wanted to farm since he was 2," says his dad, Dave. "I can't explain it. It's just what he has always wanted to do."
And so, last year, Ben began farming. His parents, Dave and Katie, are attorneys. They live on a gravel road in a rural area and they work with farmers through their 1031 exchange business, but they don't farm.
"I didn't even grow up on a farm," Dave says. "I had friends who grew up on farms and I have some relatives who farm, but this is all Ben's doing."
Dave helps out. He has worked on the legal and financial issues. He helps with equipment at times. And Ben doesn't do every crop pass himself. The spraying and combining are done by custom-operators.
But Ben is the farmer.
"It was something I always had in my head that I liked," Ben says.
The idea of actually becoming a farmer while still in grade school came to fruition a little more than a year ago.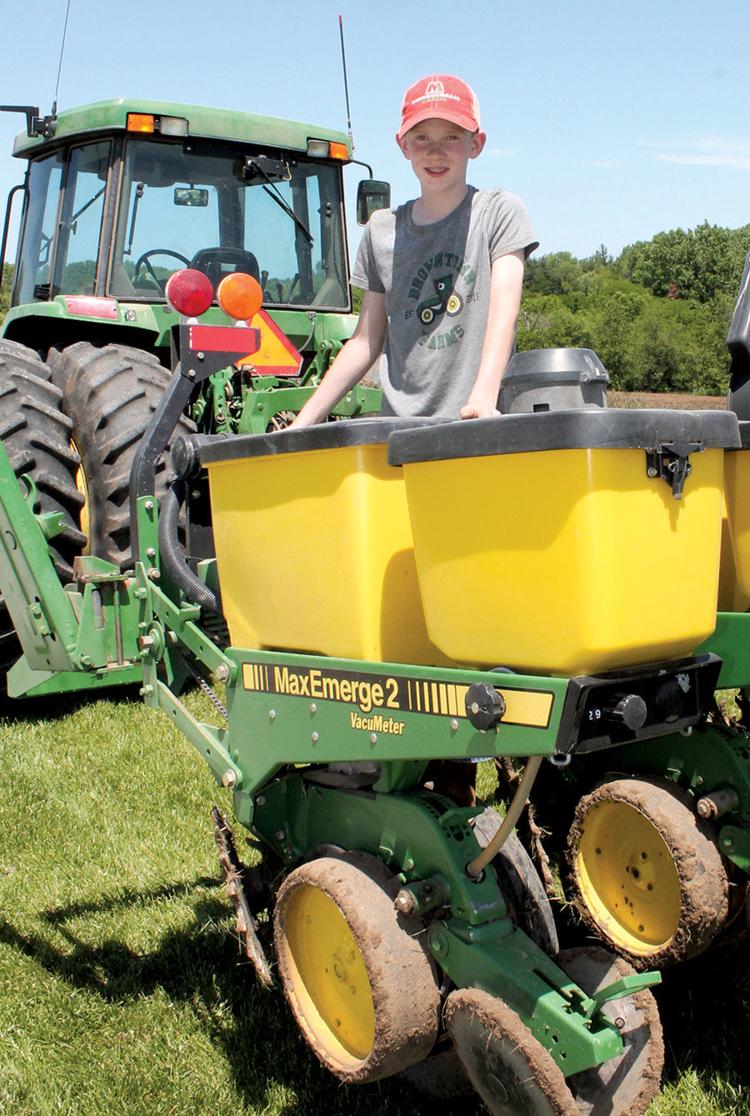 A local farmer, Tom Hughes, had decided to retire and was going to sell his equipment. Ben and his dad talked to Tom and ended up agreeing to buy some of his equipment and farm a small acreage. Hughes was intrigued and agreed to provide some expertise, teaching Ben how to operate the tractor and planter and generally teaching him the ropes.
"He's a remarkable guy," Dave says of Hughes.
With that help, Dave co-signed some papers. As a 10-year-old fourth grader, Ben planted his first crop on 83 acres. This year Ben planted about 90 acres, all before he moves on to middle school as a sixth grader.
Whether he will remain a farmer all his life, or even into his 20s, remains an open question. But Ben's father says he hopes the experience will make Ben into a better person and will give him a step up on college or business prospects someday.
And if he chooses to remain a farmer, he will be a good one. Dave says it is interesting to watch his son farm because he approaches it with fresh eyes and doesn't automatically assume that everything has to be done a certain way or just as it always has been done.
"Each year he is trying something new," Dave says.
His love of farming hasn't rubbed off on everyone. His little brother Jack would still rather play baseball than help with the farm work.
"I think it's boring," Jack says with a smile.
But Ben loves it. And he understands marketing. He named his business Browntown Farms, and he has his logo printed on a T-shirt and business cards.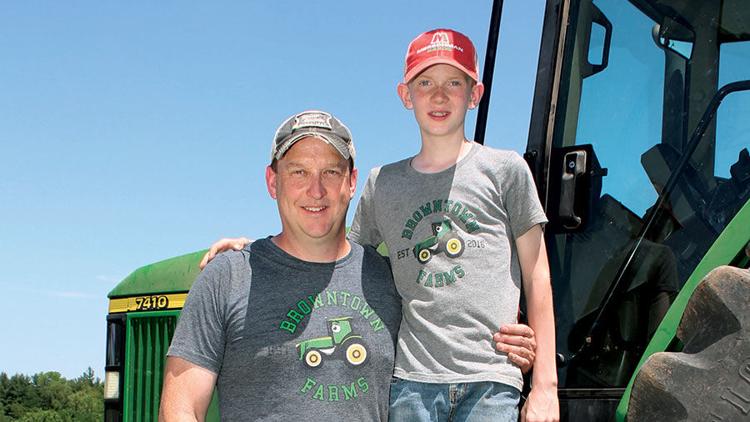 He is experimenting with things like using different biologics on his crops. In his free time he looks at ag-related websites and YouTube videos.
Dave shrugs, "It's just his thing," he says.