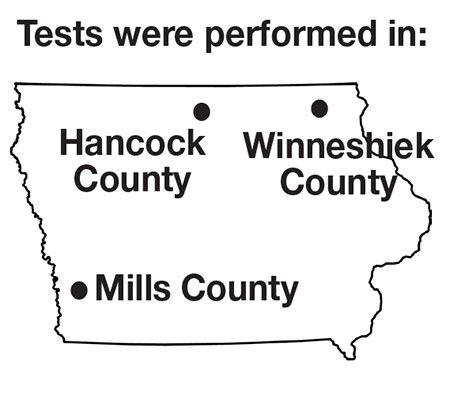 KLEMME, Iowa — Brent Renner thought the quality of the water on his farm was good, but he wanted to be sure.
"It's something that's good to know," Renner says. "And knowing that it tested OK, that gives me some peace of mind."
Renner has a well on his Hancock County farm in north central Iowa. He and his wife, Nikki, and their three children all drink the water from that well. And while they haven't noticed any problems, they also understand that water quality and contamination from nitrates is a big issue in the state, and that drinking water quality is an important factor in overall health.
Luckily, their water test came back clean. It showed no measurable levels of coliform bacteria or E. coli. It also showed under the accepted level of nitrates and arsenic. In short, it was well below any need for concern.
Most wells in the area are safe, says Steve Anderson, environmental health specialist for Hancock County. But there are occasional issues.
"We will get some bacterial contamination, especially if it is a flood situation," he says. A few wells also show higher nitrate or arsenic levels.
But this is not a sandy area. Most of the wells are deep and do not show problems unless there are issues related to the well casing. Arsenic occurs naturally in some rock formations, causing issues. And old or shallow wells can have quality problems.
The good news is that a grant program from the state allows Anderson and other county officials to conduct drinking water tests free of charge for residents. Some people may be hesitant to take advantage of the testing because they are concerned it could lead to some type of government requirement, Anderson says, but that is not the case.
"We're pretty fortunate up here," he says of the area's water quality, "but you don't know unless you test."