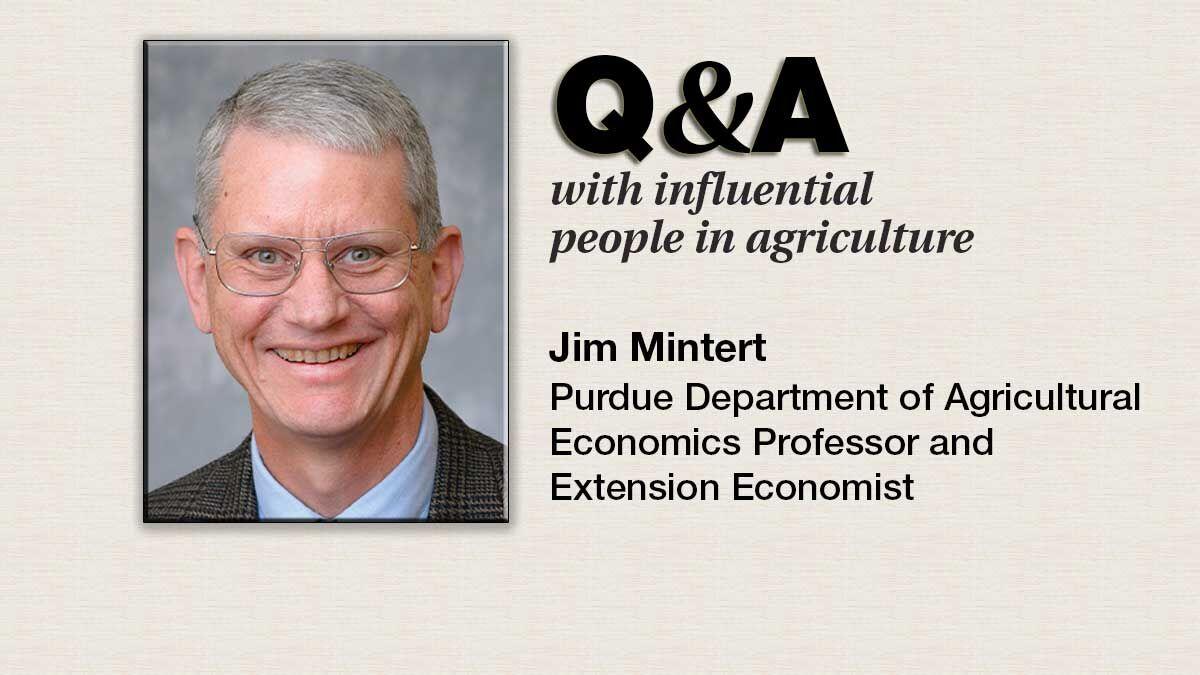 Jim Mintert is a professor and Extension economist in Purdue's Department of Agricultural Economics and serves as director of Purdue's Center for Commercial Agriculture. The center is focused on developing and delivering programs to commercial farmers via conferences, workshops and webinars.
He is also one of the principal investigators for the Purdue/CME Group Ag Economy Barometer, a monthly sentiment survey of U.S farmers. In the latest report, the Ag Economy Barometer slipped 5 points to a reading of 116 in November, its lowest reading of 2021. Looking ahead producers are concerned about rising input costs, with 55% of producers saying they expect input prices to rise 12% or more in the upcoming year, up from 33% who felt that way in October. Supply chain constraints, combined with concerns about costs, continue to make this a challenging environment for large capital investments as the Farm Capital Investment Index declined 7 points to its lowest reading since April 2020.
In addition to his responsibilities with the center, Mintert teaches an undergraduate class on commodity risk management.
He holds bachelors and master's degrees in agricultural economics from Purdue and a Ph.D. from the University of Missouri. Jim originally acquired his interest in agriculture while working on his family's farm in the Mississippi and Missouri river bottoms, just north of St. Louis, Missouri.
IFT: What was the thought process behind the development of the Ag Economy Barometer?
MINTERT: Several sentiment indices exist for the U.S. economy including the University of Michigan's Survey of Consumers and the Conference Board's monthly Consumer Confidence Survey. However, there was no information available regarding U.S. agricultural producers' sentiment. The idea behind the Ag Economy Barometer was to create an index that provided an ongoing measure of ag producer's sentiment regarding their own farm operation as well as the U.S. production agricultural sector.
IFT: What was the initial reception from the ag industry, and compare that to how it is perceived today?
MINTERT: We launched the survey in fall 2015 in the early stages of a downturn in row-crop agriculture. Early on, we received some feedback that the index did not adequately reflect the severity of the downturn in production agriculture that was taking place at that time. But over time readers and followers of the index have come to recognize that the Ag Economy Barometer reflects producers' sentiment, which does not always mirror producers' income statements or balance sheets.
In particular, it has become clear that external events such as elections and disruptive events such as COVID can have a big influence on ag producers' sentiment.
IFT: How is information gathered?
MINTERT: We develop a survey each month that always includes the base level questions we use to compute the Ag Economy Barometer and the sub-indices.
We also include several questions each month on timely topics of interest to those engaged in production agriculture and agribusiness firms. For example, recent surveys have included questions focused on carbon sequestration on farmland, and leasing of farmland for solar energy production.
Once the survey has been developed, we forward it to the survey firm we work with and they make phone calls to producers on our behalf. The survey firm works from a large calling list of U.S. agricultural producers who have an estimated gross farm income of $500,000 and up, since our goal is to survey producers who derive a majority of their family's income from production agriculture.
Each month we obtain 400 survey responses. It's important to note that we do not survey the same 400 people each month. To maintain comparability across months and years, we try to hold the demographic characteristics of the respondents constant. So, for example, each month a minimum of 53% of survey respondents grow corn/soybeans. Our surveys focus on producers of corn/soybeans, wheat, cotton, pork, beef and dairy.
IFT: How has the data collection process changed over time, and do you see any changes in the future?
MINTERT: The data collection process has not changed since we launched the Ag Economy Barometer in 2015, it's always been a phone survey. We don't anticipate any changes in the near future.
IFT: How would you suggest farmers use the information in the barometer?
MINTERT: Our sentiment index provides an important indicator of how others feel about what's taking place on their farms and within the industry. Combined with the sub-indices and related questions, it can provide important insights regarding what's on producers minds with respect to policy, investments and farmland values.
It's a good way to check how producers feel about their own situation vs. what others have to say about the ag industry.
IFT: What are your thoughts on how the barometer functions? Are you pleased with how it has evolved?
MINTERT: When we launched the Ag Economy Barometer, we didn't really know what to expect. We've been pleased with producers' willingness to participate in the surveys each month and with the response and interest we've received from the agricultural sector.
IFT: How do you, other economists and the ag industry use the barometer to look into 2022 and beyond that?
MINTERT: The Ag Economy Barometer and related sub-indices provide insight into what's on producers' minds and how they feel about making investments in their farming operation as well as what their expectations are regarding farmland values. Some of the supplemental questions we pose provide insights into what's driving producers' sentiment and what their concerns are from a policy standpoint.