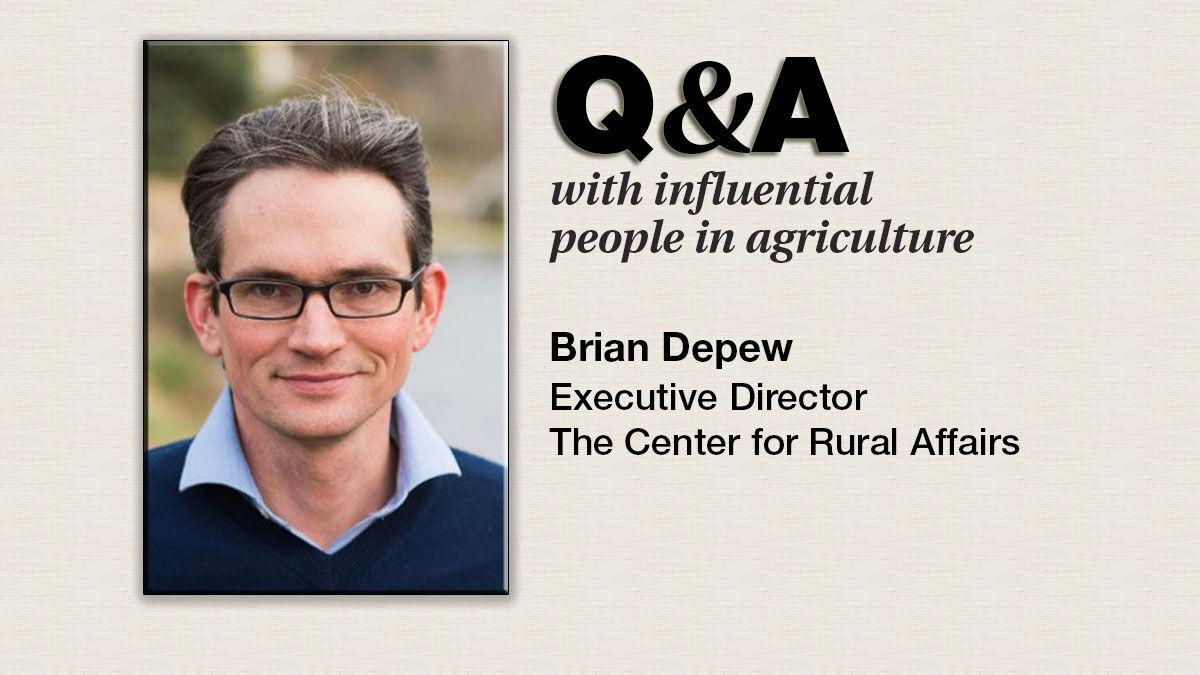 Brian Depew is executive director of the Center for Rural Affairs, based in Lyons, Nebraska. Depew grew up on a family farm in Pocahontas County, Iowa. He was a policy organizer at the center before becoming director.
IFT: Describe the Center for Rural Affairs.
DEPEW: The center is an advocacy and development organization started during the 1970s. We work in Nebraska and Iowa and really across the nation. That includes work on farm policy, small business and tax policy, and all kinds of other things. If a policy affects rural people, we're probably working on it. In Nebraska we also work on some direct development and loan programs. And we look at items such as farm profitability and immigration. Though we are based in Nebraska, we do have four people based in an Iowa office as well.
IFT: How has the center evolved?
DEPEW: Our north star is to create vibrant rural communities. To do that we have to evolve and stay relevant. We've taken on new areas of policy work. Historically we worked more on farm policy, but in recent years we have taken on ideas such as health care, small business and energy. We really try to focus on who our constituency is, and that is small town and rural residents. In doing that we understand the demographics of rural communities are changing.
IFT: Describe how those communities have changed.
DEPEW: There are a couple of things going on. First, rural economies are evolving. Their economies are diversifying and probably needing to diversify more. That has something to do with the trends in agriculture. Agriculture has been consolidating. If we care about these communities we need to look more broadly than just agriculture.
For example, right now there is a lot of opportunity in clean energy development. We're also big supporters of non-farm small business development. Then there is the changing demographics of rural areas. Immigration is changing these communities. The good thing is that the immigrant community is very entrepreneurial. As much as 40 or 50% of our small business clients are immigrants. We see that spirit as an opportunity for communities.
Those trends tell us that to succeed, rural communities should be welcoming and inclusive places. If you look at the underlying census information, a lot of the population growth in rural areas is coming from new immigrants. Too many people have a perception of rural communities that is wrong. What's interesting to me is how they are changing and becoming more diverse. That's going to continue, and because of that we need to find ways of helping people to work together.
IFT: What are the primary legislative issues you are working on this year?
DEPEW: In Iowa in particular there are a handful of priorities. One is more funding for local watershed management districts so they could hire local administrators. Another is to double the cap on the solar tax credit in Iowa. It is capped at $5 million total per year now, and there is a large backlog of demand. It is worth noting as well that a lot of solar installers are small local businesses. A third item is to create a grant program for small-scale livestock slaughter facilities (such as meat lockers). We see an opportunity for local development there. If small meat lockers could expand they might be able to grow their market share. And we are supporting more rural broadband development.
IFT: Most of those ideas are not partisan. Is that by design?
DEPEW: The center has always been invested in trying to find practical solutions and build diverse political coalitions. Doing that has become more difficult in the last decade because things that didn't used to be partisan have become more partisan. That makes it harder to advance things and that is a challenge. I guess I would say that people need to be in touch with their elected representatives to tell them they support bipartisan ideas like these.
IFT: One idea that seems to shine through is that rural isn't just agriculture anymore.
DEPEW: I think it's a challenge that there is this idea that agriculture and rural are synonymous. It's really not true. There certainly can be an overlap, but if we care about rural communities and we care about the people who live there, we need to look at all investment and development strategies.
IFT: These are both business ideas and quality of life ideas, aren't they?
DEPEW: Yes. None of these proposals by themselves are saviors. All of them are tools. Broadband won't save your town, but it is a tool. And broadband is not just about economic development. It's also cultural. This is how we interact with the world now.
The Biden administration is rolling out an infrastructure bill. It proposes significant investments in these things. Part of the proposal is to pay for these things in part through an increase in corporate tax rates. That idea is clearly popular among voters. We've all heard about how Amazon paid zero taxes last year. But lawmakers are hesitant to do that even though voters support the concept.
IFT: How do you and rural residents bridge the partisan divides?
DEPEW: We still try to find those areas to work on that aren't partisan. A really good example is the push for legislation on local meatpacking. Those have been really popular with both Republicans and Democrats. Most liberal and most conservative people can agree that having local meat lockers is a good thing. Another way we work with it in Nebraska is through ballot initiatives. For example, there was broad public support for expanding Medicaid but lawmakers opposed it. It became a ballot initiative and passed. The same was true with the minimum wage.
IFT: What does the future hold for the center?
DEPEW: I think our job as an organization is to keep our pulse on the changing needs of rural communities. I don't know what that will mean in the future, but I suspect it will mean a continued push for clean energy because that offers tremendous possibilities for agriculture and rural communities. We're still really just at the beginning of that movement.
In Nebraska we also do small business lending and we are starting to do lending in the housing arena. We are a community lender trying to serve an audience that large banks are not always serving. I guess there is a message there that if you want to control your future you need to have some control over the purse. I see us expanding our work there.