When summer arrived around here, it carried along 90-dregree weather, high humidity and some fairly impressive first hay cuttings. It was that combination that brought back memories of working on hay crews during my teens.
While there are still some hay crews operating out there handling small square bales for horses and smaller livestock operations, large round and large square balers have remained the preferred approaches to handling and feeding hay, haylage and forages.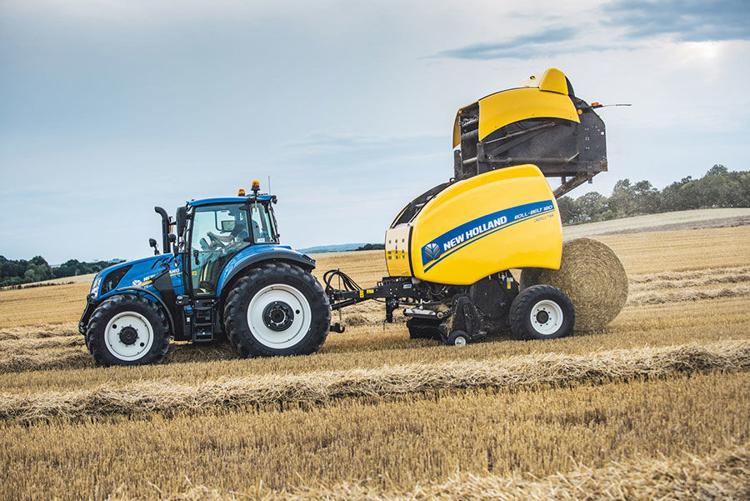 No matter how you're putting up the hay crop — round or squares — you'll want the best bale density. A recent study completed by Penn State University's College of Agricultural Sciences confirms that bale density leads to improved cattle nutrition and producer return on investment.
The study found that denser bales have greater total acid production and stay cooler through the fermentation process. This increases the whole-bale bunk life of round bales through reduced spoilage, allowing for the feeding of larger-diameter bales to the same number and size of cattle without waste. Penn State observed up to 25 more hours of bunk life due to higher bale density.
"What research has shown in the past is that with any fermented forage or any ensiled forage, typically the denser you can pack that forage, the better fermentation you're going to have," says Jessica A. Williamson, Extension forage specialist for Penn State University. "Better fermentation overall is going to give you a better-quality product to feed your animals."
Higher density equates to up to 39% fewer bales, resulting in less twine, net wrap or plastic film used, as well as reduced labor, less overall baling and less bale-moving time in the field.
"This research affirms the many benefits of denser bales we have discovered through years in the field," says Curt Hoffman, hay and forage crop packaging and marketing manager for New Holland, North America. "Not only does higher bale density improve feed quality and lower costs, it improves producer ROI through a variety of efficiency gains."
Last fall, New Holland introduced new hay equipment for this season, including a Roll-Belt round baler with Goweil Kombi bale wrapper, DuraDisc disc mowers and 209 and 210 disc mower-conditioners.
The Roll-Belt round baler with Goweil Kombi bale wrapper gives you the ability to bale and wrap in one operation without the need to make a second pass with a tractor and bale wrapper. Time, labor and fuel costs are reduced. Bales are wrapped as they are made before they ever touch the ground, so there's no contamination from soil. This decreases the chance of bad fermentation and spoilage that can impact livestock weight gain and reproductive performance.
According to the company, DuraDisc disc mowers deliver a clean, uniform cut. QuickMax knives provide quick and easy knife changes for optimal cut quality and minimal downtime. Quick hitch compatibility on mounted models simplify moving the tractor from one task to the next, such as tedding or raking.
New Holland Discbine 209 and 210 disc mower-conditioners cut crop closely, cleanly and quickly and condition it uniformly for faster dry-down to conserve more tonnage per acre. A new feature, the advanced up-and-back flotation, protects the disc mower as well as crop stubble. These machines are fitted with the latest safety curtains, new crop shields and transport lighting.
Case IH recently weighed in with a new baler, as well: the RB565 Premium HD round baler. From wet silage to dry hay to straw and stalks, this baler offers the flexibility to handle a full range of crops. It's equipped to efficiently handle wet hay-making in an all-purpose, multicrop baler.
"More and more producers are baling wet hay due to shorter production windows and added feed values," says Brian Spencer, Case IH hay and forage marketing manager. "To accommodate those customers wanting to produce baleage in a 5x6 bale, we added the proven, robust design of our 4-foot silage baler to our 5-foot baler with some additional features."
RB565 Premium HD round balers can be equipped with ISOBUS Class 3 Tractor and Baler Automation. Paired with a Puma or Maxxum tractor featuring a CVXDrive continuously variable, PowerDrive powershift or ActiveDrive 8 dual-clutch transmission, this system controls the tractor stop, bale wrap and bale-eject functions without operator input.
Technology reaches into each bale, as well. With John Deere's Bale Mobile app you can capture yield and other relevant data for hay. When used in conjunction with a John Deere 1 Series Large Square Baler (L331 or L341 model), equipped with optional moisture and weight sensors, the new app processes moisture and weight data into useable information for baling, loading and overall farm management.
Certainly, haying has come a long way since I was stacking bales on a wagon behind a square baler.
---
Michael Gustafson has written for and about farm equipment companies, their products and dealerships for more than 40 years, including 25 years with John Deere. He lives on a small acreage in Dennison, Ill.