I have a neighbor friend who's always excited to tell me how many miles he has on his truck. Over 250,000 miles, actually. Impressive.
I won't go into the brand and model of this particular truck for obvious reasons. I don't want to start the old Chevy vs. Ford vs. Ram vs. Toyota discussion.
It's enough to say that it's a 2006 model and, being that we live in the country, I'd expect high miles. Still, the truck has held up very well, with regular maintenance, many sets of tires, the occasional engine repair and, best of all, no current monthly loan payments.
I've never asked about the total cost of all those repairs and maintenance. When something is working and reliable, why change?
Equipment restorers and collectors, including my brother-in-law, Darrell Horsley, will tell you that an older piece of equipment can still perform at its best if it's properly maintained.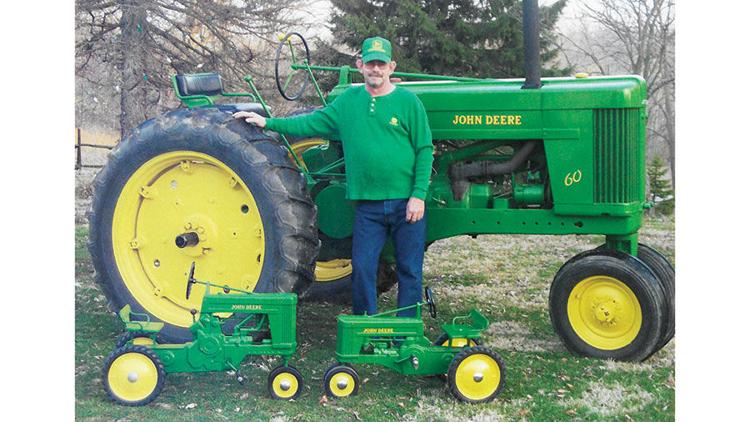 Being a lifelong John Deere guy, Horsley has focused his efforts so far on a John Deere 60, a 3010 Diesel, a 70 Diesel and a 1935 Model B. Not satisfied with simply restoring tractors, he also tackled a John Deere KBA disc, running gear, a Model 45 loader, a rotary cutter and two combine power units.
"It's really easy to get parts," says Horsley, of Marshall, Ill. "Some are New-Old-Stock (NOS). John Deere is still making some, and I can get them through the company or at the local dealership. Plus, there are quite a few businesses now making aftermarket parts for those great old machines."
According to Horsley, restoring and collecting the "big" equipment, along with all the farm toys you'll find at his place, is a real addiction.
"Getting this equipment back into operating condition is relatively simple," he says. "And being part of the antique power clubs and shows around the country is a real joy."
Certainly, using antique tractors and combines for today's farm business doesn't make sense.
While that high-mileage farm truck currently might not be a "collectible," these stories may support the argument for buying, maintaining and operating late-model preowned equipment. After all, even brand new equipment becomes preowned the moment you put it in operation.
Those who purchase new, though, will point to the enhanced technology and the peace-of-mind of having a warranty. I'll give them that. My own vehicles are still under the original manufacturers' warranties. At some point, I'll have to handle all the repairs on my own, unless I trade for new vehicles every few years.
This applies to farm equipment, as well. Purchased new or used, that piece of equipment will eventually need repairs, no matter what its brand. Some repairs are simple and relatively inexpensive. But if you're unlucky enough to need a total engine rebuild, we're talking thousands of dollars.
Extended warranties and maintenance plans can certainly soften the blow.
For example, Case IH offers a Certified Pre-Owned Program for specific combines, tractors and sprayers less than five years old. Case IH Certified Pre-Owned equipment is backed by the Case IH Powertrain Protection Plan that covers equipment beyond the manufacturer's base warranty period, including 12 months/2,500 total engine hours (whichever occurs first) for Magnum and Steiger series tractors, and 12 months/2,000 total engine hours (whichever occurs first) for Axial-Flow series combines and Patriot series sprayers. There is a $0 deductible under the Certified Pre-Owned Program. Plus, programs can transfer to a new owner at no charge.
AGCO offers extended warranties on many of its equipment brands, as well. Branded as AGCO Protection, the program is more than a take-it-or-leave-it extended warranty, notes the company. It's an actual insurance policy offering a variety of options so you can customize your plan to your preferences and budget. Plus, the protection is transferable to the next owner.
Kubota's Orange Protection Program can be purchased any time prior to the expiration of the basic tractor warranty.
John Deere points out that you can add the company's Comprehensive PowerGard Protection Plan to extend the new equipment warranty term. In addition, according to the company, every John Deere Certified Pre-Owned Machine is sold with a one-year PowerGard Plan that covers all the main components including engine, transmission, final drives, hubs, steering components, electronics, hydraulics, cab and air conditioning.
There are also PowerGard Maintenance Plans. These various fixed-priced programs make sure your equipment will be routinely serviced and inspected by qualified service technicians, on schedule.
Case IH and AGCO have similar programs.
The benefits for adding extended warranty and/or maintenance plans are pretty obvious. You protect yourself against unexpected repair costs. You protect your machine's resale value. You maximize equipment performance, increase productivity with less downtime and you can budget better for maintenance costs.
One thing to note. These plans are available only for late-model equipment with lower hours.
That's too bad. Maybe Darrell Horsley would like to get coverage for his John Deere Model 60.
---
Michael Gustafson has written for and about farm equipment companies, their products and dealerships for more than 40 years, including 25 years with John Deere. He's an Illinois farm boy, graduated from the University of Illinois in ag communications and lives on a small acreage in Dennison, Ill.