Once again, Mother Nature is challenging us this spring. As of this writing, many row-crop farmers across the Midwest are still working around the weather and getting their corn and soybean crops planted despite wet conditions.
You might find it a bit odd, then, that I'm offering suggestions for prepping your planter for storage until next spring.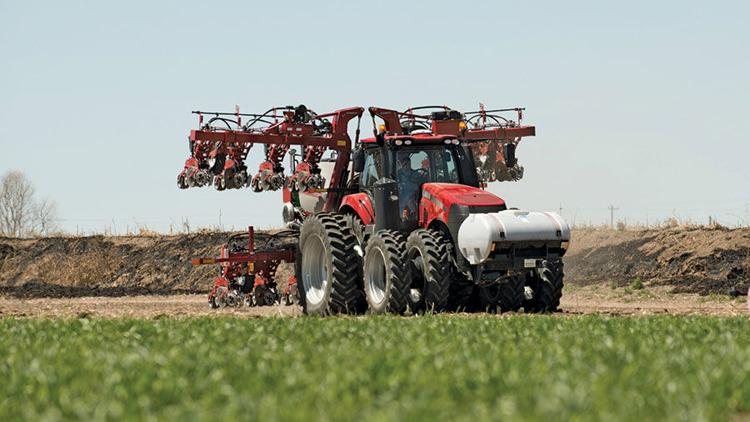 Still, proper planter operation in 2020 begins right after this 2019 season.
Here's an idea: Take time to write down any planter issues you encountered this spring for future reference. Then, spend time during the next month to work on correcting those problems while they are fresh in your mind. If you can't find the time now to actually work on the planter, file your notes away in a safe place where you can easily find them next winter.
Purdue University also provides these tips for prepping your planter for storage:
Clean out all the seed from the planter seed hoppers and metering units. Seed left in the planter attracts rodents. Seed left in the units may also rot and eventually "gum up" the metering units.
While you're cleaning out the seed from the metering units, take the time to actually open them up and clean out as much of the "caked on" seed treatment as possible.
With vacuum planters, remove the seed discs to avoid constant pressure on the rubber seals that can lead to eventual failure. Hang the discs on a wall in the shop or in a basement. Don't stack them on the workbench or shelf because of the risk of warping. Store the discs where temperatures will not drop below freezing next winter.
With vacuum or other air planters, open up the air ductwork and tubes and blow out all the dirt that accumulated during planting.
Remove the various drive chains on the planter, clean all the dirt and grime, and lubricate them well before putting them back on the planter. Some folks go so far as to store the drive chains in a bucket of oil during the off-season. While you have them off, inspect them for worn chain links or rollers and replace as necessary.
Clean all of this year's mud and crud off the coulters, disc openers, press wheels, depth gauge wheels and fertilizer openers. Apply rust preventer to the coulters and disc openers.
Clean off all the other dirt, grease and grime from the rest of the planter. Lubricate all bearings as appropriate.
While you're doing all of these housekeeping items, inspect the planter for broken or misadjusted parts or controls that will eventually need to be replaced or repaired. Add these items to the "to-do" list you began earlier.
The final, most important thing you can do is store the planter inside a building or other sheltered area to protect it from the weather for the 10 months or so before you use it again.
Of course, there might come a time when your notes indicate a new planter could be the best way to go.
"New planters can be an investment for improved, simpler controls and better field efficiency with larger widths and bulk fill capacities," says Phil Jennings, service manager for Kinze Manufacturing. "For example, Kinze offers the latest technologies with TrueRate metering and Blue Vantage control systems that make planting technology easy with three clicks to plant."
Jennings notes that Kinze recently introduced the Kinze 4700, a 36-row 20-inch machine with a three-section flex frame, Blue Vantage display, Blue Drive electric drive system, fertilizer capability and True Depth hydraulic down-force option. The 4700 will be available for spring 2020 use.
If you're running Case IH planters, check with your local dealer about new capabilities for the Early Riser planter lineup.
According to the company, new layers of high-definition data are now available with 2000 series Early Riser planters through The Climate Corporation FieldView Cab app with FieldView Drive technology. The new setup option removes the need to purchase a display exclusively for FieldView and allows for row-by-row data visualization, mapping, autoguidance line sharing and more.
"Early Riser planters already offer a rugged row unit and industry-leading planting accuracy," says Tony McClelland, Case IH planter marketing manager. "Now we're adding another mapping technology option that can visualize singulation and liquid fertilizer layers directly from the planter to the FieldView Cab app."
Whether you're considering a new planter, upgrading your current model, or shopping around for a good pre-owned unit, you're going to be looking at replacement parts at some point.
I was interested to find that CNH Industrial is producing and offering 3D printed parts — some for agricultural use. Known as Additive Manufacturing at CNH, 3D printing is a process where components are created from a digital file to build layers of material under computer control. Once printed, each part undergoes testing to ensure it meets the company's requirements and specifications.
While all parts currently are manufactured in plastic, CNH is conducting further tests that may lead to the future production of metal components using this technology.
What will this mean for you? Perhaps faster parts availability and improved parts support for older, outdated machine models. Look for this approach to catch on with other ag equipment companies.
---
Michael Gustafson has written for and about farm equipment companies, their products and dealerships for more than 40 years, including 25 years with John Deere. He lives on a small acreage in Dennison, Ill.