I guess this shouldn't come as a big surprise to me, but I've not seen my compact tractor in a month or so.
I do know where it is, though.
My nephew, Dallas Gustafson, borrowed my John Deere 3 Series Tractor, loader and box blade to level ground and move rock for a house he's building for his parents. Dallas tells me the tractor is the perfect size, with the right amount of power and maneuverability, to get jobs done quickly and easily.
That statement might be a dead-on description for any ideal compact tractor. And, depending on your particular needs, you can choose from quite a few brands of subcompact and compact tractors offering wide-ranging features, engines, warranties, prices and dealer support levels.
I recently had an opportunity to stop by Kuhns Equipment, an AGCO dealership in Arthur, Ill. Assistant Manager Dan Krieder, along with salesperson Kirby Woods, gave me a rundown on the Massey Ferguson lineup of compact tractors, as well as the approach they take with their customers.
The Massey Ferguson GC1700 Series is a line of 22- to 24-hp subcompact tractors that can handle a variety of chores from mowing, loading and backhoe work to snow blowing. Their 24- to 100-hp compact/utility tractors include units that are sized right for more extensive loader work, mowing and hay production. According to Krieder, these tractors are available in "basic" to "premium" levels, depending on the features a buyer wants. Those features include transmission options, cabs, advanced electronics and even guidance systems.
Of course, a host of other companies including John Deere, Case IH, Farmall, New Holland, Mahindra, Kubota, KIOTI, Branson, TYM and Yanmar also offer their own series of subcompact, compact and utility tractors.
Prices can vary greatly, but really are not all that far apart between brands, since companies are very competitive in this part of the equipment market. Be sure to keep an eye out for incentives and special financing, though.
Most manufacturers and dealers will work with you to develop a package deal combining a tractor with loader and other attachments.
"We really work as coaches to help buyers understand what they need to accomplish specific chores," Krieder says. "We want to know what their goals are, how much time they have for chores, and what they're thinking about doing in the future. Selling them a unit that's too small, or won't fit into their future needs, doesn't make for a satisfied customer."
Roy Riedle, founder of Riedle Inc., agrees. Riedle Inc. is a family-owned, full-line lawn and garden equipment dealership in Marshall, Ill., offering sales and service of TYM Tractors and a variety of attachments.
"We can sell tractors all day long," Riedle says. "But we want to make sure that buyers get the right-sized tractor with the right equipment."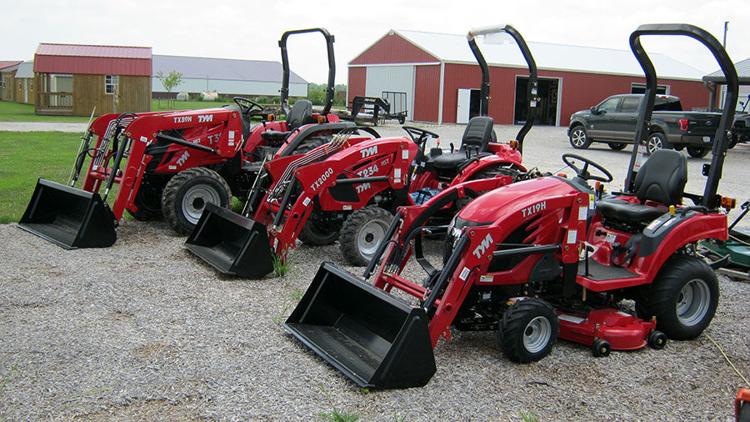 Riedle notes that today's attachments for subcompact and compact tractors have many of the same features and are built as tough as their large-farm cousins.
"Rhino, Bush Hog, Woods and others are designing and building these smaller implements to work as hard and as long as the big guys," he says.
Riedle also suggests that if you're looking for a new tractor, it's best to try out a variety of brands and models.
"Sit in the seats. Operate them. You might like TYM for some reasons, but might also prefer a John Deere or Massey for other reasons. No one yet has built the perfect tractor that fits everyone's needs," he says.
Both these dealerships — Kuhns Equipment and Riedle Inc. — understand the importance of a comprehensive warranty and solid service support.
"Peace of mind is especially important for buyers of subcompact and compact tractors," says Kuhns' Krieder. "For the most part, they just want to get on, start up the tractor and get stuff done. As a dealership, we're here to make sure they can do just that."
For my part, my local John Deere dealership does a great job with equipment support, as well. And I'll have to admit that the peace of mind they provide is a real plus, even when the tractor is being used by a neighbor or family member.
---
Michael Gustafson has written for and about farm equipment companies, their products and dealerships for more than 40 years, including 25 years with John Deere. He lives on a small acreage in Dennison, Ill.