I find it interesting how technology creeps into our everyday lives and becomes, for the most part, highly desirable, if not completely indispensable.
Here's an example: Not long ago, I was looking for a used car for a family member. We made a list of features the car should have, including the basics such as air conditioning, automatic transmission, a decent radio and power windows. Most any late model used vehicle has those items. But how about Bluetooth hands-free connectivity?
While Bluetooth is now a standard feature in most new vehicles, many cars and trucks made before 2010 didn't offer it. In fact, General Motors didn't offer Bluetooth on most models until 2009. Of course, you can swap out the radio with a new one that features Bluetooth.
Other technology features, such as backup cameras, can be added as well. Some of the rearview mirrors with backup cameras, for example, incorporate Bluetooth, and yes, even GPS navigation.
The same ability to add on technology goes for ag equipment. You don't have to invest in all-new equipment to get the latest technologies. Many companies provide a wide range of products that put the newest tech on late-model equipment, from tillage tools to planters to tractors and harvesting equipment.
Such companies include Farmobile, Echelon Ag, SST Software, Veris Technologies, Ally Precision Industries, Topcon Precision Agriculture, Farmers Edge Precision Consulting and the Climate Corporation, just to name a few.
Keep an eye out for Raven Industries. The company recently announced several new services available on its Slingshot and Viper 4 platforms: Job Generator and Job Sync.
According to the company, Job Generator helps increase efficiency and reduce the risk of costly mistakes. Now, you'll be able to prepopulate important job data, including field attributes and location, products, rates and other useful information that can be sent to compatible Raven field computers, instantly, using Slingshot.
Job Sync is Raven Slingshot's new machine-to-machine, shared-coverage functionality. Multiple users can collaborate on a job simultaneously or days apart, helping eliminate the potential for overlap or misapplication between multiple machines.
In a press release, Paul Welbig, director of enterprise services and logistics for Raven Applied Technology, noted, "Job Sync is the simplest and most user-friendly machine-to-machine solution on the market."
Major brands such as AGCO, John Deere and Case IH also have products and services to update and upgrade your current equipment.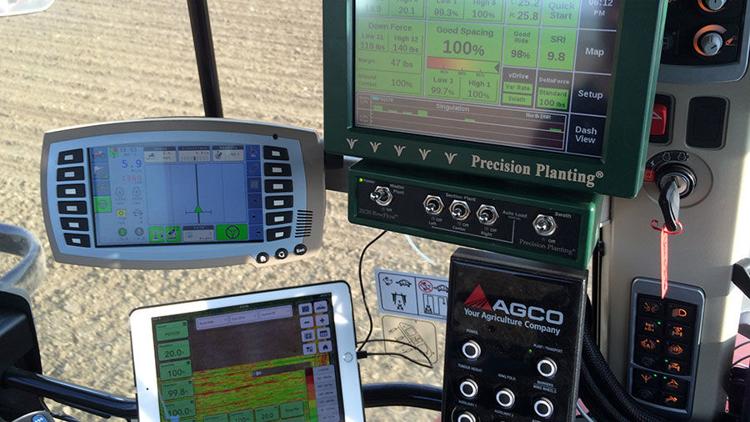 AGCO recently announced a partnership with AgIntegrated to develop Agro-Link, a centralized data hub that allows you to transfer data seamlessly to either your mobile app or desktop. It works in tandem with TaskDoc Pro and VarioDoc Pro to transfer data from your machines with common electronic architecture. You can send data from your machines to your trusted advisors, home office and/or mobile app in real-time.
With add-on technologies, though, you might experience some difficulties with machine integration. Not all products work with all brands of equipment, although companies are working through those issues.
In fact, you'll find that many AGCO Fuse technologies will work with John Deere products. Many John Deere Precision Ag services work on other brands as well.
If you're in the market for new equipment, the technology offerings seem nearly endless and continue to expand.
John Deere recently announced new tech features for its 2019 S-Series combines and 9R, 9RT and 9RX Tractors.
To help you more easily monitor combine operations and adjust settings from remote locations, John Deere offers Remote View and Adjust as part of the MyOperations mobile app. These new applications build on existing machine technologies, including Combine Advisor and Remote Display Access, to allow owners or managers to remotely monitor combine performance and adjust concave clearance, rotor, fan speed and chaffer and sieve clearance settings as needed.
"This latest mobile app for combines gives customers immediate visual access to machine information from a single combine or an entire fleet to improve overall harvesting operations," says Matt Badding, product marketing manager for John Deere Harvest Solutions.
There's no doubt that new machine technology can make life — and work — easier, more productive and more enjoyable.
Technology also can be incorporated on nearly any auto, truck or ag machine, new or not.
---
Michael Gustafson has written for and about farm equipment companies, their products and dealerships for more than 40 years, including 25 years with John Deere. He lives on a small acreage in Dennison, Ill.