OK, I admit it. I didn't know a great deal about interseeding cover crops before I started working on this article.
I did understand many of the benefits, though. University studies by Michigan State and others, as well as actual production results, indicate that cover crops can conserve nitrogen, reduce soil compaction and soil erosion and control weeds. According to SARE (Sustainable Agriculture Research and Education), cover crops have been shown to increase yields in corn and soybeans, as well.
Rachel Halbach, staff agronomist for the Hagie Manufacturing Company, notes all these benefits.
Cover crops "can achieve a variety of goals a grower might have," she says. "In the Midwest, there has been a big push to plant a cover crop to tie up excess nitrogen from corn production, preventing it from leaving through tile systems. There is also quite a bit of conversation around cover crops positively influencing soil health by decreasing erosion, increasing water infiltration and promoting the soil biological community, to name a few.
"Of course, all these benefits only occur if the cover crop grows and produces some sort of above- and below-ground biomass," adds Halbach.
"It can be challenging in the Midwest, especially as you move north, to have a long enough growing season in the fall to get cover crop growth. Being able to interseed allows a grower to 'extend' the growing season for the cover crop by giving it a head start before the grain is harvested."
I contacted Halbach to find out about Hagie's equipment setup for interseeding cover crops.
"Hagie has recently partnered with Montag Manufacturing to create a kit, the Fortifier 2212, for our STS models of sprayers," she says. "The clearance and machine design enable the STS to be easily converted to a machine that can apply cover crop seed into tall crops, such as corn, late in the growing season yet still prior to harvest."
The Fortifier 2212 is compatible with 2014 through 2018 Hagie STS12 machines with 120-foot hybrid booms. Major features include a twin-bin design with 77-cubic-foot capacity in each tank, stainless steel and poly hardware, Montag dry rate controller, and seeding speeds of 10 mph or more.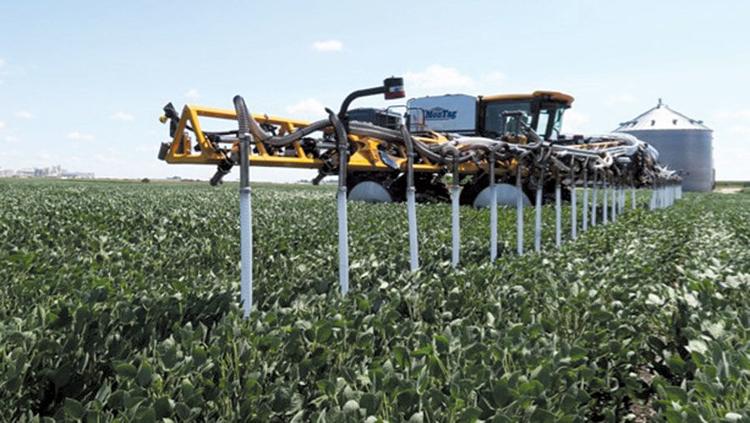 Hagie equipment, including the STS with Fortifier 2212, is sold and serviced by John Deere dealerships.
Another manufacturer, the Salford Group, offers products that also excel at cover crop seeding as well as some equipment that can serve a multi-purpose cover crop seeding role.
With Salford's Valmar 55 Series seeders, you can seed from many kinds of implements such as tillage and aeration machines, high-clearance sprayers, and even implements including corn heads, depending on your soil type and growing season.
The Valmar 1665 Row Crop Applicator/Inter-row Seeder is an implement-mounted box for tilling and seeding in a single pass. The 1665 mounts on planters or tool bars, applying product in the seed furrow or over the row. With the 1665's individual-outlet positive displacement applicator, you can apply insecticides, herbicides, small seeds, inoculants or micronutrients precisely where you need them and at the rate required.
Of course, there are many other options for seeding cover crops, including no-till drilling, precision planting and broadcasting seed with incorporation, depending on the season and stage of your row crop.
You should certainly look at what you currently have in your machine shed. You can get more acreage out of your drill, precision planter or vertical tillage equipment by planting cover crops.
Also, consider broadcasting and incorporating cover crop seed as part of your vertical tillage system to save time and reduce field traffic.
That versatility is key to getting the best return on your equipment investment.
There you have it. Cover crops offer a great number of benefits to the soil and your bottom line. You can incorporate them into your current cropping practices. And, with a few adjustments or additions, you can make better use of your current equipment.
---
Michael Gustafson has written for and about farm equipment companies, their products and dealerships for more than 40 years, including 25 years with John Deere. He lives on a small acreage in Dennison, Ill.