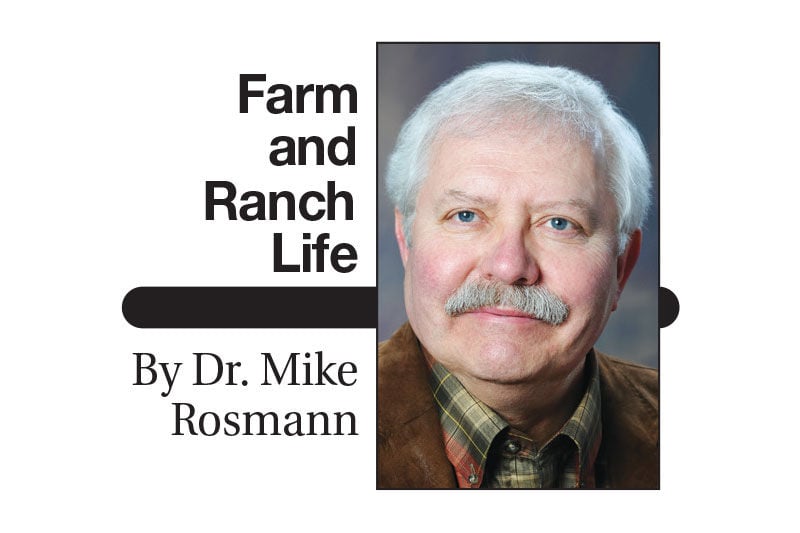 Yup, it happened again. A few weeks ago my wife was driving our lawn-mower tractor and pulling a cart piled high with weeds and tree branches when the tractor ran out of gas. She was getting her Japanese gardens ready for another year of exotic plants and flowers.
The tractor had sputtered to a stop in the middle of the driveway to our farmstead. Marilyn interrupted me as I was entering the back door to our house.
I was tired from planting and weeding in my vegetable gardens when she announced, "I think the tractor is out of gas. You've got to get it out of the way so people can drive up our lane."
I remembered a Farm and Ranch Life column I wrote a few years ago entitled "My Wife's Gardens." I reminded Marilyn of the article. It got worse for me after mentioning this and a few other things that husbands shouldn't say.
Our driveway from the gravel road to our farmyard is 250 feet long and 20 feet wide. The tractor and cart were parked in the middle of the driveway well beyond our house, for which I was thankful but didn't dare admit to Marilyn. The previous time the tractor ran out of gas, she left it and the cart in the farthest corner of our farmstead.
I harrumphed a bit to myself, but I must have been loud enough for her to hear me grumbling. Sensing my mood, Marilyn demanded emphatically, "You're not writing about this, are you?"
OK, so this column didn't pass the usual Marilyn test. I continue.
My recollection of husbandly obligations improved after Marilyn's reminders about other important matters, like keeping our farm equipment in good working condition. I found a plastic container in the machine shed that had gas in it and poured as much as I could into the tractor's empty fuel tank.
I tried starting the lawn tractor. We both heard the ominous clicks of a run-down battery. Marilyn had not turned the key off after the tractor stopped earlier. "Now what?"
I got my Jeep out of the garage and drove it alongside the lawn tractor. I attached battery cables from my Jeep to the garden tractor. When Marilyn turned the key on, lo and behold, the engine started immediately.
Not so fast in drawing any conclusions! After five minutes of reviving the battery, the tractor engine stopped.
Marilyn said the tractor was out of gas again. She was right when I checked the fuel tank.
I inspected the fuel container I had used and its spout that is supposed to allow fuel to flow when a release button is pressed. The release button didn't work properly — it caused me consternation several times previously.
"That stupid (followed by a less socially acceptable expletive) fuel release is the worst invention ever created," I trumpeted. I removed the defective fuel spout and poured gasoline directly into the tank, spilling some.
Meanwhile, dark clouds and not-so-distant thunder were mounting to our northwest, signaling an approaching thunderstorm with predicted 50 mph winds and possible hail, but also prospects for much-needed precipitation. We got the tractor started just in time and Marilyn drove it to our machine shed for shelter while I parked my Jeep in our garage. Together, we shut the machine shed doors securely. "Whew!"
Laboriously, I galumphed to our house and hunkered down in my upstairs office. A quarter inch of rain fell gently and refreshed gardens and crops, but not me sufficiently.
Still mad, I professed a half hour later that I had acted nobly to help Marilyn. She reminded me that I was responsible for purchasing fuel for our garden tractor and tools. "Oops."
I remembered the comments of a University of Iowa colleague, who said that she loved the original story of "My Wife's Gardens." She liked my use of the word "galumph" to describe my ponderous walking style and surly mood after I started the lawn tractor when it ran out of gas while Marilyn was driving it.
As I considered these matters, I figured, "I'm an even pithier curmudgeon now. I galumph mostly because I have worn-out knees and hips. Perhaps I'm also a little bit grumpier. I'm definitely more seasoned."
My out-of-sorts mood shifted to recognition that our household needs electrically powered implements. This idea has become a life-saver for me because Marilyn totally agrees. Perhaps it's a solution to many of America's environmental concerns about energy use and climate change, but I'm not celebrating yet.
The relationship between Marilyn and me goes on, and happily so. This is our 49th year of marriage. I wouldn't have it any other way, and I know she agrees.
I hope Marilyn also agrees that I deserve a passing grade on "the Marilyn test" that I rely on before publishing this column. I need approval, and sometimes a few corrections, especially when I galumph.
---
Dr. Mike Rosmann is a psychologist/farmer who lives with his wife near Harlan, Iowa. Contact him at mike@agbehavioralhealth.com.