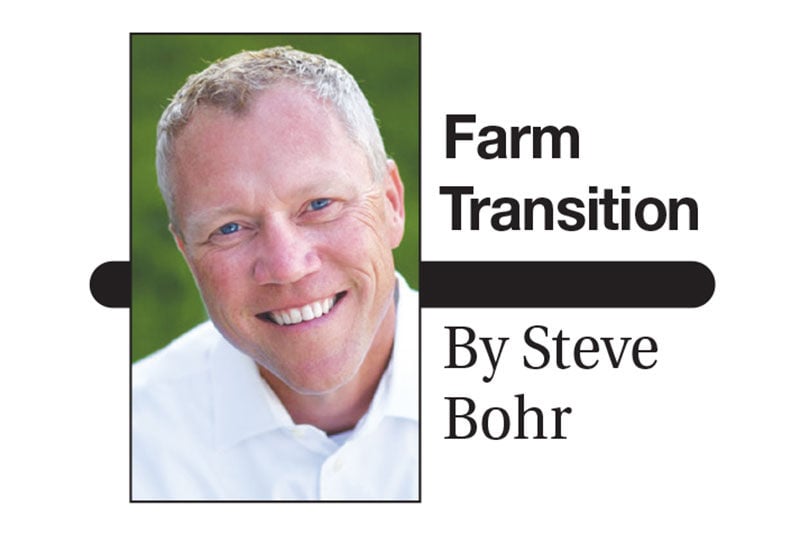 A popular country music song by Luke Bryan tells the story of a country boy's independence and love of the outdoors.
"Huntin', fishin' and lovin' every day.
That's the prayer that a country boy prays,
Thank God he made me this way,
Huntin', fishin' and lovin' every day.
Early in the morning — late in the evening.
I'm gettin' red dirt rich and Flint River pay,
Huntin', fishin' and lovin' every day."
When I started Farm Financial Strategies Inc. in 1992, one of my business mentors countlessly reminded me when asking questions of him, "If I give you the fish you will always be dependent upon me for answers. If I teach you how to fish, you'll be independent and can do it on your own without me someday."
What great advice! From the beginning, my mentor and trainer allowed me to have an ownership stake in the business. It enabled me to think for myself and make business decisions independently.
We sometimes take for granted this same independence opportunity on the farm. We may think we are independent as a farmer even though we may still have a dependence on something or someone else in the operation.
Part of this is because the older generation may be reluctant or does not know how to give up control. Part of this is because the younger generation may be reluctant and does not know how to ask. Part of it is because neither party has the time to sit down and put together business strategies that are not in their daily routine.
Long ago, we rented a cabin for a week in Estes Park, Colorado. It was interesting to me that there were signs posted everywhere that read, "Please do not feed the bears." That seemed like an obvious thing to abide by.  
We assumed the forest management did not want the bears to be dependent on humans to feed them or they may eventually forget how to hunt and gather for themselves independently. This sounds like a familiar concept in our current human culture.
Transition planning works in the same way. Sometimes we feel like we need to give breaks to the next generation. This may seem spot-on for family land transition when auction values require significant subsidization.
Some families struggle with the concept of sweat equity transfer to those who are working in the operation but not compensated commensurately with their peers who chose to work off the farm. 
It can be a complex task to identify strategies for transitioning short-term operation assets and long-term land assets. Sometimes we have to work around a situation where a square peg simply does not fit into a round hole.
Trying to decide what is fair can be difficult. We must take into consideration cash flow, but we also must be consistent. We certainly need to have a well thought-out plan tailored to fit your individual circumstances.
One such situation happened to me this week. We were facilitating a family meeting with four children and their spouses. One of the children had worked on their parent's farm for over 20 years. He had never been paid a cash wage. He had used their equipment to rent some ground and been paid in-kind by receiving the use of a vehicle, cell phone and health insurance.
The discussion turned when one of the in-laws boldly commented that it was not fair to the three non-farm heirs for the farm heir to be able to purchase equipment to run the business and the land to farm at reduced values to compensate him for past sweat equity. 
We started to make progress when we quantified the value of equity (sweat equity) that the farming son had deferred into the business. We compared it to the in-law's salary ($150,000), 401(k) balance ($1.5 million), deferred profit sharing and insurance benefits that had been alternatively offered for the children's off-farm employment.
It would have been much less of a combative discussion if 20 years previous the family had set up the structure to compensate the farming son in the same way that the non-farming heirs had been compensated by their employers.
The farm business model is infrequently set up to compensate the farm heirs for their efforts in a timely manner (or parents are unwilling to transfer equity, or time passes and good intentions yield to other pressing issues).
We talked about the farming son having a compensation package that would be equivalent to a $150,000 salary +15% into his "Farm-01(k)" agricultural version of the 401(k). We compared a deferred compensation/profit sharing plan of 2% of operating assets each year (maxed out at 50% ownership after 25 years).  
This type of structure would have put the farming son in line with the compensation package and opportunities that the non-farming children had in their jobs away from the family farm.
A very small number of families incorporate these arrangements for their family farm business. A large percentage of families will embrace these concepts but need guidance on how to create and adjust a transition plan over time.
If the family farm is going to survive, we must embrace these concepts and incorporate them into annual planning meetings regarding the business transfer.
Most families face three challenges in this area:
The first challenge is establishing a plan that will adequately compensate those who are working for the family farm. There are many factors to consider in this area (the type of business structure to minimize taxation, maximize cash flow and valuation, while protecting against future uncertainty from events like divorce, bankruptcy, retirement or the relationship not working out).  
The second challenge is to adequately "catch up" on missed opportunities of a plan that should have been created years ago.
The third challenge is how to communicate these plans to those who are involved (now and in the future).
Planning for transition after it becomes an obvious problem will not work in today's world. We cannot pay a 1981 wage and expect them to buy out siblings based on 2021 values.
Your farming children will not be able to pay $14,000 per acre for land if they are living on a compensation package equivalent to $14 an hour.
The conundrum is that you may not be able to afford to pay the next generation a wage of $140 an hour so that they can afford $14,000 an acre land payments either.
This is the importance of having a plan that consistently deals with these issues and having a process to communicate the plan to all involved.  
My sincere hope is that you can form the proper business structure to reward those efforts on your farm with adequate compensation that will allow your family the independence to hunt, fish and farm with the harmony to remain a family when the transition is complete.
---
For 29 years, Steve Bohr has been a partner in the farm continuation firm of Farm Financial Strategies, Inc. For additional information on farm continuation issues or if you have a question please contact Steve via email at Bohr@FarmEstate.com or by phone at 1-800-375-4180.