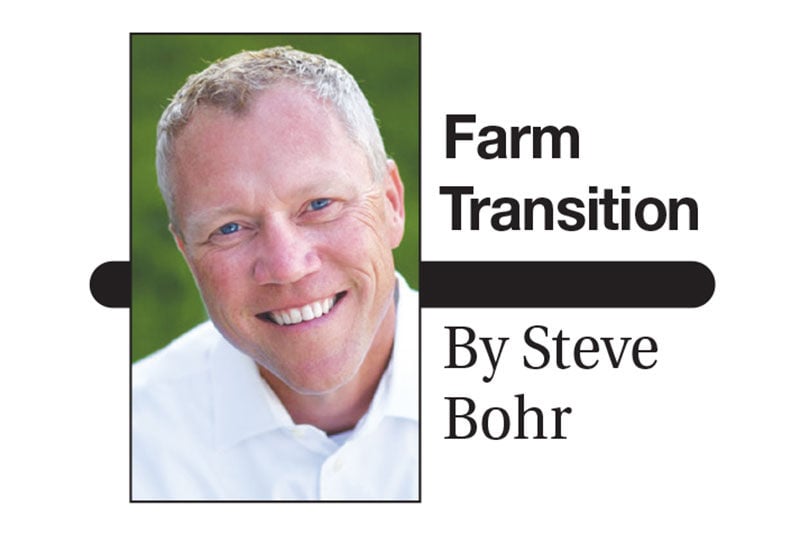 This week marked my 27th anniversary helping farm families transition their life's work to the next generation. It started for me back in July of 1992 when I met David Tigges. He would become my first and most influential business mentor.
Our farm wasn't big enough to support five full time families and David found me looking for an off-farm job after college graduation.
Growing up on a farm in Carroll, Iowa, he understood some of the issues involved in transition planning and astutely recognized a future need in agriculture. To this day, I'm not certain that he realizes how spot on he was about the "perfect storm" that is now evolving in agriculture ownership and transition.
Next generation
The next generation of farmers will not only be accountable for feeding the world, but will also be responsible for carrying on a way of life that we hold in high regard.
Have you noticed an increase in articles written recently on the trend of less farms, bigger farms and the need for younger farmers? Hopefully, our communities will take notice.
The most recent census from 2017 shows the number of farms has decreased by nearly 3% and the average number of acres per farm rose by nearly 3%. This trend will most likely continue.
This census points outs that 25% of farm land is owned by those ages 55-64, 26% is owned by those ages 65-74, and 34% of land is owned by those 75 years of age and older.
This totals 85% of farmland owned by those age 55 and older. Only 8% of our farmers in Iowa are 35 years old or younger. These are staggering statistics that should signal an issue for all of us interested in the future of agriculture.
It takes a tremendous amount of capital to get started in a farm operation. It is nearly impossible for a young person to start farming on their own. They need help from others who are in a position to provide an opportunity.
This assistance typically comes from within their own family, but it doesn't have to. We have recently witnessed cases where transition doesn't have to be with a related party to be successful.
Our industry needs to consider combined efforts, whether within the family or outside the family, not only for economies of scale and production efficiency, but also in cost sharing and transition opportunities.
Mentors needed
Leadership, respect and work are three words that embody a typical farmer — particularly one who is a mentor. You will find these same three adjectives in the third paragraph of the FFA Creed:
"I believe in leadership from ourselves and respect from others. I believe in my own ability to work efficiently and think clearly, with such knowledge and skill as I can secure, and in the ability of progressive agriculturists to serve our own and the public interest in producing and marketing the product of our toil."
A long-time client and mentor approached me over a year ago with the idea to promote a program to match young farmers looking for opportunity with retiring farmers who do not have an heir to continue their operation.
After much thought, I realized that as important as transition is to our industry within families, there may be an equal or greater opportunity for agriculture in facilitating transition opportunities outside of the immediate family.
Three-legged stool
The concept of a three-legged stool for leadership is not new. If one of the legs is missing, the stool will tip over.
In the model to develop and train new farmers, there are usually three involved parties.
1. The land owner who isn't actively farming or considering farming less acres.
2. A mentor who has the equipment and scale to grow but is in need of labor.
3. A young farmer who has the ability to work but needs guidance and capital.
In the traditional farm operation where transition takes place within the family, all three of these usually exist in the same family. They normally sit down every day together to eat dinner, if nothing else. These families need guidance but do not need to be introduced.
To facilitate a meaningful transition in today's environment, I believe we may sometimes have to look outside the immediate family for additional non-family transition opportunities.
Sample opportunity
Last week, I had a brainstorming session with a family interested in growing their operation, but they have had difficulty finding quality labor.
They had found one candidate they were interested in and outlined a package with three options:
1. Hire the young farmers as an hourly employee with benefits.
2. Give up 350 acres of their rented ground to the young farmer, trading labor for the use of equipment and their low input costs due to economies of scale.
3. A combination of part hourly wage and a profit-sharing program on fewer acres.
I get excited about this type of out-of-the-box thinking as this family is willing to take a chance on a young farmer and give up some of their operation to provide an opportunity that wouldn't normally exist.
There are financial programs to help young farmers that also should be looked into as a possibility. Lawmakers in Iowa recently passed legislation to double the funding for the beginning farmers tax credit for cash rent (5% state tax credit if land is cash rented to a qualifying beginning farmer). There is a 15% state tax credit for a landlord who rents land via crop share or the bonus portion of a flex lease.
The federal government also recently increased the lending limits for low-interest beginning farmer loans to facilitate land purchase or livestock facilities. These programs are a must for a young farmer if they are going to have a chance to compete.
Whether you are a landowner looking to retire, an existing operator (mentor) looking to grow your business, or a young person looking for an opportunity to be involved in production ag, the third paragraph of the FFA Creed may give you inspiration.
I believe that we can and will find a way to facilitate these relationships both within families and outside of families for the sustainability of our industry.
My hope is that you will consider being a mentor or you would consider renting your land to a beginning farmer in an effort to assist the next generation of producers to work into an operation (whether they are family or not).
---
For 27 years, Steve Bohr has been a partner in the farm continuation firm of Farm Financial Strategies, Inc. For additional information on farm continuation issues or if you have a question please contact Steve via email at Bohr@FarmEstate.com or by phone at 1-800-375-4180.