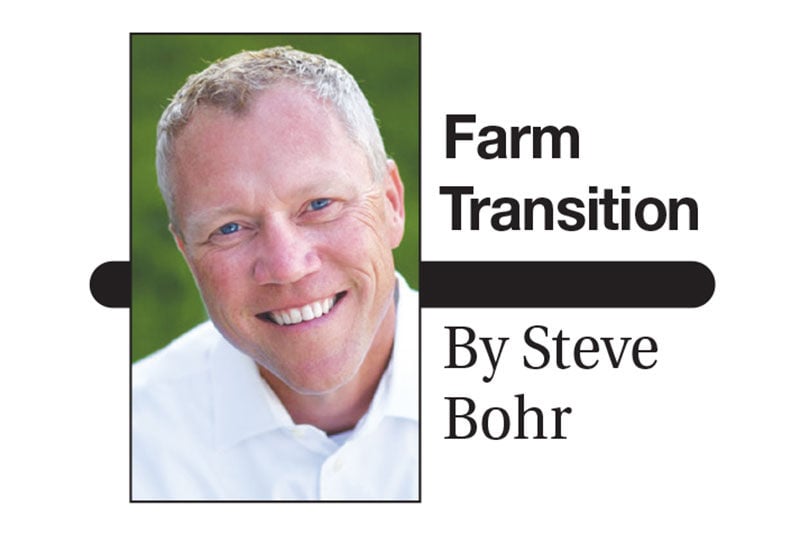 Recent harvest rains brought the opportunity for us to catch up on the farm.
Yesterday I was able to update some of our field boundaries and waterways that needed remapping in our computer system. Modern guidance systems do not work efficiently unless the system knows exactly where you are.
Estate and farm transition plans do not work efficiently unless we know exactly where we are either. The uncertainty of the recent tax proposals have left the estate planning community in search of guidance, as we currently have no idea where we are at from a tax law perspective.
Sometimes guidance comes in the form of a simple phone call when you cannot remember where you left a tool (or maybe not put back where it should have), or in the form of a marketing plan or an advisor on buying a farm or an attorney on the details of a contract.
A respected client told me a story today about one of his technology experiences. One day, as the combine alarm continually "beeped," he found himself climbing in and out checking and re-checking what could be causing the distress.
Finally, his son arrived to the field and after additional troubleshooting, found that the "beeping" was actually his father's hearing aid battery and not the combine monitor.
No matter where you get your guidance, we all rely on direction in one form or another.
Guidance needed
Now more than ever we need some guidance from our federal government.
Two tax proposals from March of 2021 received a lot of attention. One proposal reduced the federal estate tax exemption equivalent to $3.5 million per decedent. The second proposal eliminated the current basis step-up at death in favor of the recognition of gain of assets at death.
Both of these proposals would have been devastating for agriculture. Thankfully, neither of them are in the current House Ways and Means proposal waiting on a vote.
The House Budget Committee gave us some guidance for tax increases proposed on Sept.  13, 2021, to pay for the cost of the $3.5 trillion reconciliation bill. Changes are likely before the end of the year.
It is important to recognize this proposal in its current form may never become law. The Senate will have its own version that could alter the House's version. Some experts say that we are not out of the woods yet, as the Senate's version could include the loss of basis step-up.
The House proposal could affect us in the following areas:
Estate, Gift and Generation-Skipping Transfer Tax reduced to $5 million adjusted for inflation from year 2011 (estimated $6 million per person or $12 million per married couple for gifts and estates for deaths after Dec. 31, 2021).
There is no mention of the elimination of the step-up in basis. President Biden, however, reiterated his wish to see the basis step-up change added to future legislation.
Valuation rules for nonbusiness assets. Valuation discounts not allowed for passive assets not used in an active trade or business. There are exceptions for real estate if the transferor materially participates (applies to transfers after the date of enactment).
Top marginal income tax rate and capital gains rates. Top income tax rates increase to 39.6% and apply to taxable income in excess of $450,000 (married filing jointly), $400,000 (single) and $12,500 (trusts and estates) for tax years after 2021.
The top long-term capital gains rate would increase to 25% from 20% (effective for gains recognized after Sept. 13, 2021).
Section 199A Deduction (Qualified Business Income). The current 20% deduction under Section 199A would be limited to $500,000 (married filing jointly or surviving spouse), $400,000 (single) and applies to tax years beginning after Dec.  31, 2021.
Grantor Trusts. This proposal taxes Grantor Trusts (specifically Intentionally Defective Grantor Trusts) in the estate of the decedent where the grantor is the deemed owner.
A sale to an intentionally defective grantor trust is an estate freeze technique that allows a taxpayer to gift or sell an asset without having to recognize any gain (removing the appreciation of an asset from the estate).
Grantor trusts created on or after the date of enactment and asset transfers to existing grantor trusts will be subject to the these tax consequences.
Corporate tax rate. The C-Corporation income tax rate would be 18% up to $400,000 of income, 21% up to $5 million, and 26.5% on corporate income above $5 million. This could be a tax cut for most family farm C-Corporations (currently paying 21%).
Rule for converting certain S Corporations to partnerships. Permits a corporation that was an S corporation on May 13, 1996, to reorganize as a partnership on a tax-free basis (two-year period beginning on Dec.  31, 2021). This could be a major advantage to some family farm corporations.
Increase in Special Use Valuation discounts for qualifying land. Currently, a qualified family can reduce their estate as much at $1.19 million (2021) by using a cash flow formula to value their land at death (rather than appraisal). This proposal will allow a qualifying family to reduce their estate by as much as $11.7 million. We must be very careful of what future rules will be "required to qualify."
$80 billion to fund the IRS. To strengthen tax enforcement and increase compliance, expand audits and modernize the IRS's information technology.
Four strategies
1. Do nothing. This is the "outlive the tax law" strategy. If passed, would be with reconciliation (would not be permanent).  
2. Gift or sell away your current $11.7 million exclusion before the exemption lowers to $6 million. (Adjusted for inflation estimated as of Jan. 1, 2022, in the House proposal). There is carryover basis (no step-up) on a gift. Make sure to have a plan for the future ownership and operation of the land.  
A gift of this magnitude could save 40% tax on the difference between exemptions ($5.7 million at 40% tax savings is significant). Consider this strategy if your life expectancy is short and your estate is over $6 million or if your estate is more than $12 million (more than likely taxable no matter what the exemption or your age).  
3. Position your most valuable asset for a discount (up to 40%). Create an entity for a business purpose (the proposed regulations do away with discounts for non-business assets).
It will be important to have a business plan with written lease agreements for transactions regarding land management. Keep your residence and any personal assets out of the business entity.
Voting and non-voting units of the LLC allows the grantor to keep the voting units to retain a management fee for running the business (a way to keep the income) while giving or selling the non-voting units.
4. Insure the risk with a term life insurance policy. If you do nothing (Strategy No. 1 above) and happen to die with additional tax liability, it may be simpler and cheaper to buy a 10-year term life insurance policy to protect the risk than to plan around it.
The House proposal provides some guidance but nothing concrete. A "plan for the worst and hope for the best" strategy may be in order here. Time is short before these changes are to be enacted (notice some are proposed immediately and some proposed Dec. 31, 2021).
If an alarm goes off that is more serious than a hearing aid battery, my sincere hope is that you will have had guidance with a well thought out plan already in place to mitigate additional tax risks to your farm estate.
---
For 29 years, Steve Bohr has been a partner in the farm continuation firm of Farm Financial Strategies, Inc. For additional information on farm continuation issues or if you have a question please contact Steve via email at Bohr@FarmEstate.com or by phone at 1-800-375-4180.