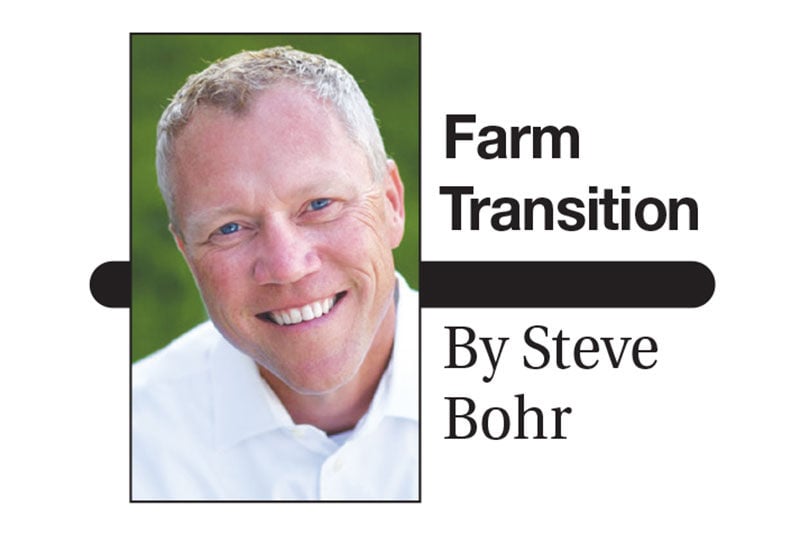 The statistics facing the transition of production agriculture are difficult to ignore and necessitate an increased focus on leadership roles.
In 1997, there were 96,600 active farmers in Iowa (975 per county). By 2007, we reduced to 92,900 active farmers (938 farmers per county).
In 2017, we are now down to 86,900 active farmers in Iowa (877 farmers per county). This is a 20-year decline of 10 percent. And this decline is projected to continue at an increasing rate.
Sixty-five percent of farmland is owned by people who are 65 years or older. Forty-two percent of landlords are age 75 or older.
This age group (for various reasons) either does not have a plan to transfer, resists a plan to transfer due to lack of education and fear of capital gains tax, or they have a plan but it doesn't engage until their death.
Whether the deferral mentality is purposeful or accidental, the fact of the matter is a large amount of Iowa farmland will transfer at deaths, which will occur at an increasing rate due to the age of the owner in the next 10 years.
The next generation of land owners and the next generation of producers are not ready for that kind of wealth transfer.
How many additional acres will your heirs need to farm in the future to be able to maintain a full-time living from the farm, and what will this mean to your family?
As the number of farmers falls and the size of the farms rises, what does this mean to our communities and the future of our industry?
'Build a fence' — A reader question
Email feedback from this summer's workshops tell me people are listening to this message:
"My husband and I heard you speak at the Women, Land and Legacy meeting yesterday. You mentioned that 'kids are like cows, and if one jumps the fence, the others may follow.'
"This was so true in my family. When my parents died, the four of us all vowed that we wouldn't let money come between us. My parents built a pretty good fence around their estate plan, but we found out that it wasn't good enough.
"One of my sisters is now insisting that we auction the land as the fairest way to find out what it is worth. She does not agree with either of the two appraisals that the estate has paid for. One of my other sisters has now followed the first sister, and the third sibling is waffling.
"I'm afraid that our family farm will be auctioned against what I'm certain would be my parent's wishes.
"You mentioned having a plan for multiple family members to own land with rules for management to settle disputes in the future if the owners didn't agree.
"I feel like we didn't inherit this land from our parents, but rather we are borrowing it from our children.
"If my husband and I can pull off buying out my three siblings, what kind of a plan were you talking about to 'build a fence' around the farm so this doesn't happen to our children?"
The old saying, "That will never happen to our family" actually doesn't hold true all the time.
Unfortunately, what you perceived to be your parents' wishes must not have been in writing or you wouldn't be having these issues with your siblings.
Work with your siblings
There may not be a whole lot you can do with your siblings other than try to educate them about what you believe to be reasonable terms for your family.
For your sake, I hope you can come up with something in-house that is workable for both parties.
A land-owning entity (like an LLC or an LLP) is a tool that has worked over time to accomplish the goal of keeping land together with multiple owners.
The purpose of the LLC (Limited Liability Company) or LLP (Limited Liability Partnership) is to have an operating agreement outline rules to resolve future disputes to keep the land in the family (assuming that is the goal of land ownership).
Keeping land together as a unit to maintain purchasing power and economies of scale (rather than dividing your land base amongst your heirs) may be one of the most important components to maintain operational viability in the future for a producing farm.
If the ratio of land owned to land rented is too low, farming may not work out with the inevitable need to add future acres.
For the purposes of this discussion, we are talking about a land-owning entity designed to rent the land to the producer (typically a family member).
The entity, if taxed like a partnership and not a corporation, can be dissolved in the future without income tax issues.
Creating or updating an LLC or LLP
Here are some sample rules to consider when creating or updating an operating agreement for a land owning LLC or an LLP.
Identify a leader and permit them with guidelines to settle future disputes. This typically is in the form of a manager for an LLC or an LLP. If the land is in a trust, it would be a trustee.
Empower the manager to pay up to 10 percent of the gross revenue to care for the land (tile, waterways and conservation) without a vote.
Direct the manager to lease the land at the Iowa State University (or other state authority) county average rental rate to individual family members, or name groups of individuals (children, grandchildren or lineal descendants).
Provide specific purchase options and terms if a permitted owner (lineal descendant or trust for a lineal descendant) wishes to sell — as an example, at the average of two certified appraisals (one selected by the seller and one by the manager) with a 25 percent family discount with 10 percent down payment with the purchase price paid over 25 years with the government's AFR (interest rate).
Provide specific purchase options to immediately buy back interests acquired by anyone other than a permitted owner. These "call" options may be at a 40 percent discount with 0 percent down payment over 35 years at the government's AFR (interest rate), as an example.
Allow the owners to change the rules in the future, but require a super majority vote (typically enough so all your children would have to agree to change your rules).
This is what we call "guiding" from the grave. In the absence of an agreement, your rules will guide them through any disputes.
The purpose of this sample outline is to maintain the integrity of land ownership while insuring that your family will have the opportunity for land ownership (which may become more difficult as time passes).
My hope is the legacy that you leave behind may not be so much the value of your estate that you pass to your children, but rather a home and a way of living that has been "on loan" and will remain adequately "fenced" for your children's children.
---
For 26 years, Steve Bohr has been a partner in the farm continuation firm of Farm Financial Strategies, Inc. For additional information on farm continuation issues or if you have a question please contact Steve via email at Bohr@FarmEstate.com or by phone at 1-800-375-4180.