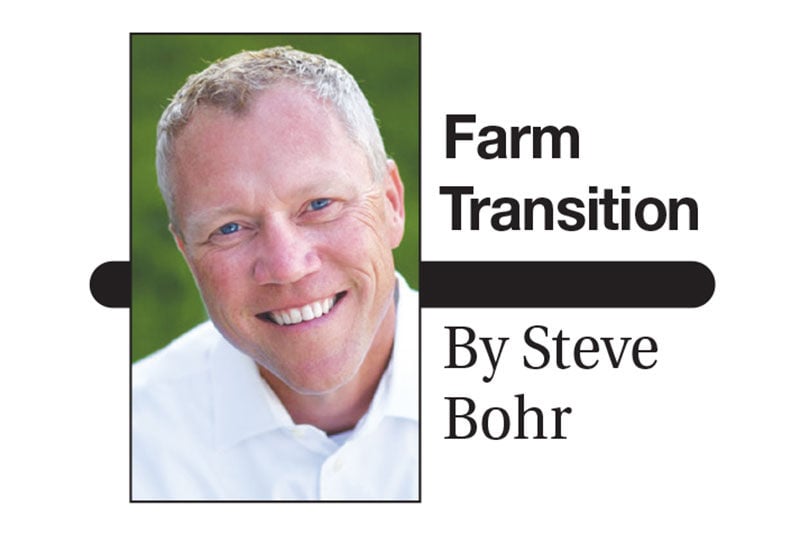 As farmers, we prepare for next season through the winter months. We prepare for tax season by deciding how much income to defer and discovering deductions. We prepare for planting season by working on equipment.
We also typically prepare our estate and farm transition plans during the winter months.
That translates into workshop season for me. Regardless of whether the meeting is in person or held over a video platform, we consistently ask one common question, "How many times can your family afford to buy the same parcels of land?"
The "old days"
When land prices were $2,000 per acre, a family of four siblings could divide the land equity four ways and the farming heir could use their $500 per acre inheritance as down payment and could afford to borrow the balance of $1,500 per acre from the bank to buy out the non-farmers.
To put it into perspective, a 15-year loan at 5.5% interest on a $1,500 per acre loan would require a cash flow payment of $150 per acre. This sounds reasonable.
In the last 15 years or so, the land values have changed significantly to the point that a down payment of an inheritance is not even close to enough to cash flow a purchase of inherited sibling equity.
In comparison, a 15-year loan at 5.5% interest on a $7,500 per acre loan ($10,000 per acre appraisal with one-fourth equity inheritance of $2,500 per acre down) would require a cash flow payment of $750 per acre. This sounds ludicrous.
Working it out
We typically end workshops with a worksheet for a hands-on example. Let us assume a family of four siblings who share an inheritance of 400 acres of farmland with an appraised price of $10,000 per acre.
For this example, we will also assume the estate plan has granted the farming heir a 25% discount off the purchase of the land (1% for each year of service to the farm).
At $10,000 per acre, a 25% discount would bring the family value down to $7,500 per acre. With an inheritance of another quarter, this would bring the purchase price down to $5,625 per acre after discount and inheritance.
At this moment in time we typically ask workshop attendees with a show of hands how many would be willing to buy $10,000 an acre land for $5,625 an acre. As you can imagine, nearly everyone in the room raises their hand.
On a 15-year bank loan at 5.5% interest, the principal and interest payments to acquire $5,625 per acre land would be approximately $560 per acre.
We use either a 15-year 5.5% interest loan or a 20-year 7.5% interest loan as an example for payments. One or the other has been appropriate for nearly 20 years. Both combinations of time and interest yield the same payment (combined principal and interest) of approximately 10% of the original loan.
We then will ask the same audience with the same show of hands who is willing to commit to $560 an acre for a cash flow purchase payment for 15-20 years. As you can imagine, no one ever volunteers for this payment.
This illustrates how far upside down we are in land valuation and how much subsidization is required to cash-flow land purchases. A $5,625 per acre purchase price seems like a bargain until the realization hits that the cash flow to make payments would require $560 per acre for the duration of the loan.
Our industry has lost sight of a farm purchase being able to cash flow on its own merit. With high land prices and unpredictable input costs, now more than ever it is important to know what your farming heir will be facing at the time of your land transfer.
How can it be possible to get a sweat-equity discount of 25% coupled with another 25% inheritance and not be able to cash flow the loan payment even with historically low interest rates?
Will your current plan create a negative cash flow situation for your farm heir to purchase the land that your family has already paid for once (and maybe twice)? Will your plan be fair (in your opinion) to both farm and non-farm heirs?
New perspective
Three years ago, a good friend and long-time client came to my office for a review. After working through his retirement strategy, we visited about farm transitions outside of the family from a macro-economic perspective.
He said to me, "What happens when there's no one in the family who is farming? There are many more families who do not have an heir to take over the operation compared to those who do. You might be missing the boat."
My initial reaction was that we were busy enough and did not want to take on another venture. I woke the next morning and realized that our biggest fear should be the fact that a majority of agriculture ownership would not transition within the family due to a shortage of family heirs who actively farm.
My consciousness shifted to the amount of farms to be farmed in the future by someone outside of the immediate family but also possibly outside of the community, or maybe even outside the state.
Most families in this situation want a plan to keep the land in the family, whether there is a family member who will farm the land or not.
It has been rewarding that these families have been willing to research methods to transition operational assets to non-family successors in an attempt to reduce tax liability and ease the psychological and emotional stigma that comes with walking away from a lifetime of labor.
It is equally worthwhile to find a candidate who will raise their family and do business in the local community. The first focus is on a plan for the transition of operating assets, then on the future of land transition.
My hope is that you will have a consciousness of the issues of your operation and land transition, whether it will happen within the family or outside the family. If your current transition scenario could create an unacceptable outcome, you now have an opportunity — if not an obligation — to consider alternative plans for your and your community's future.
---
For 28 years, Steve Bohr has been a partner in the farm continuation firm of Farm Financial Strategies, Inc. For additional information on farm continuation issues or if you have a question please contact Steve via email at Bohr@FarmEstate.com or by phone at 1-800-375-4180.