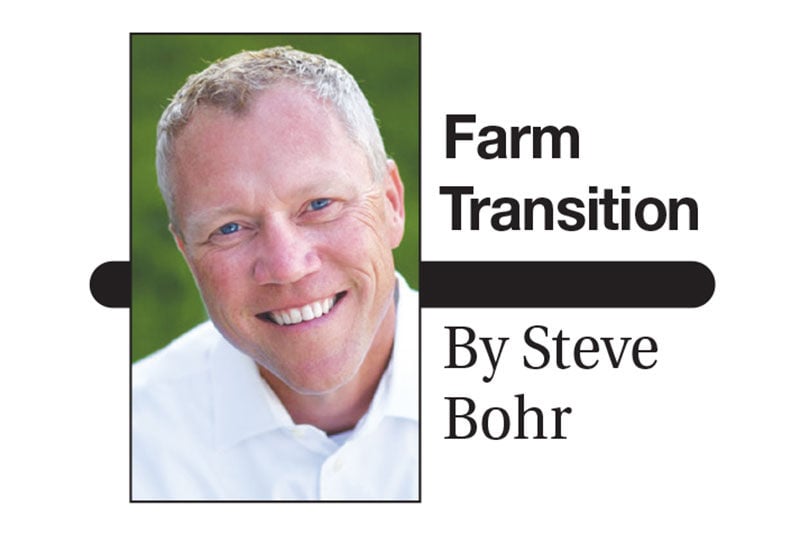 The value in a farm transition planning process is not only identifying issues but also (most importantly) finding solutions that fit your individual goals. Everyone involved may agree on the issues, but there can be disagreement on how to solve these issues.
In having this very discussion in a client review meeting today, I made the comment to a landowner and his tenants, "What kind of a wake will you leave behind your boat when you are gone?"
At first, my client was thinking about what kind of a wake "service" he would leave behind at the funeral home.
What I meant was how smooth would the waters behind his estate "boat" be after his passing. Both uses of the word "wake" were appropriate in the conversation.
We were talking about how his transition would affect both his family and his tenants who take excellent care of his land. It is a priority that they care for it after the estate is settled.
Undeniable issues
The issues for the landowner are easy to understand. He wants to keep control and he needs the income from the land during his lifetime. He wants to make sure his tenants have the opportunity to own the land at a reasonable price that would cash flow for them (regardless of what his heirs would want to sell it to them for).
He wants the future owners of his land to be patrons in the local community by supporting local businesses and churches. The economic benefit of his farmland is to be reinvested in his own community and not someone else's.
He wants to reduce or eliminate estate tax and capital gains taxes no matter what happens to the proposed law changes (to eliminate basis step up in favor of taxing gain at death and to reduce the estate tax exemption limit from $11.7 million down to $3.5 million).
The issues here are undeniable. The possible solutions are subjective and arguable. The good news is the landowner is very capable of taking a leadership role in how he would like his land ownership to transition.
Price and terms
Pricing land for the inevitable transfer is one of the major issues aging landowners face. The choice of options sets the stage for the future land ownership. The default price without a plan is the appraisal of comparable sales of similar land. An heir would be entitled to receive the same price that a neighbor would pay to turn their inherited land into cash in this example.
The issue here is cash flow for the buyers. Appraisal price will not cash flow and requires subsidization. Unfortunately for our industry, it probably never will. This does not mean it is right and it does not mean it is wrong.
The recent run-up in land values has created a massive cash flow problem for anyone who wants to keep their land in the family if the mechanism to price it in the future is appraisal.
Historically, families have offered a discount off the land price to help those who want to continue the legacy of land ownership. This discount is arbitrary and causes arguments unless carefully thought-out and communicated. In today's market, this discount will most likely still not cash flow for the buyer and upset the seller by reducing the maximum inheritance they could have gotten if sold in the open market.
It is disheartening to realize that with a 25% discount and a one-fourth inheritance (as an example), land that would appraise at $12,000 would generate a loan of $6,750 per acre.
If amortized over a 20-year loan at 4%, the cash flow to make the payment (principal and interest) would be $490/acre. How can we be so far upside down in an industry that an heir could inherit one-fourth and be given a 25% discount for sweat equity and still have to leverage their inheritance (and possibly their entire future) on payments that do not cash flow?
Section 2032A of the Internal Revenue Code offers an alternative to value family land at cash flow values. This is a formula referred to as special use valuation (not an appraisal) and is a consideration in situations where the main goal is to keep the land together and price it based on cash flow (not at what the market would bear if it were sold in the open market).
Most terms assume a cash payment, but a discussion on terms should also include the possibility of a contract. Equity is noteworthy, but cash flow is always the most important issue to consider in a farm operation.
Reading of the will
We talk frequently about the importance of legacy in farm transition. What type of legacy will you leave behind in the wake of your estate boat?
It is common to hear at a farmer's wake service about the legacy of faith, love, hard work, leadership and sense of community.
At the "reading" of the will, however, the discussion can change to disagreements over material matters surfacing at an emotionally charged time with a large amount of equity to argue about dividing. With escalating farm appraisals, it has become increasingly more difficult for heirs to resist the natural temptation of focusing on a monetary value of their inheritance.
We often reference the lottery concept as a parallel to how heirs may think at the time of an estate distribution. Like being handed a scratch-off lottery ticket, reality occurs when the ticket owner scratches off the window to see what it is they have won (or not won).
It is easy to understand how some heirs might be disappointed in their announced share. The non-farming children may be unhappy that their farming sibling "gets more" than they do. The farming sibling may be dissatisfied that they "got the same" as the others who did not exert the same effort in creating the estate that is now being divided.
We recommend a "reading of your will" every five years as a review for your family before you die. In this event, the actual event may turn out to be a non-event.
Debate on solutions
Most estate and farm transition issues are undeniable. All can agree that there are serious issues to deal with. All may not agree on the solutions.
This is your opportunity to deal with them sooner rather than later. The tools you use and the timing of when you use them could make or break your farm transition.
My sincere hope is that you will be able to have real and valuable discussions with your family on the possible issues that exist in your particular situation and that you can come to an agreement to properly settle any future debates on the solutions that best fit your family.
---
For 29 years, Steve Bohr has been a partner in the farm continuation firm of Farm Financial Strategies, Inc. For additional information on farm continuation issues or if you have a question please contact Steve via email at Bohr@FarmEstate.com or by phone at 1-800-375-4180.