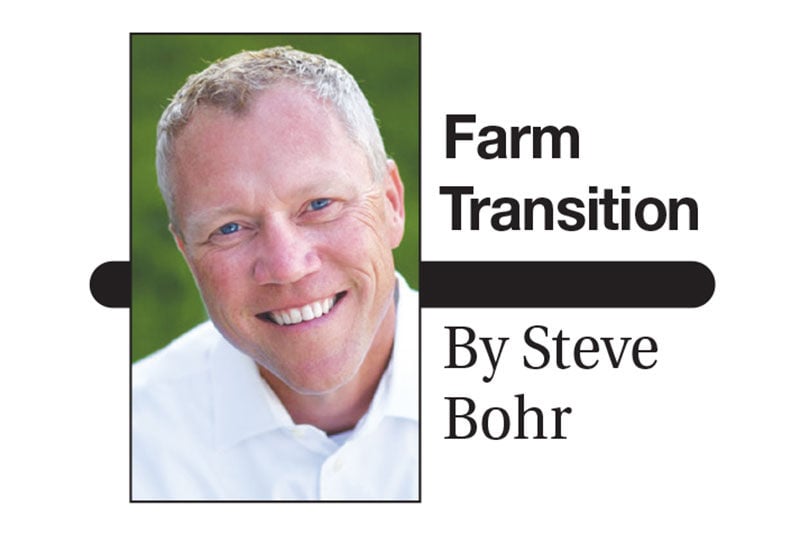 There are many things to be thankful for in this life. This column leads with electricity because as much as we all rely on the comforts that electricity provides, most of us do not understand how it really works.
We take electricity for granted. Those who have gone without for a week (particularly after the summer of 2020 derecho) will know what I mean.
As consumers, all we need to know is how to flip the switch in a room or turn on an appliance. If it does not work, then check a breaker box. After that, call an electrician who specializes in electrical issues.
If all of us were to "do it yourself" with electricity, the possibility of bad results would increase dramatically.
At church this past Sunday, I found myself reflecting on some of the other things that we take for granted. Ironically, the most taken for granted are probably the things we should be most thankful for. My list of things have roots in a family farm upbringing.
As an example, we all knew on the farm that death is a part of life. Death is an unpopular topic of conversation, but an important conversation for all of us to have at any stage of life.
We were raised in faith. We knew that one day the Lord would come, take us by the hand and lead us to our eternal reward. Like electricity, we may not understand fully how the eternal reward works but we know who to seek when in need. For that, I am thankful.  
We were taught to be ready for anything that may come our way — for we know not the day or the hour. Being prepared was of high priority in our house. For that, I am thankful.
We were trained to be concerned about the things that we can control and not to be anxious about those that are less important. What was important was how we treated others, what value our efforts brought to our farm and more widely our community. For that, I am thankful.
We learned to plan for the next year's crop as soon as the current harvest was completed. We were not concerned with how much money a short-sided approach of selling the farm could possibly yield.
We looked toward the future and were concerned with how to leave what we had better than how we found it. For that, I am thankful.
We were educated in an environment where standards are clear and had expectations to meet the set standards. We did not seek a handout from anyone. We worked for everything we got whether it was at home, in school, on the playing fields or the harvest fields. For that, I am thankful.
'Plan for the worst, hope for the best'
The past few months have been a roller coaster ride from an estate tax planning perspective. First, a proposal introduced to reduce the estate tax exemption from $11.7 million to $3.5 million. Shortly after, an additional proposal to eliminate the current basis step-up rules and replace it with recognition of gain above $1 million.
Neither of these proposals are in the current House Ways and Means Committee bill scheduled for a vote this week. This is great news for those who want to pass on their family farm. We need to remain ready if these tax proposals resurface again.
We now need to prepare for Jan. 1, 2026, when the estate tax exemption falls automatically back to $5 million plus inflation since 2011 (estimated to be between $6.5 million and $7 million at that time).
Most families now need to consider positioning their most important asset for the ability to discount valuation upon death or if gifted while living. It will be important to have the ability to transfer assets quickly if a tax law changes, while providing structure for future management to reduce the anxiety of a future decision.
Properly established land entities (LLC, FLP or LLLP) can accomplish all of this for a family.
Legacy planning
Another valuable advantage of a properly set up land entity is the ability to transfer units to future generations to give them the opportunity for ownership. This point surfaced today on a family video conference review.
This particular family had previously set up two separate LLCs that would eventually go to each of their children (and hopefully one day to their children's children). Nine years previous we had transferred 20% of each LLC to each of their two children (mom and dad retained 80%).
With the uncertainty of the tax law changes, they now want to explore transferring another 75% to their children. We reviewed the following facts:
Mom and dad have ample lifetime income to live (even after this proposed transfer).
The children do not plan to sell the land, so a basis step up is not important.
Mom and dad's estate will be greater than the planned estate tax exemption on Jan. 1, 2026, when the exemption automatically cuts in half (assuming it does not reduce sooner).
The LLC operating agreements have rules to keep the land in the family (lease options for lineal descendants at Iowa State Extension rental survey averages and purchase options if a family member wants to sell under family terms that will cash flow).
We all got emotional when mom and dad asked about gifting a small percentage of their land LLC to the grandchildren. We discussed the importance of leaving a legacy.
Transferring a small portion of their land entity to the grandchildren now allows them the opportunity to understand the process and, maybe most importantly, feel like they are a part of the legacy for the future ownership of their unborn children's children.
It will mean more knowing that Grandma and Grandpa wanted them to participate in their legacy. The pride of a family farm legacy goes beyond the ownership of the land. For that, I am thankful.
November is a time to give thanks for all that we currently have and for the opportunities that we may have in the future.
Death is a reality of life and each one of us will experience it one day. We should not be afraid to have conversations about it. The discussion will prepare you and your loved ones for when it does happen.
My sincere hope is that you will be able to give adequate thought and planning in preparation for a day that the electricity goes off, or more importantly the hour that we meet our maker. For that, we should all be thankful.
---
For 29 years, Steve Bohr has been a partner in the farm continuation firm of Farm Financial Strategies, Inc. For additional information on farm continuation issues or if you have a question, please contact Steve via email at Bohr@FarmEstate.com or by phone at 1-800-375-4180.