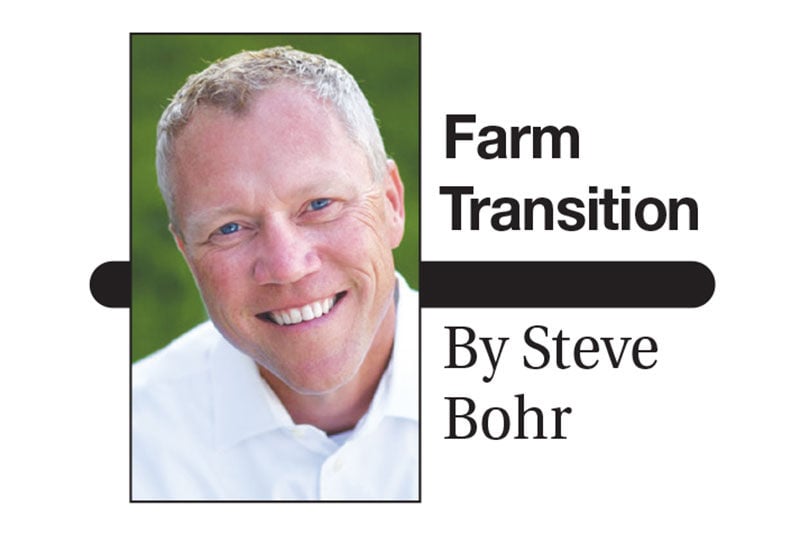 Building long-term relationships with tremendous people is by far the best part of my off-farm job. The quality of farm families in small-town Iowa never ceases to amaze me. Simply put, they are the finest people in our great country.
I had the privilege this week to visit one such family. Their work ethic, enthusiasm and desire to keep their way of life on the farm is more than admirable — it is special.
We first met this past June at a conference put on by Women, Land and Legacy. Over the course of our first three meetings, we have retraced tragedy and triumph while conversing about death and taxes.
At the family meeting this week, one of the sons told me that their mother, a strong-willed widow and the family matriarch, was disturbed by something that we had pondered in our first meeting.
At the first (fact-finding) meeting, we take time to identify ownership and valuation of each land parcel. As a part of this process, we tab each farm with a "name" for identification purposes.
It's no secret that landowners typically "name" a farm after the family that they purchased it from.
The matriarch was uneasy when asked how she would feel if, due to inadequate planning, a neighbor purchased a parcel of land from their family and "named" that farm with their last name.
The very same day, my email produced an eerily similar situation from a family with a parallel view of farm continuation:
Steve,
My wife and I live in northwest Iowa. I have read many of your articles in Iowa Farmer Today.
We have five children and three grandsons. There have been divorces and remarriages in the family.
We are both active on the farm. Our C-Corporation owns 320 acres. I own 320 acres and my wife owns 320 acres. We don't know a lot, but we know that there is a lot riding on our current planning decisions.
We don't like the thought of a neighbor calling a farm by our last name like we refer to farms by the last name of the family we bought it from. Looking back on each farm that we have purchased, each of the previous owners would have been better off if they still owned it. We don't want this to happen to us because we didn't have a plan. How can we best title our property to keep the land (we have owned some of it for over 100 years)?
Compound answer
This simple question necessitates a compound answer.
You are probably under the $11.4 million federal estate tax exemption per person (as of Jan. 1, 2019) but this is scheduled to fall back to half this amount (plus inflation), estimated to be $6.2 million each, on Jan. 1, 2026. This is something you should watch out for and review periodically.
You should converse with your attorney about the differences between having your estate distributed by a will (simple, inexpensive to set up but triggers the expense, delay and publicity of probate) vs. utilizing revocable trusts to distribute your estate (more complex, more expensive to set up but may avoid the expense, delay and publicity of probate).
You definitely need to consider which "fork in the road" to follow in your plan at the first death. The simple plan is to leave everything to your spouse (easy and probably no estate tax with current exemptions). 
The other option is to leave it in a trust at the first death (either a traditional family trust that uses the tax credit but doesn't get a basis step-up at the survivor's death or a marital trust that defers estate tax until the second death, but gets a second basis step-up).
Both the family and the marital trust provide control and income for the spouse while protecting from potential future creditors such as a subsequent marriage, subsequent administration or catastrophic medical expenses.
Lastly, how to distribute your estate after both spouses pass could be as simple as leaving it to the children equally to figure out without direction, or as detailed as leaving it in an LLC or in a Generation Skipping Trust for the benefit of the children, with favorable rules for lease and purchase.
The transition of a C-Corporation is always of concern to me. The C-Corporation isn't contentious as long as you are both the owner and the operator. You probably don't need or want extra income, but if you do, you have options to get it out of the corporation (rent, salary or dividends) with no other owners to argue with.
This is a very different story when you pass and five siblings (and possibly spouses) and possibly three grandchildren (and possibly spouses) become co-owners.  
These same issues apply to the ownership of the land. You could decide to divide the personal land (if it divides) with favorable family lease and purchase options that would attach to the land as a condition of inheritance. 
You could also consider keeping all the personal land as a unit in a pass-through entity for management structure within the family (LLC/Limited Liability Company or LLP/Limited Liability Partnership).  
If this were the case, the homerun for farm continuation would be to wind the operating assets out of the corporation over time as you slow down (if you ever decide to slow down) to the point where there is only land in your corporation. 
Then convert your C-Corporation to an S-Corporation (pass through entity for retirement income for you and the children/grandchildren if they want to continue ownership of the corporation). 
If possible, transfer 100 percent of the stock of the converted S-Corporation into one of the owner's name (typically the man as the odds are he dies first).
After the death of the chosen shareholder (after the S-Corporation has been converted for the current holding period of five years), then the corporation could be liquidated with little to no tax (due to a 100 percent basis step-up of the stock of a pass-through S-Corporation with only land).
At that point, your heirs could add this land to the LLC or LLP (assuming this is your plan to keep the other land together for the family). 
Pride in ownership
You worked your whole life building this operation. If someone in the family wants to keep the farm, this structure can allow your legacy to continue (and possibly even grow) with rules to facilitate an opportunity to cash out heirs who wish to sell their interest, but not at the expense of those family members who wish to follow in your footsteps.  
Land ownership is unique. It takes a lifetime to accumulate, but can erode away in a short time. For certain, the amount of pride involved in land ownership is difficult to quantify but easy to recognize.
Moon, Foster, Zook, Moth and Fischer are names of farms that our family has acquired over a long period of time. For one reason or another, those farms have changed hands (hopefully for the last time in a very long time).
My hope is that you will have the opportunity to discuss these issues with your family with an open mind and a closed checkbook.
---
For 26 years, Steve Bohr has been a partner in the farm continuation firm of Farm Financial Strategies, Inc. For additional information on farm continuation issues or if you have a question, please contact Steve via email at Bohr@FarmEstate.com or by phone at 1-800-375-4180.