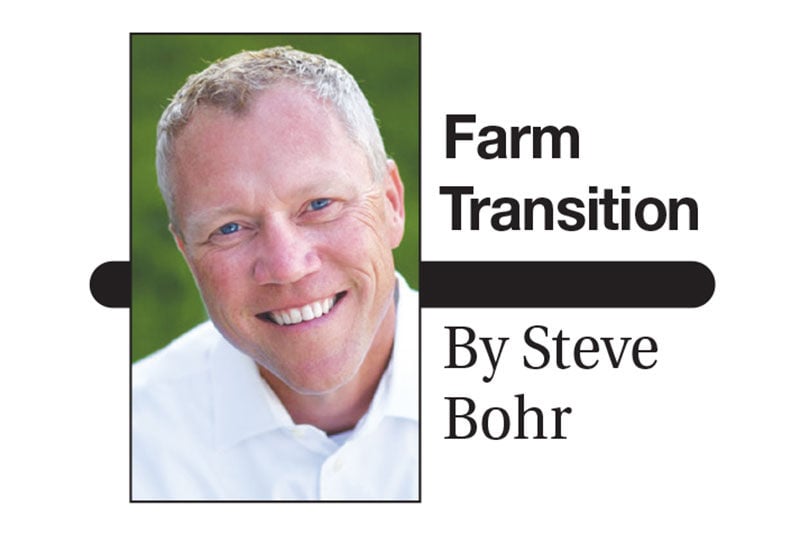 My grandmother was a disciple of the Farmer's Almanac. She was full of old wives' tales. She could talk for hours on end about most anything. As long as she was putting food in front of me, I could listen for hours.
Grandma educated me on sayings like "If it ain't broke, don't fix it" and "Don't bite the hand that feeds you."
I remember her saying one spring, "Don't plant corn until the frog croaks through the ice three times." That one did not make sense to me at the time, but I understand it now.
Last year was discouraging for most of us in agriculture, but with $5 corn as planters start to roll this spring, Grandma would be warning, "Don't count your chickens."
With proposed tax changes on the horizon, we should be careful "putting our eggs all in one basket" and should bear in mind that for Grandma "a bird in the hand is worth two in the bush."
Management of land
LLCs or other pass-through entities have been popular and will continue to increase in popularity for farmland ownership. These entities offer multiple planning opportunities with rules to resolve differences before they escalate into disagreements. It is better to "measure twice and cut once" when planning for an unpredictable future.
As my grandmother would say, "Good fences make good neighbors" and "an ounce of prevention is worth a pound of cure."
With uncertainty in the future estate tax law, one of the best planning strategies is to position your estate for valuation discounts by using entities like LLCs, Limited Partnerships or Corporations.
Valuation discounts have been and may continue to be a contested issue. Courts have seemed to uphold the premise that the value of closely held interest in an active trade or business is usually less than the value of the exact same asset held outside the entity.
The bottom line is "pigs get fat and hogs get slaughtered" when it comes to discounts. Legitimate discounts have been used successfully, but aggressive discounts without proper substance are ill advised.
Management of people
Albert Einstein once said, "I fear the day that technology will surpass human interaction. The world will have a generation of idiots."
My fear is that this predictive quote is coming to fruition. As we expand our technology-driven society, what will happen to our agricultural communities?
Similar to the depletion of some of our valuable natural resources, our communities stand to lose an even greater commodity — human resources. The wisdom, knowledge and experience that this generation has accumulated will be difficult to replace.
Like soil that erodes at a rate many times greater than it takes to develop, the insight and good judgment that can erode with a death in the community will be as difficult for the next generation to develop.
My hope is that technology and social media can become a resource to connect our youth to the leaders from our agricultural past.
One such example is a Google search for "An Old Farmer's Advice." This search pulls a list of important lessons from older farmers most of us can relate to:
An Old Farmer's Advice
Your fences need to be horse-high, pig-tight and bull-strong.
Keep skunks and bankers at a distance.
Life is simpler when you plow around the stump.
A bumble bee is considerably faster than a John Deere tractor. 
Words that soak into your ears are whispered — not yelled. 
Meanness don't just happen overnight.
Forgive your enemies — it messes up their heads.
Do not corner something that you know is meaner than you. 
It doesn't take a very big person to carry a grudge. 
You cannot unsay a cruel word. 
Every path has a few puddles.
When you wallow with pigs, expect to get dirty.
The best sermons are lived, not preached.
Most of the stuff people worry about ain't ever going to happen anyway.
Remember that silence is sometimes the best answer.
Don't interfere with something that ain't bothering you.
Sometimes you get — and sometimes you get got.
Always drink upstream from the herd.
Good judgment comes from experience, and a lot of that comes from bad judgment.
Lettin' the cat out of the bag is a whole lot easier than puttin' it back in.
If you get to thinkin' you're a person of some influence, try ordering somebody else's dog around. 
Live simply. Love generously. Care deeply. Speak kindly.
The last of the important lessons is worth repeating. Live simply. Love generously. Care deeply. Speak kindly.
There is one saying that I had never heard my grandmother say (or anyone else for that matter). It surfaced in a recent editorial entitled "Cardinals appear when angels are near," eulogizing a patriarch of the Iowa Soybean Association.
Later that week, it resurfaced during a Zoom meeting with a second- and third-generation family after the recent death of their father and grandfather.
I could tell something was materializing when one of the third-generation daughters motioned for the family to look out the window. Her father spoke up and explained to me, "A cardinal just landed in the window. We have a saying in the house that when a cardinal appears it's Dad."
How fitting as we were discussing how important it was for the family to follow the leadership of their father and grandfather's legacy. I'm certain that cardinal was more than just a bird landing in their kitchen window.
It hit me hard as we signed off that very meeting and in my back yard there was a cardinal on the ground at the base of a tree looking right at me looking at him. Wow — what an overwhelming and humbling experience!
As our country "raises" the next generation of "idiots" referenced in Einstein's quote, my hope is that rural America will continue to hold true to the foundation that those before us have laid, not so much for their own immediate gain but for our future benefit.
Our children are an opportunity for us to send a message to a time that we will never see. We need to be conscious of the fact that we are the inadvertent teachers of our children's children.
My advice is to "make hay while the sun shines" by communicating early and often with your heirs. This may provide an opportunity to "grease the squeaky wheel" if needed.
My sincere hope is that your heirs "won't look a gift horse in the mouth," but "don't bet the farm on it" because "money is the root of all evil."
---
For 28 years, Steve Bohr has been a partner in the farm continuation firm of Farm Financial Strategies, Inc. For additional information on farm continuation issues or if you have a question please contact Steve via email at Bohr@FarmEstate.com or by phone at 1-800-375-4180.