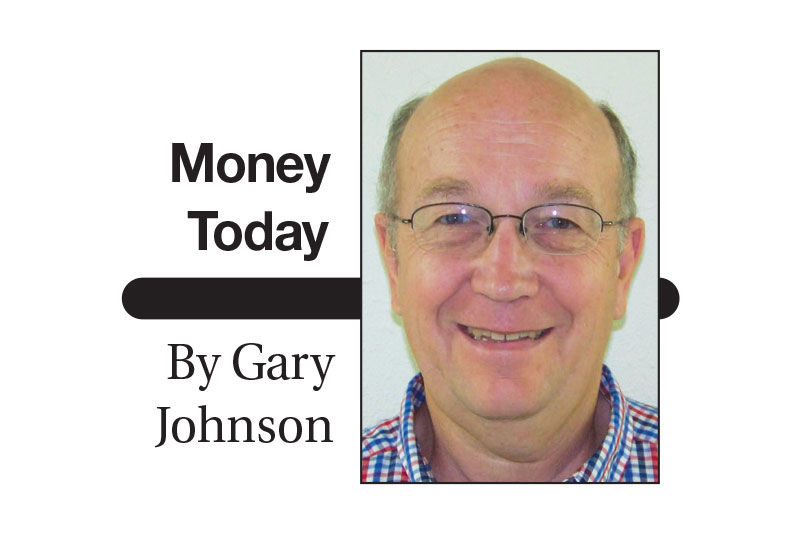 Editor's note: The following is the second in a series of Money Today columns.
---
Josiah was surprised to see a young dog shivering, cold and wet. It was a cool November morning, and it looked like the black dog had been outside during the rain. It was crouched in the corner, probably trying to find a dry spot out of the wind.
Josiah had closed everything and everyone out of his life after the accident. He had no friends and certainly desired no pets.
The dog was startled when the porch light came on and now looked at Josiah with anticipation. A staring contest went on for several minutes with neither contestant willing to move or blink. Eventually, Josiah walked over to the refrigerator and took out a piece of cold hamburger left over from his bleak meal the night before.
Opening the door a few inches, he tossed a piece of meat next to the dog. It got up, sniffed a few times, and then gobbled it down. The staring contest resumed for another minute before Josiah tossed another piece of meat to the dog. After the hamburger came two hamburger buns.
Josiah took two old towels out of the bathroom and tossed them on the corner of the deck. He went back to bed hoping the dog would be gone in the morning.
When Josiah arose at 6:30 a.m., the first thing he did was walk over to the kitchen. Not only was the dog still there, he was looking right into the window watching Josiah.
And so their relationship began. From the start they were both very unsure of each other. When Josiah went down to the shop, the dog followed, but not too close.
Josiah started working on one of his tractors, and the dog began inspecting the entire shop. After 15 minutes, it found a spot on a tarp where it could see both Josiah and the door.
For the last five years, Josiah had very intentionally kept everyone away. His anguish over the loss of his family and the guilt he carried became a wall around him. The wall was tall and formidable and everyone who came close to Josiah could see the wall. They knew to stay away.
The young black dog did not seem to care about any of these things. What happened next was a turning point in Josiah's life. He held out his hands and invited the dog to come closer. The dog sensed an invitation and carefully advanced, wagging his tail. Josiah was willing to pet the dog.
He decided he would call him Bert.
That afternoon Josiah walked out to the truck and Bert followed. Two hours later the truck returned, and a bag of dog food exited the truck with Josiah. An old plastic hog pan was located, cleaned up and filled with dog food. Josiah watched Bert eat until he thought the dog would explode. Bert resumed his post on the deck guarding the house.
Over the next few weeks, their relationship grew. Josiah found himself talking to Bert about the weather and the markets. Occasionally he would ask about how Bert had slept. A doghouse was manufactured in the shop and placed on the deck with a couple of old blankets inside. As Josiah opened up to Bert, Bert in turn became far more comfortable around him. Bert considered Josiah part of the pack.
Sometimes they walked early in the morning as the sun was coming up and other times late in the day just before it was dark. Bert spent his time running back and forth ahead of Josiah.
Occasionally Bert picked up the trail of a raccoon or deer and would shoot off, looking for something to chase down. Josiah enjoyed watching Bert and would comment on the way home about things they had seen and smelled.
One day as they were walking, they came over the crest of a small hill about three quarters of a mile from their house. Much to their surprise there was a dog up ahead and a person. Bert, being far more outgoing than Josiah, quickly ran ahead. The two dogs sniffed and smelled each other and eventually Josiah and the other person caught up with the dogs.
The other walker was Sue Ellen. She was one of Josiah's neighbors who lived about a mile and a half away. Her husband had died two years earlier of cancer. Unlike Josiah, she was far more outgoing and engaged. The two of them made some small talk while the dogs got better acquainted. Josiah felt uncomfortable talking to Sue Ellen and made an excuse about needing to go home.
On the way back, Josiah resolved not to walk on that road again. But two days later, at almost the exact same time, Josiah headed down the same road. He was not surprised to meet up with Sue Ellen again. This time they talked for more than a few minutes. Before parting, Sue Ellen suggested Bert and Josiah should come over to her house later that afternoon for dessert. Without thinking too critically about the invitation, Josiah accepted. All the way home, he regretted the decision and weighed excuses in his mind.
Josiah was a loner. He could not forget his deceased wife and family and it was almost impossible for him to consider spending time with anyone else. But, at the appointed time, he walked over to his truck. Much to Bert's surprise, Josiah invited him into the cab and the two of them drove over to Sue Ellen's farm.
The dogs were happy to see each other and ran around the yard together. Josiah felt very awkward, but Sue Ellen had set two plates on a table by the deck and he didn't even have to go into the house. That made things easier. They sat and talked while Josiah picked at the dessert. Sue had an easy-going way of talking, which made him comfortable.
A few days later they happened to be walking on the same road again. This time Josiah took the lead and suggested they could go to a movie, without the dogs. Over the next few weeks and months, the impenetrable wall Josiah had built around himself slowly began to crumble. Not only did he spend time with Sue Ellen, but he also felt comfortable being in town and talking to people there.
For many years, Josiah had always been short with everyone and appeared to be grumpy and mean. But the sun came up a little brighter each day and soon spring was approaching. As the snow melted, so did Josiah's cold heart.
Two years later, Josiah and Sue Ellen were married. A bigger doghouse was placed on the deck to hold both of their dogs. Josiah recognized he was happy again and felt he had his life back. For the next 10 years, he was kind to those around him and generous with the assets he had accumulated.
And so it is with all of us. When we are in the depths of despair and perhaps feel hopeless, providing a small act of kindness or service for someone in need can help heal the wounds of life.
Bert did not consider himself a psychologist or counselor. He was just doing what dogs do best, being excited for each day and loving the people he came in contact with. We can do the same.
---
Bob Dunaway and Associates offer estate and retirement planning. Gary Johnson can be reached at 563-927-4554 or by emailing him at plans@bobdunaway.com.