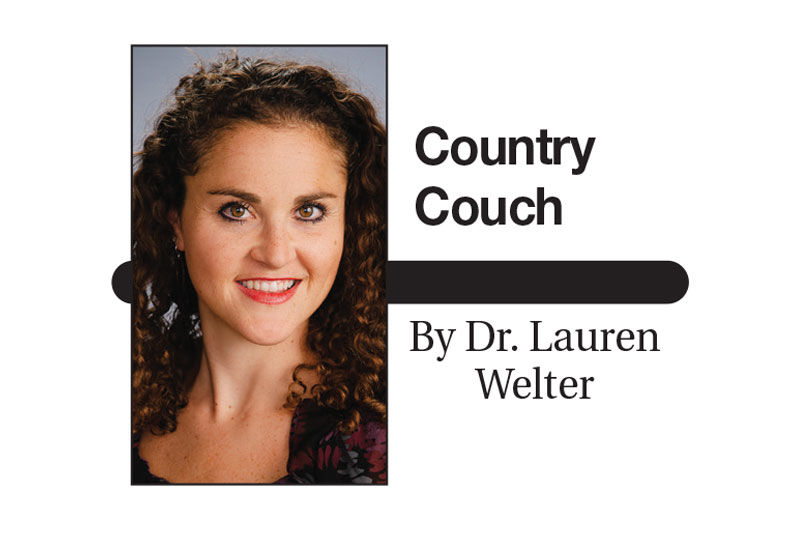 Reflecting on the holidays and the upcoming new year feels a little different this year as COVID-19 remains a primary force in our lives.
While most of us have many frustrations and anxieties, it seems important to focus on the positive elements of our lives and to shift focus away from things we cannot control onto those we can. There is an emerging research base on the importance of gratitude for well-being.
Those of us who spend time in our faith communities may implicitly understand the positive benefits of offering praise for all of the blessings we have — this may be especially important during difficult times when it could be easy to fall into sorrow or despair.
A brief exploration of the science of gratitude indicates that the more we actively choose to practice being grateful, the greater the benefits we will experience. Neuroscience suggests that "Neurons [brain cells] that fire together, wire together."
Brain cells are designed to be flexible and to adapt to our needs and circumstances through a process called neuroplasticity. At birth, we have trillions of neurons that can combine in almost infinite ways. Based on the unique circumstances of a given life, and the behaviors and experiences that an individual has, these neurons will combine in different ways to allow survival and success in the world.
Repeated pairings of seemingly random actions create strong neural pathways (i.e., the connections between the brain cells required to perform that process) in the brain, making that particular process or action easier to accomplish in the future.
For example, imagine a young child learning to tie a shoe. A parent will teach the child slowly, methodically. The child will learn to tie first one loop and then another, and to loop the two loops together. After many trials and many failures (with frustrated parents and teachers rushing in to do the tying!), children learn to tie their shoes easily.
As adults, most of us do so daily without even looking at or thinking about what we are doing. This is neuroplasticity. The brain cells responsible for the complex motor activity required to tie a shoe become well ingrained, and this series of movements begins to happen very easily.
Regularly practicing gratitude leads to similar results. The more we practice, the more we become accustomed to noticing and reveling in the many blessings we encounter daily.
There are countless things we can pay attention to at any given moment, not only in the real (external) world but in our own minds. To illustrate, set a timer for 60 seconds. Look around the room you are in and see if you can notice as many things as possible that you have not noticed before.
Perhaps you noticed the light filtering through the windows, a wall hanging you have not really seen in years, a light bulb that needs to be changed, well-worn carpet, chipping paint, a photo of a family member on the fridge, a plant that has been growing steadily.
When I do this exercise, I am always amazed at the multitude of experiences in my daily life that I simply do not pay attention to regularly. It is a powerful reminder that we can begin to notice the ways in which we are stuck in negative patterns, and to consider shifting to more positive and helpful areas of our lives.
Our minds are designed to notice and focus on threatening information; this is critical for survival. However, in our daily experience, it means that we may be focusing too much on anxiety-provoking or otherwise negative information and not enough on the blessings that surround us.
This seems especially true in 2020, when negative news surrounds us on television and in our communities.
We can practice gratitude both formally and informally. I personally think both are important. I work actively to find the beauty in the little things each day. To pause for a moment in the haste of the morning routine to notice the sun rising over the farm or the calves frolicking outside our kitchen window. To really taste the richness of the coffee I am drinking, remembering just briefly the experience I had at a coffee plantation in Guatemala. To take an extra 30 seconds each day when I drop off my children in the morning to revel in their beauty and love and health and to give an extra hug or kiss. To notice the rush of brisk air on these winter mornings.
All of this is possible without changing anything about our busy days; it requires only a simple shift in perspective and comes with so many benefits.
A more formal practice of gratitude has been associated with many mental and physical health benefits: improved mood, reduced anxiety, improved relationships, sleep and numerous physical health metrics. You may consider beginning a new ritual and having everyone share the best part of their day at the dinner table or when saying prayers before bed. Journaling daily about gratitude is a practice many enjoy.
Practicing gratitude does not mean that we do not have anxiety, distress, pain, grief or loss. It simply means that we actively choose to see all of the blessings that surround us in spite of the difficulties that life brings. What a gift that we can choose to give ourselves (and those around us who will also reap the benefits of our efforts).
Perhaps instead of being fearful or angry about what we see in the news, or making the typical New Year's resolutions about daily workouts or never eating another carbohydrate, we can all commit to something more achievable, something that matters on a personal and communal level.
I wish that each of you will find small moments to experience, express and share gratitude in 2021.
---
Dr. Lauren Welter is a licensed psychologist. She lives on a livestock and crop farm near Monticello, Iowa, with her husband Dan and their children. Contact her through her website, www.prairiehomewellness.com or call 319-975-8705.