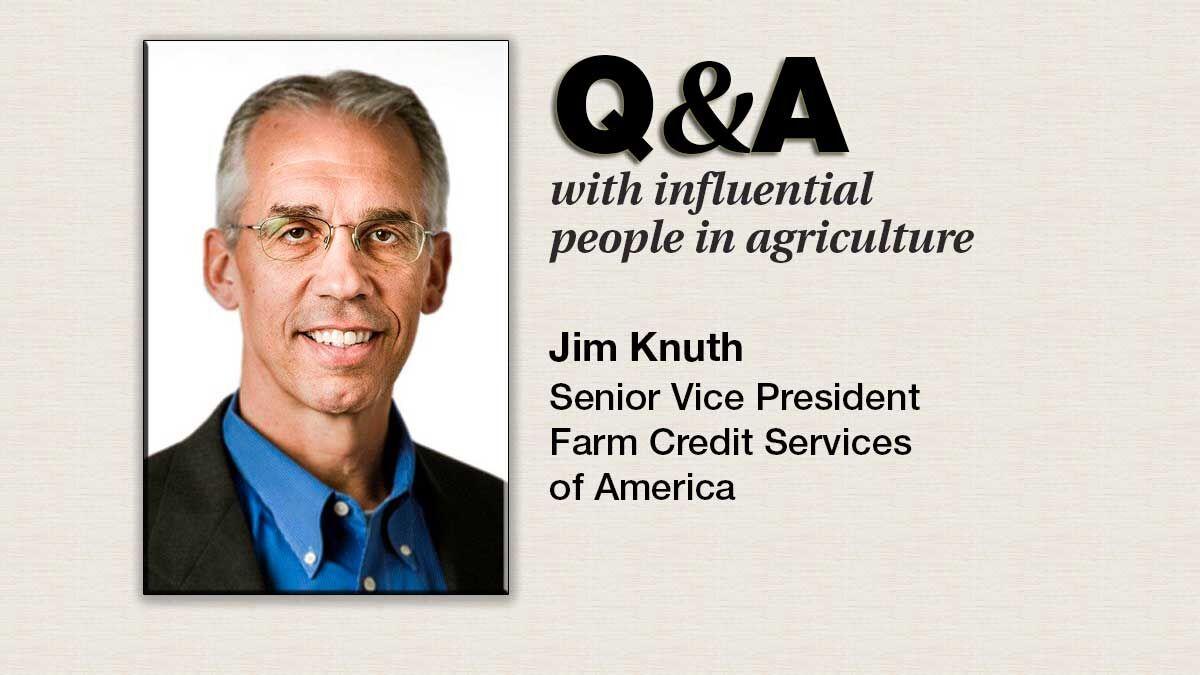 Jim Knuth is senior vice president at Farm Credit Services of America in Perry, Iowa. A native Iowan, he grew up near Rhodes in central Iowa and earned a degree at Iowa State University, where he was a wide receiver on the football team.
IFT: Tell us a bit about yourself.
KNUTH: I have the unusual background of growing up on a cattle ranch in Iowa. My father managed the Pioneer beef cattle ranch in Rhodes in the 1960s and 1970s, and Pioneer had about 1,400 purebred cows on the ranch, which was basically a cow-calf operation. We did a lot of work on horseback. I learned how to dig post holes and string barbed wire. It was typical cowboy ranch work.
After high school I was fortunate enough to get a scholarship to play football at Iowa State University. I traded my cowboy hat and boots for cleats and a helmet. My best memory is catching the touchdown pass in 1980 as Iowa State beat Iowa 10-7 in Kinnick Stadium. For a small-town farm kid that was my Super Bowl.
IFT: How did you get into agricultural finance?
KNUTH: After graduating from Iowa State, I started my banking career in October of 1984. I worked in consumer and commercial banking in Iowa for 12 years, and in 1996 Farm Credit called. They wanted someone with an agricultural background who also understood commercial lending. To make a long story short, I joined Farm Credit and moved my young family to Omaha. For the next five years I led our agribusiness finance division and also started our AgDirect machinery and equipment financing business.
In 2001 my family and I moved back to Iowa and I have been leading our Iowa lending and crop insurance business ever since. All told, I have worked in the banking industry for 37 years and this December celebrated my 25th anniversary with Farm Credit Services of America.
IFT: Tell us about Farm Credit Services and what it does?
KNUTH: Farm Credit Services of America is a farmer-owned cooperative. We are part of the national Farm Credit System. We are federally chartered and regulated. Each association, or locally-owned cooperative, within the national system covers a specific geographic territory. Ours serves the states of Iowa, Nebraska, South Dakota and Wyoming. We provide loans and risk management services, primarily crop insurance. We are the largest agricultural lender in the upper Midwest. We also manage the largest crop insurance agency in the Upper Midwest. We proudly serve 60,000 customer-owners. In Iowa this year we returned $135 million in cash-back dividends to our customers across the state.
IFT: Has the role of Farm Credit Services changed over the years?
KNUTH: Our mission has remained the same but we certainly go about serving agriculture and rural America differently. Today, we offer our customers easier and more convenient ways of doing business with us. This is driven by investments in our technology and digital platforms. That covers everything from electronic account access to Zoom meetings. Another example is our AgDirect business, which enables customers to finance machinery and equipment purchases right from the dealership. In the past year we also launched a digital portal called FarmLend where borrowers can go online 24/7 to start a new real estate loan application.
IFT: How would you describe the farm financial picture today?
KNUTH: Generally very good, especially in the grain production sector. With both the influx of government dollars through pandemic support programs and markedly higher grain commodity prices, many producers are having some of their most profitable years. We have seen a significant increase in working capital which provides agriculture short-term risk-bearing ability. We have also seen operations pay down debt and de-leverage their balance sheets. This combination has put much of agriculture in a healthier financial position coming off the extended down cycle after the ethanol boom years.
IFT: Do you have any concerns about the financial side of agriculture right now?
KNUTH: Our biggest concern is the risky input cost scenario as we look into 2022 and beyond. Also, family living and machinery and other equipment costs are increasing. In many ways, the financial lessons we learned during and after the ethanol boom years apply today. In agriculture, our high margins do not last. High margins tend to happen for short periods of time. Agriculture needs to plan for tighter margins as we look forward.
IFT: Any advice for farmers as they look at their finances?
KNUTH: Know your cost of production and your break-evens. This will be essential to navigating in a tighter margin environment and will help you execute an intentional marketing plan. Also, give careful consideration to expansion and capital purchases. The key is knowing and understanding what your financial position will be after the expansion or purchases. Make sure you still have adequate working capital for your operation and that you do no over-leverage yourself. Agriculture is in a good financial position today. Let's be thoughtful and keep it that way.