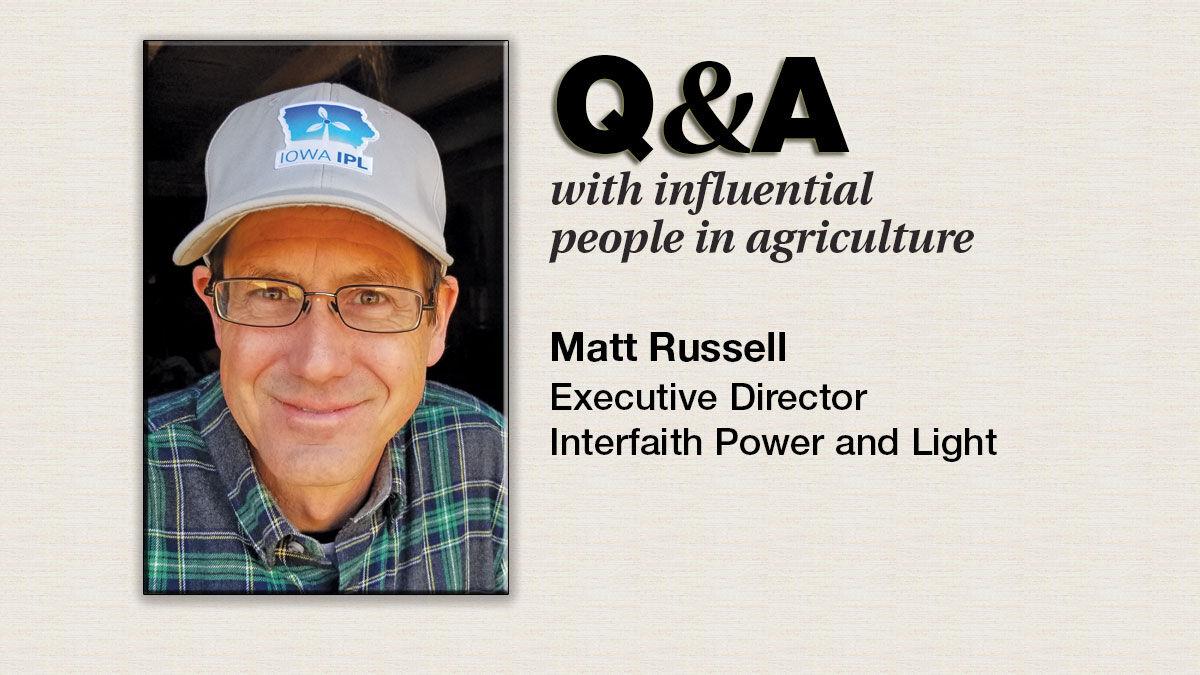 Matt Russell is executive director of Interfaith Power and Light, an organization "mobilizing a religious response to global warming."
Russell grew up near Anita in west central Iowa. He earned a degree at Loras College in Dubuque and attended seminary school in Chicago before stepping away from the church to teach at a Catholic school in Las Vegas. He returned to Iowa and earned a master's degree in rural sociology at Iowa State University, worked at Catholic Rural Life in Des Moines and was a volunteer for the Iowa Citizen Action Network.
From 2006 to 2018 he worked at the Agricultural Law Center at Drake University. Since 2018 he has been at Interfaith Power and Light. He and his husband, Patrick Standley, operate Coyote Run Farm, a 110-acre farm near Lacona where they grow fresh produce, heirloom tomatoes and grass-finished beef.
IFT: What is Interfaith Power and Light?
RUSSELL: We're part of a national movement. It started in 1999 in California with Episcopal Power and Light. Soon it expanded with the idea of working through the faith community to discuss issues such as climate change. There are about 40 state affiliates but each one is a little different. It's great because the structure gives the affiliates a lot of autonomy. In Iowa we intentionally invite farmers to deal with climate solutions.
IFT: Could you explain your approach?
RUSSELL: We are trying to pull farmers together, not to educate or advocate, but just to bring them together to talk about climate. We believe our approach changes the discussion. We listen and ask questions. We don't advocate any specific policies or practices. We put people together in a church basement and have a meal, and we have a conversation.
The conventional wisdom is that farmers won't talk about climate change. Our take is that farmers are really important and they will talk about it if we let them. We can't sideline them. Our approach isn't a Republican or Democrat way. We think farmers are willing to talk about climate but they don't want people telling them what to do.
The key to this is the idea that farmers are problem-solvers. This is a problem. How do we solve it?
IFT: You say farmers are problem-solvers. What are they telling you in these conversations?
RUSSELL: The first thing they are saying is that we need to change the incentives. Look, when we started this effort we knew the presidential caucus season was coming and that opened up an opportunity to talk to farmers and for farmers to talk to policy-makers. Our hypothesis was that if farmers talk to each other first, they could help solve the problem.
The farmers we listened to said they want to do conservation on their farm, but there is little reward for doing that conservation. In the long-term they know they will be rewarded with better soil quality, but in the short term their neighbor doing the wrong thing may get the economic benefit.
IFT: How do you incentivize this? What ideas came out of the meetings?
RUSSELL: One idea would be to tie additional subsidies to some type of performance-based outcome. We have a lot of policy tools but few of them have been used to focus on climate. In Iowa we plant roughly 23 million acres of corn and soybeans every year. And we are planting more. We look at several different ideas. We talk about clean energy on rural land, about reducing tillage, about cover crops or permaculture, about integrating livestock with crops, and about extending crop rotations.
Of course, those are practice areas. There are specifics that should be addressed, but we look at farmer-based ideas. Remember that John Deere didn't develop no-till, farmers did.
IFT: You work on climate issues through the faith community. Why farmers?
RUSSELL: We believe a faith connection to your vocation as a farmer is common. If we could get those farmers to engage in a discussion on climate solutions we thought we could make a difference. This doesn't have to be a Republican or Democrat discussion. Our goal is not to change Republican farmers into Democrats. Our goal is to get farmers to engage with each other on these issues and to use their experience as problem-solvers. You don't have to be somebody else. Who you are as a farmer is who God needs. We're farmers. We manage living systems. We solve problems.
IFT: What does the future hold?
RUSSELL: We're reaching out to rural pastors and connecting them with farmers. In five or 10 years we hope farmers will still be highly productive and profitable, but perhaps the mix of crops will be a little different with a few more small grains or grasses or livestock. There may be more on-farm energy production. Ethanol and biodiesel will still be important.
IFT: Is the next farm bill critical to this effort?
RUSSELL: Absolutely. The question now is really whether farmers will be driving the change or whether they will be reacting. The scaffolding is going to be built. What will it look like?
IFT: You mentioned energy. Could you talk about that a little more?
RUSSELL: Right now we are seeing ethanol being pitted against electric vehicles. We don't see that as the choice. Liquid fuel isn't going away for a while but we are going to have fewer internal combustion engines. We can expand the percentage of the liquid fuel market for ethanol. And we can look at electricity production on the farm (solar panels, wind turbines, etc.). We need farmers to be engaged on this issue. Nothing stays the same. We're always innovating. Remember that the Green Revolution completely changed agriculture between about 1930 and 1950. We believe we're at the beginning of another revolution, one to transition from fossil fuels to another era. For farmers this should be an opportunity.