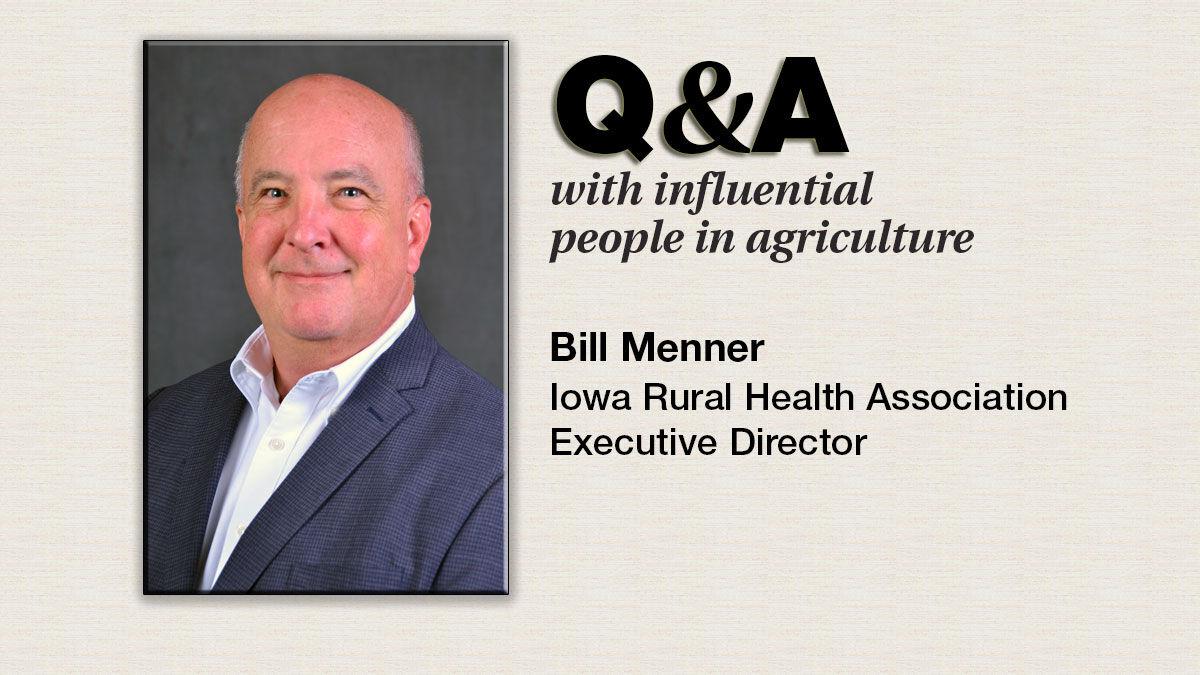 Bill Menner serves as executive director of the Iowa Rural Health Association. He previously served as Iowa's state director of USDA Rural Development under President Barack Obama and also worked as executive director of Poweshiek Iowa Development, a county-wide economic development organization based in Grinnell. He also led downtown development, historic preservation and tourism efforts for the City of Grinnell.
Since leaving the USDA, Menner founded The Bill Menner Group, a consulting firm focused on community development, rural partnerships and economic vitality. Menner is an active volunteer, serving on numerous boards and commissions, including the UnityPoint Health-Grinnell and UnityPoint-Des Moines boards of trustees.
A native of the Cleveland, Ohio area, Menner is a graduate of Ohio State University with a BA in journalism and an MA in political science.
IFT: How do you assess the general state of rural health care in the Midwest?
MENNER: The state of health care in the Midwest — particularly the rural Midwest — is precarious. In Iowa, 20% of rural hospitals were already in some state of financial distress before the pandemic. Steep losses in 2020, despite federal and state assistance, may have pushed them closer to the edge. And nothing has been done to change the reimbursement disparity that exists between urban and rural states when it comes to payments for Medicare and Medicaid costs. On top of that is the challenge of getting health professionals to live and work in small towns and rural areas. It seems everything is lining up against us.
IFT: Are rural hospitals and clinics doing well financially? How big of a burden is the cost of new equipment and technology?
MENNER: Some are doing OK, especially if their patient populations aren't overwhelmingly elderly or poor. But many others are in a fiscal slump, due in part to decisions they had to make during the pandemic to limit elective surgeries and patient access while addressing COVID with staff and new protections. New equipment and technology is something many hospitals are pushing back until things get better.
IFT: What can be done to improve rural health care at the state and federal levels?
MENNER: Reimbursement rates for Medicare and Medicaid patients need to rise, insurance coverage of telehealth needs to align with the payments made for in-person visits, new incentives must be created to encourage health professionals to locate in small towns and rural areas, and more needs to be done to improve the overall health of rural residents — including access to housing, transportation, good jobs and a clean environment.
IFT: Access to mental health care seems to be challenging for rural residents. Is this true, and what needs to happen to improve access?
MENNER: We simply don't have enough mental health providers in our rural areas — from psychiatrists and psychologists to social workers and therapists. There are new programs being developed in the state to train more of these professionals, but it will take time. Telehealth is a key, and making sure those remote services are reimbursed the same as in-person visits needs to be a priority of this legislature.
IFT: How successful have rural areas been in recruiting doctors, nurses and other health professionals?
MENNER: It's tough to get health professionals — doctors, nurses, PAs, PTs, dentists, pharmacists, you name it — to work in rural areas because they typically get paid less than they would in a big city. But there is an upside: lower cost of living, affordable housing, quality of life differences. We need to do a better job of telling that story, and we need to be better at building interest in health professions to students growing up in small towns. They're the ones who are probably most likely to practice there some day.
IFT: What about emergency responders, ambulances, etc? Are we doing enough in rural areas?
MENNER: The Iowa Legislature has been debating rural Emergency Medical Services for several years now. EMS is not considered a critical public service and does not have tax revenues to support it. That is leaving many rural counties without ambulance service, and those that do have it struggling to keep it afloat. Giving it the same status as police and fire would be a start.
IFT: What do you see happening when it comes to rural health care in the next decade? How big of a spotlight has COVID placed on any deficiencies in rural health care?
MENNER: Access remains a challenge. As older health care providers retire, rural areas are finding it more difficult to fill those roles, leading to closed clinics and longer travel times for patients. That's especially true for maternal health care. Expectant moms sometimes have to travel very long distances to see an OB-GYN, and that may put them at risk if there are complications. We need to shore up access to health care, work to make our small towns healthier outside of the hospitals and clinics, and make sure that the way health care is financed makes sense.