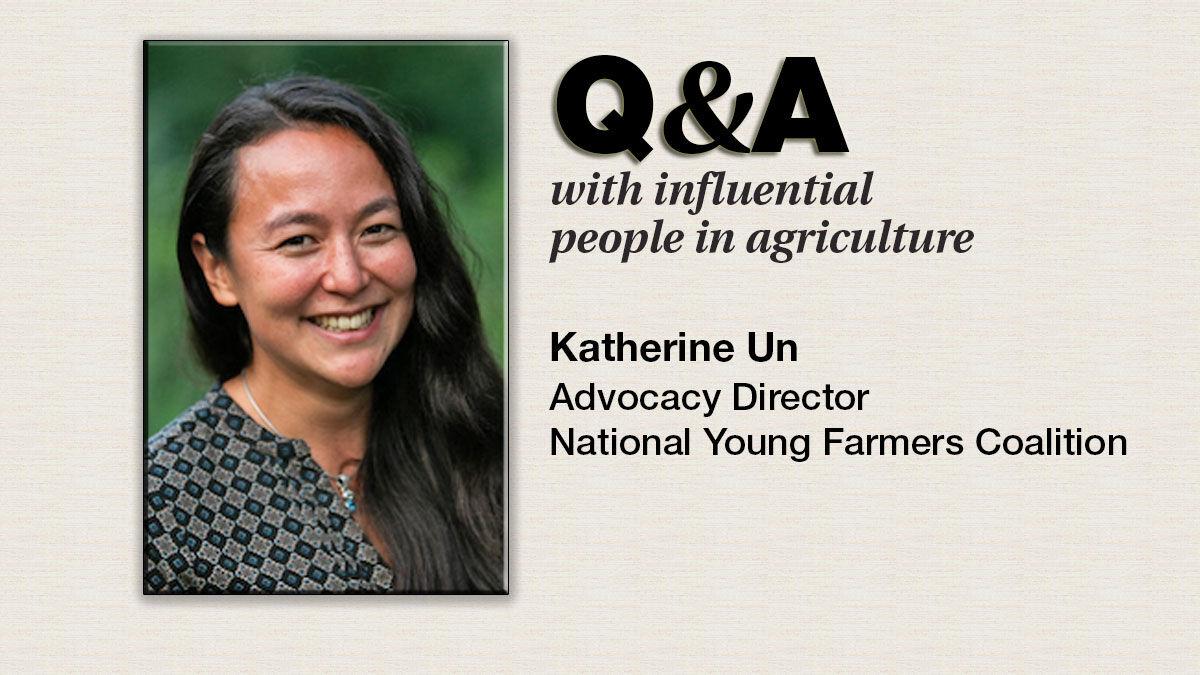 Katherine Un is the organizing and advocacy director for the National Young Farmers Coalition. The group is focused on a nationwide effort to support younger farmers, addressing challenges ranging from land availability and financial obstacles to a focus on combating climate change.
Un discussed a few of the issues they are working on, from legislation to areas where the community can help the newest generation of farmers.
IFT: Farming can be a difficult industry to break in to. What is the most prohibitive factor? Is it cost or land or other factors causing this difficulty?
UN: We see multiple intersecting factors that multiply each other. Land affordability, debt, especially student loan debt, accessibility of USDA programs. Those are all intersecting and making each other worse or difficult for young farmers to get the support they need.
If we had to pick just one, we surveyed 4,000 farmers in 2017 and the biggest struggle if farmers were asked is land access. That encompasses accessibility of land because cost and whether it is well suited or has the right ownership model is a challenge.
IFT: Some young farmers get their start on a family farm as it's difficult to get started. How can we make it easier for young farmers to get started with their own operation?
UN: That's interesting because it might be a bit of a misconception that folks get started on their family farms. Because in that survey, 75% of young farmers told us they did not grow up on a farm or in a farm family. We go off the assumption that most farmers don't have that support.
With it being so complex to support young farmers, we operate our advocacy on five pillars: land access, climate action, immigration and labor, student loans and USDA accessibility. That's with a racial equity lens that intersects it. I think you really need concerted action from the policy level to support young farmers.
IFT: When you are seeing new farmers joining the workforce, what kinds of operation are they running?
UN: We see many running diversified farms. Vegetables, fruits — produce you could sell at a farmers market — and livestock.
IFT: Many farmers discuss the importance of being involved in commodity groups or other organizations. For younger farmers, are there benefits to getting an early start on that involvement?
UN: The one benefit I would highlight is community support. It's both for peer to peer learning and also emotional support. Farming is such a difficult field, and it has all these ups and downs, so knowing you are not alone is so key. That's the same community that is going to empower these farmers to become leaders.
We have a chapter structure that's geographically based, so farmers from certain areas will build those relationships. They used that chapter structure to share support during the pandemic and share what they were hearing and what folks were doing or start business ventures together. It showed their passion and resiliency and dedication to keeping people fed.
IFT: You talked about support. Mental health has grown in conversation in recent years. What can we be doing better in that aspect for the agriculture community?
UN: My hope is that we can get structural change so farmers feel confident and supported in this industry they've chosen. It's precarious and difficult, so my hope is that we get the policy environment we need for young farmers to be able to go out there and feel supported.
IFT: How do we see the future of farming changing? Do we expect continued challenges or is there a bright future out there for a young farmer?
UN: We don't have a choice but to imagine a bright future for agriculture, I think. It's the field we chose. We don't want to see our own demise, but also it's conversations I wish we could have every day with farmers. I wish the only conversation we had to have was about the vision for agriculture. We need agriculture and food systems that can respond to the diversity we have in the U.S. Farmers are so innovative and creative.
There are two hopes about the way I want to see our agricultural systems go. My hope is for equity and sustainability. By equity, I mean just an agricultural system that acknowledges and corrects for the under resourcing and underserving going on in communities of color, queer communities or other identities that are being underserved. For sustainability, it's being able to answer the challenge of climate change through agriculture and also have an agriculture that is resilient to the challenges that we are going to be facing.
IFT: When they are young farmers, they are building habits and your group is big on promoting sustainable farming practices. What are the practices you would like to see adopted and for those looking into new practices, what are the easiest to start with?
UN: When we talk about diversity in our country, I mean it across the board. Our country has so many specific ecosystems and each of them have their particularities. We have many different farming communities with their own knowledge, histories and practices. A sustainable agricultural future is one that supports a variety of resilient and sustainable practices that can cater to and feed this incredible diversity.
Practices I'd like to see adopted more go back to learning again from our elders in agriculture and learning practices that existed historically in this country. Not just thinking within the boxes of sustainable agriculture that are presented today. Another is listening deeply to the communities that we want to feed and their needs so we can adapt to that.