If you're looking for flavor, you've come to the right place. This recipe layers ingredients with tons of taste and texture into a satisfying main-dish salad that your friends and family will rave about. Trust me.
It all starts with an inexpensive cut of beef and a strongly flavored marinade. Flank steak doesn't often get its due. A somewhat tough cut, flank needs to be cooked and cut a certain way (which I'll get to in a second) in order to bring out its juicy, beefy character. Here, I marinate the flank steak in vinegar and Dijon mustard to tenderize and also add a bit of additional sharpness to the final dish.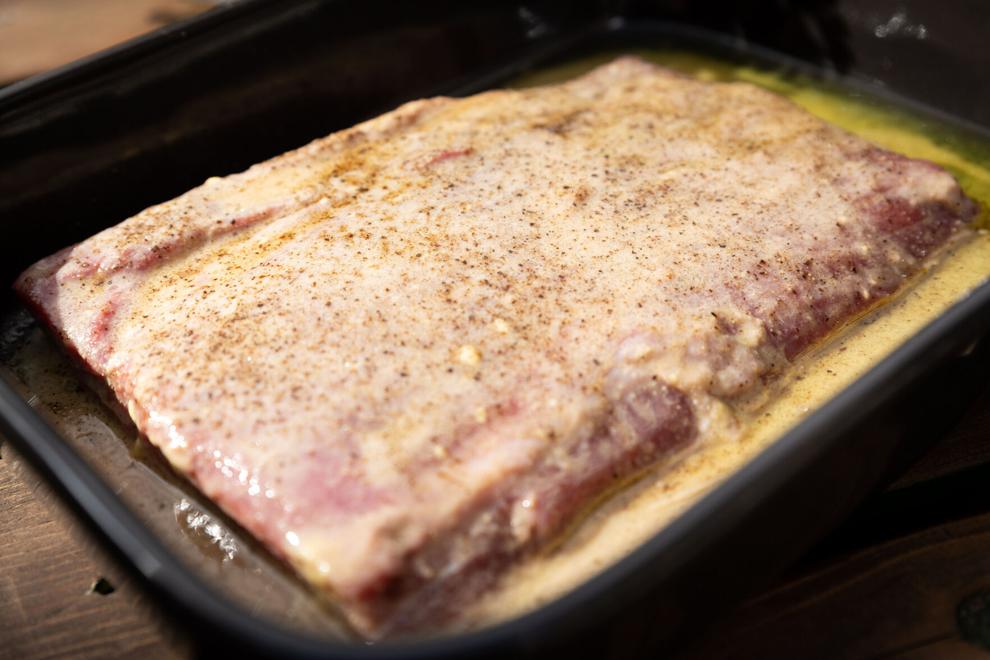 While the steak rests in the marinade, make your chimichurri by chopping and tossing together all of the ingredients. Don't bother with a food processor — chop it all with a good chef's knife and stir in a bowl to marry the ingredients. The keys here are the oregano and the parsley — I added the cilantro because I enjoy the flavor. If you want to leave it out, that's fine. I also sub in fresh lime juice for the traditional vinegar, preferring the floral aroma and gentle acidity of lime in this application.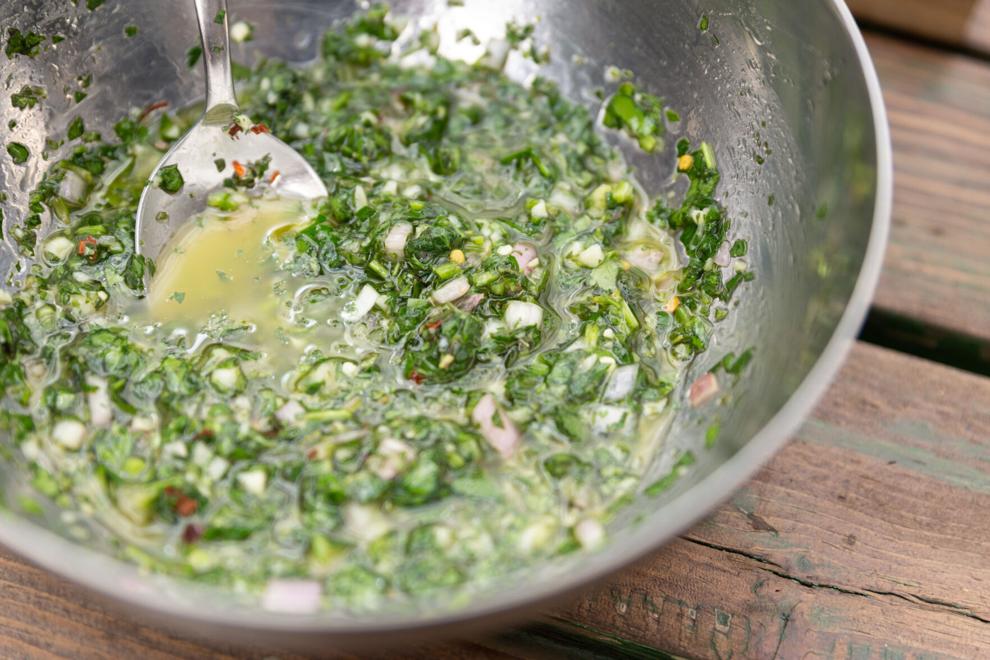 The cooking method here starts gentle and finishes hot. You want to cook the flank steak through to just about medium, but you also want a good crust to form. In order to do that, if you're on a gas grill, start the steak at medium heat and allow it to cook until just about finished, and then turn up the heat, allowing the steak to sear on both sides. If you're on a charcoal grill, create two zones and start the steak on the cooler zone, moving it directly over the coals to finish.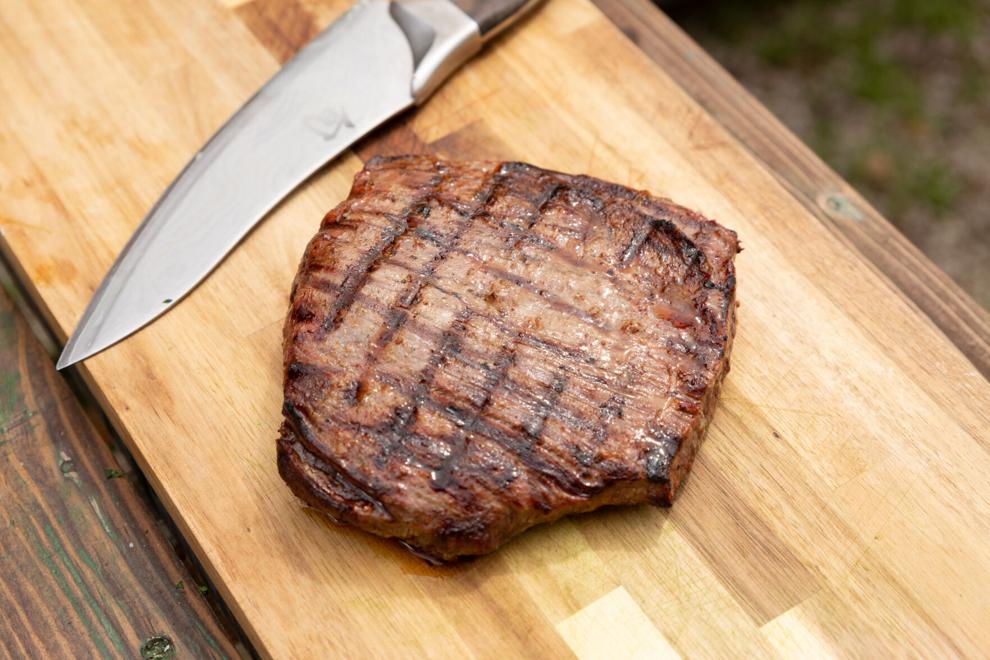 Be sure to allow your steak to rest for 10 minutes before slicing … it isn't easy to wait, but you'll be rewarded with juicy results. The final tip to making the most of flank steak is to cut it very thinly, at a 45-degree angle, on the bias, which means that you need to cut against the grain of the meat. This will give you beautiful ribbons of tender flank steak. Pile those slices atop creamy fresh mozzarella and sweet cherry tomatoes and then drizzle with your herbaceous chimichurri. It's summer on a platter.
Flank Steak Salad with Chimichurri
Recipe by Catherine Neville
Yields: 4 to 6 servings
Flank Steak
½ cup neutral oil, such as grapeseed
¼ cup red wine vinegar
1 Tbsp Dijon mustard
½ tsp salt
¼ tsp freshly ground black pepper
1 flank steak (about 1½ lbs)
Chimichurri
3 garlic cloves, minced
1 medium shallot, minced
1 serrano chile, seeded and minced
¼ cup finely chopped fresh parsley leaves
3 Tbsp finely chopped fresh oregano leaves
2 Tbsp finely chopped fresh cilantro leaves and stems
2 Tbsp freshly squeezed lime juice
½ tsp salt
½ tsp crushed red pepper flakes
½ cup extra-virgin olive oil
Assemble salad
1 package (1 pint) cherry tomatoes
1 ball (8 ounces) fresh mozzarella cheese
freshly ground black pepper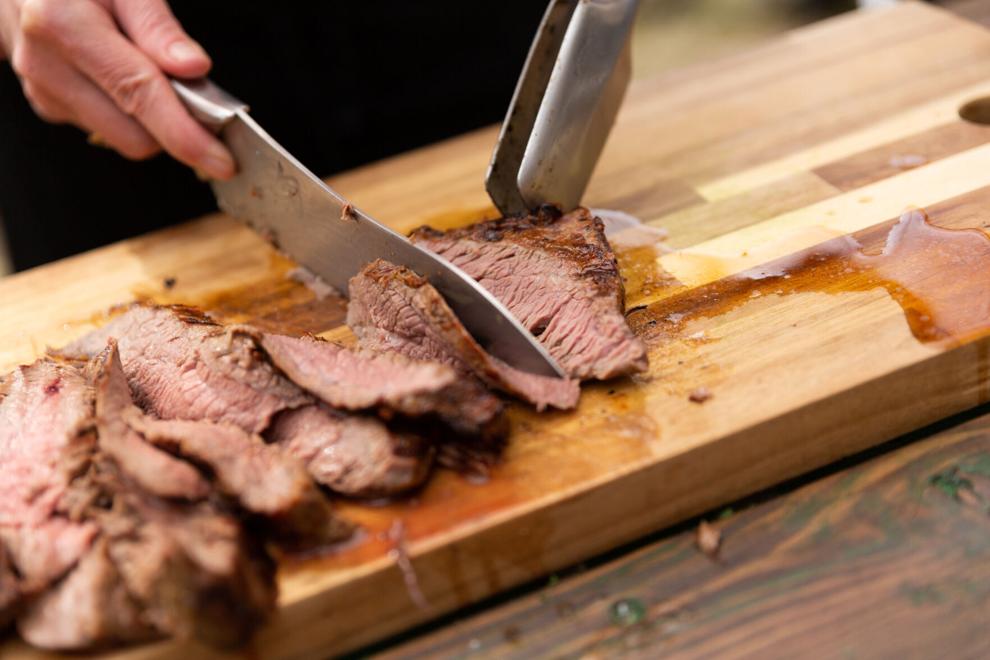 | Preparation | Prepare Flank Steak: In medium bowl, stir together oil, vinegar, mustard, salt and pepper; pour marinade into zip-tight plastic bag. (Set aside bowl to use later.) Add steak to bag; seal tightly, removing any excess air. Turn bag to coat steak in marinade. Let stand at room temperature 15 to 20 minutes.
Meanwhile, prepare outdoor grill for direct grilling with half of grill set up over high heat and the other half prepared for medium heat.
Prepare Chimichurri: In same medium bowl, stir together all chimichurri ingredients except for oil. Drizzle in olive oil, stirring until all ingredients are thoroughly mixed. Add additional salt to taste, if desired; set aside.
Remove flank steak from marinade allowing excess to drip off. Grill over medium heat about 10 minutes, turning once halfway through cooking. Transfer steak to high heat; cook to sear and caramelize both sides, turning a few times to make sure steak does not burn. Transfer steak to cutting board; let stand 10 minutes to rest.
Assemble salad: While steak rests, cut each tomato in half; tear mozzarella into bite-sized pieces. Thinly slice flank steak crosswise and on the bias. On large serving platter, add tomatoes, mozzarella and steak slices, and drizzle with chimichurri sauce. Sprinkle with freshly ground black pepper to serve.