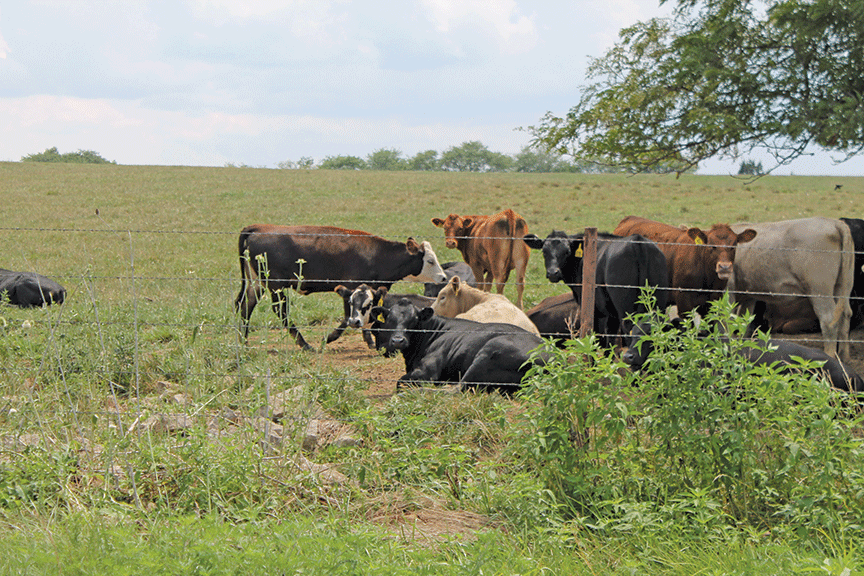 Craig Roberts says his hay and pasture updates throughout this summer have unfortunately been very consistent. Roberts, a University of Missouri Extension agronomist, says it has been a challenging year for the forage situation, even with a few rains moving through in August.
"I'm not sure what else to say, they don't look very good," he says. "In general, pastures are burnt up."
Valerie Tate, an MU Extension agricultural specialist based in Linn County, says the drought has hit her area hard.
"We are extremely dry in northwest and north central Missouri," she says. "We have been on the D3 classification on the Drought Monitor for weeks now, about a month."
Tate says her area has received about half its normal rainfall over the last 12 months, as well as other weather issues.
"Our hay crop was short this spring because April was cold and May was hot," she says. "Many people are feeding hay already. A lot of ponds have gone dry. A number of individuals have chosen to cull cows."
Roberts says there's not a lot producers can do unless they get some rains, but one option is sowing in a winter annual to try to boost fall forages.
"If a pasture is nearly dead, and we've got some fields like that, it can be sown into a winter annual — if there's nothing growing," he says.
Producers can consider sowing oats, which Roberts says provide grazing up until around Thanksgiving. They could also sow winter cereal rye or wheat.
Roberts says they can sow these sometime in the month of September. Another option is fall-grazing alfalfa, although he says it needs to rest before the frost to store up carbohydrates, usually about 28 days. So if producers are expecting a first frost around Oct. 20, they stop grazing the alfalfa in late September.
Farmers can also fertilize pastures, although Roberts says with fescue pastures they should aim for around 40 pounds of nitrogen instead of 80. Putting on too much nitrogen can boost the fescue's toxicity.
"If you hit it with too much nitrogen, it will produce fairly high levels of toxin," he says.
Many producers have been chopping corn for silage, both due to the forage shortage and projected lower corn yields.
"When you don't have any feed, it's pretty good," Roberts says. "In addition to the stalks, there's a lot of leaf material on corn."
He recommends cutting the corn a little higher up to improve the leaf-to-stalk ratio. Also, with corn pulling nitrates up from the soil in a dry year, cutting higher reduces the amount of nitrates in the corn that gets chopped.
Tate says the process making the corn into silage can help reduce the nitrate levels.
"Ensiling does reduce the nitrate level by 25 to 50 percent," she says.
Tate says high nitrate levels can cause a variety of health problems for cattle, and MU's lab can test silage samples for nitrate levels for $12.
Roberts says rains will help, but it will take time for pastures and hayfields to recover.
"I'm expecting a forage shortage into the fall," he says. "… We're going to be behind the eight ball. If we graze it as hard as we do, we graze off the leaves, and those are the solar panels for the grass. They control photosynthesis. The bounce back is slow when we hammer pastures like that."
Tate says tall fescue is "very drought tolerant," but it can go dormant and needs significant rain to become productive again.
"If a pasture's been grazed very severely, or down to a short residual height, and a lot of it has because producers didn't have any other option, it will take longer for that plant to recover," she says.
Some scattered rains have helped a little, but it hasn't been nearly enough for much of the state.
"I've just not heard of very favorable rains," Roberts says. "That northwest corner of Missouri, there's just nothing."
Tate is hopeful some August rains will lead to better fall grazing.
"With some rainfall, we're hoping for a good fall for forage growth and some stockpiling," she says.