On his way home from the National Pork Board meeting in Phoenix, Ariz., Scott Phillips paused to reflect on the state of the pork industry and the year ahead.
Phillips, who farms in Cass County in west central Missouri, near Drexel, thinks it could be an eventful year.
"This is a great industry," he said. "This industry presents great opportunities and challenges. Sometimes we focus on the challenges, but there are great opportunities."
Phillips said these opportunities include chances to expand in recent years.
"We've had consecutive years of 3 percent growth," he said. "It's nice to be in growth mode."
Phillips was able to expand his operation in recent years, increasing his herd size and facilities. As for knowing when to expand, he said it's good to evaluate your operation and the economic landscape.
"You have to know what's going on, and know where you're at," he said.
There are ups and downs, Phillips said. When times are good, producers expand, and production goes up, which can drive prices back down.
"(Retired University of Missouri ag economist) Ron Plain said it best, we just can't stand prosperity," Phillips said with a laugh.
Phillips said disease issues are a key challenge for the pork industry in 2019.
"The looming challenge on the horizon is the possibility of bringing African swine fever into the country," he said. "We really don't want to do that."
To keep it out, Phillips said the U.S. needs good biosecurity and border security, being careful about what food and feed ingredients get imported from China. Last year, the Pork Board met in Seattle and discussed disease security efforts at ports of entry into the U.S.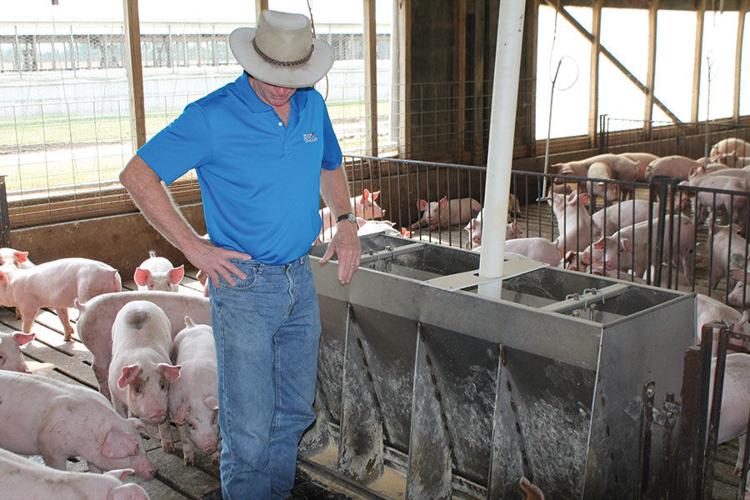 The other key challenge this year will be the ongoing tariff and trade battles, particularly with China, Phillips said.
Of course, he said the good and bad industry drivers for the coming year might be things producers aren't even thinking about right now.
"Sometimes, it's not even the challenges that we perceive in January that come back to affect us," Phillips said. "And these challenges, they can present opportunities."
Scott Brown, an ag economist for the University of Missouri, said the expansion in recent years plays a role in prices, although demand growth could offset it.
"Yet another year of expanding the meat supplies means we have to grow demand to keep these prices," he said.
Brown said producers can find opportunities in the market.
"It's all about risk management," he said. "There's a lot of sideways in these markets. That doesn't mean there's not opportunity. Use risk management tools to guard against low prices."
Whatever happens, Phillips remains hopeful about the long-term future of the industry, and he loves what he does for a living.
"I'm optimistic about the industry," he said. "I love being a pig farmer. I go into the new year with enthusiasm and excitement."