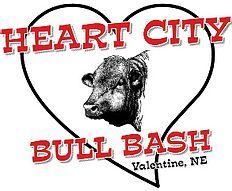 This year marks the 20th anniversary of the Heart City Bull Bash. The popular one-day event is scheduled for Saturday, Feb. 13, in Valentine, Nebraska.
Depending on the weather, there could be 5,000 attendees, organizer Bradley Cardinal said.
"The objective when we started was to provide a showcase for local purebred breeders," he said. "We wanted to do it in a fun way, in a small town event."
For the entire day, Valentine closes down its Main Street and sets up bull pens down the center of the thoroughfare. Breeders bring in Angus, Herefords and Charolais cattle and show them off to the public and potential buyers.
"Producers can bring in a handful of bulls," Cardinal said. "So far, we have 20 producers attending this year."
There are area breeders from Nebraska, such as Gierau Herefords of Springview and Pilakowski Angus of Arthur, as well as out-of-state breeders like Hewson Angus of Buffalo, South Dakota and Ernst Herefords of Windsor, Colorado.
In addition to bulls, a couple of heifer breeders will be on hand. Diamond Lazy J Ranch of Nenzel, Nebraska and Dusty Prairie Ranch of Bartley, Nebraska, will be showcasing their cattle.
Cardinal said there are 18 commercial vendors registered for the show, as well. The represent feed companies, implement and vehicle dealers, as well as veterinary pharmaceutical companies, he said.
Among the companies expected to have booths at the show this year will be local businesses such as Tehrani Motors and Rio Nutrition, along with a couple of area firms including Open 6 Fence of Wood Lake, Nebraska and Plains Equipment of Ainsworth, Nebraska.
Sponsors include Plus One Industries, Zoetis and Purina.
"We believe in the 4-H and FFA youth develop programs and the livestock shows that provide the opportunity for youth to exhibit their projects," said Mark Tucher, Show & Pet Marketing Manager for Purina and Land O'Lakes Inc. "Purina Animal Nutrition is proud and honored to partner in this event for the youth of America."
Local FFA Chapters will be competing in a livestock judging competition. College students will participate, too. The contest will be held at the Valentine Livestock Auction building, Cardinal said.
Previously, local banks and wineries had hosted a wine tasting event. Due to COVID restrictions, this event will not take place this year. The restraints are also affecting the arts and crafts show, but there is an effort to hold this event with modifications.
There will still be the annual 4-H raffle. Local businesses donate items for the 4-Hers to raffle off, Cardinal said. In addition, the organizers have come up with other young kid-friendly events, like a dummy roping competition.
"The Bull Bash is a good family event for a small town," Cardinal said. "It's mutually beneficial for cowboys and local commerce."
Jon Burleson can be reached at jon.burleson@lee.net.