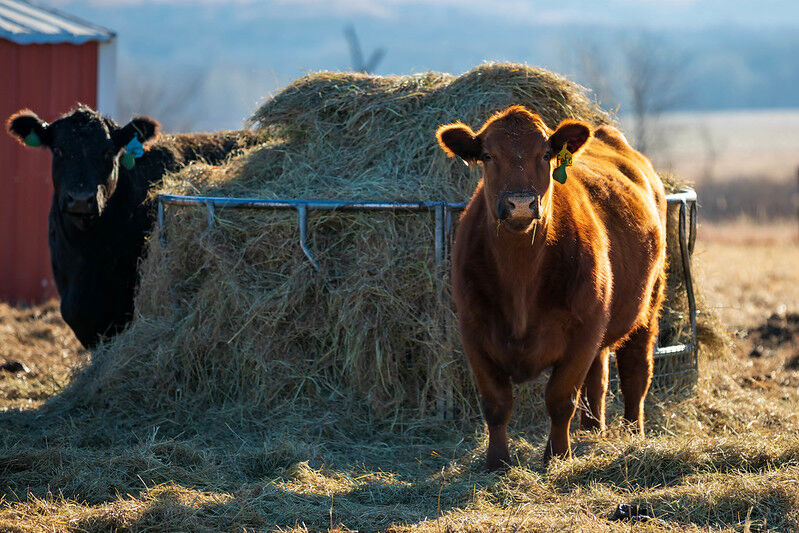 As the holiday season gatherings begin, many are seeing those bathroom scales numbers adjust in a less than favorable direction. However, for pregnant heifers that are too thin, late fall is a good time to make dietary adjustments ahead of spring calving, said the experts at Kansas State University's Beef Cattle Institute.
Speaking on a recent Cattle Chat podcast, veterinarian Bob Larson talked about the needed weight gains so that the heifers calve in the right body condition.
"The target is to have the heifers gain a pound or pound and a half per day," Larson said.
With that amount of daily gain, beef cattle nutritionist Phillip Lancaster added: "At calving, those heifers should be at 80% of their mature weight."
The need for supplementation will be influenced by the quality of the hay that they are eating, he said.
"If the hay was put up before there were seed heads, it is probably good quality, but if it was more mature at the time of cutting, then producers will want to get the hay tested to know what they are feeding," Lancaster said.
The type of grass that the hay comes from also makes a difference in its nutritional quality, said the experts.
"Hay made from a cool season grass will likely have enough protein in it to meet her nutritional needs, but warm season grass hay may be borderline for protein and could require supplementation," Lancaster said.
Soybean hulls, distiller's grains or wheat middlings are good choices for supplements, according to Lancaster.
If heifers are too thin there are associated health challenges, Larson said.
"Once they are pregnant, the dam's body will give the calf what it needs nutritionally so even if she becomes thin, she will maintain her pregnancy," Larson said. "However, heifers that are thin at calving are more likely to have calving difficulties and are slow to resume fertile estrous cycles."
Lancaster added: "Mid-pregnancy is when a heifer is at her lowest nutritional needs, so if you want to put weight on her, this is a great time to do it."