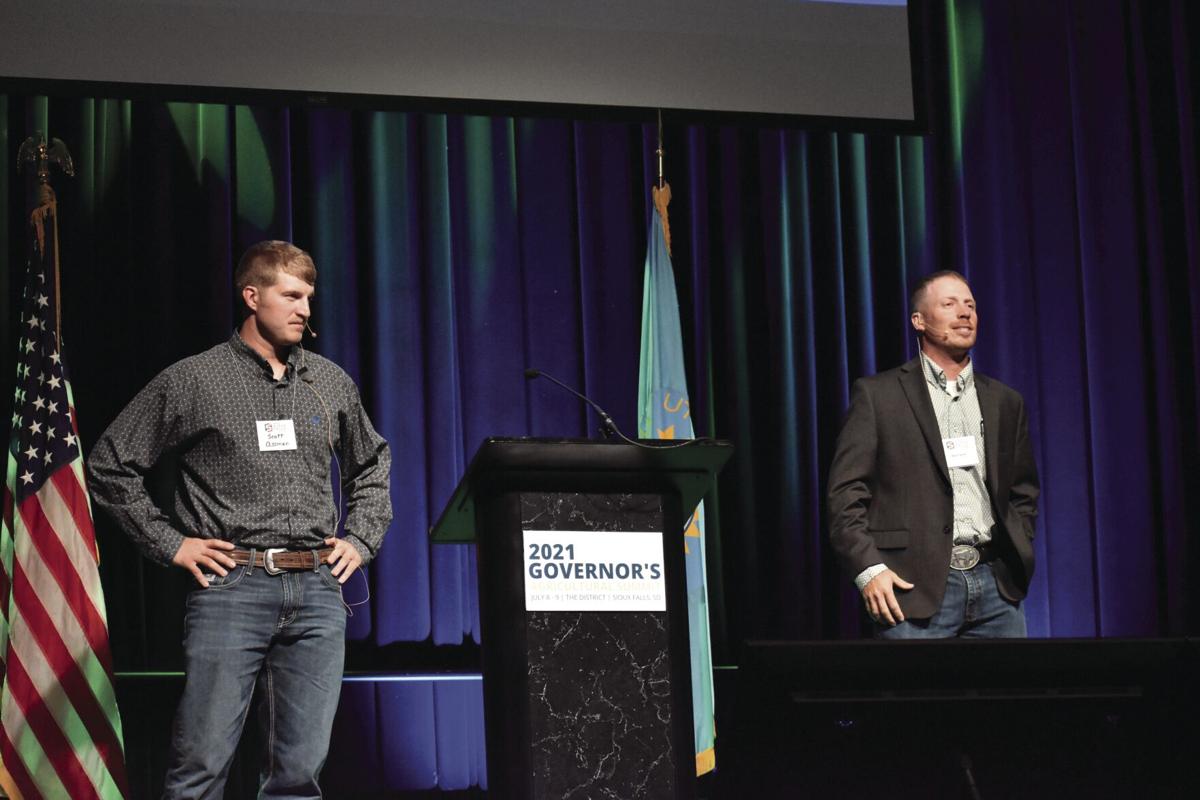 From a dream in late 2019 and through a full-blown pandemic, Dakota Pure Bison has weathered the storm and come out in a unique position in the industry as one of the nation's leading bison meat suppliers.
Raised locally in the heart of the Rosebud Indian Reservation, Scott Assman and Alex Heim are the faces of the two-family Dakota Pure Bison partnership. The Assmans and the Heims work together with the entire family getting involved with a nearly 1,000-head herd of bison that they market and process in the U.S. to ship around the country.
Scott and Alex spoke at the South Dakota Governors Ag Summit in Sioux Falls July 9 on how they began their business and how they transitioned into online sales during the pandemic.
The partnership began in 2016 when the Assmans took the plunge into raising bison after many years in the beef industry. As beef cattle prices fell, Scott believed there was an opportunity for a bison herd in their area. Today, the Assman side of Dakota Pure Bison is run by Scott's parents, Mike and Darla, as well as Scott and his wife Kaytlen.
For the Heims, bison have been in their DNA since Alex's grandfather Ignatius purchased his first bison in 1967.
"I was always around them growing up but we didn't always have them on the ranch," Heim said. "I remember when I was younger, people thought buffalo meat was like chewing on your boot. We've come a long way in the perception of buffalo meat."
The Heims were back into bison around the time the Assmans transitioned and the two families worked closely to help one another. At the time, Heim said, bison byproducts had strong value in pet food markets.
"We've had the volume and about the time the Assmans got in around 2016 and 2017, the market was very strong," he said.
In late 2019, as the market started to wane slightly for the pet food industry and the value became more focused on consumer sales, the Assmans and the Heims partnered together for Dakota Pure Bison - a direct-to-consumer business.
Getting social with consumers
The most instrumental part of the Dakota Pure Bison business model, Assman said, has been their social media presence. Since deciding on a direct-to-consumer route during the pandemic selling boxes of specific cuts of bison meat, Scott and Kaytlen have worked closely to create both the website and their social media platform.
"We jumped through all those hoops and shipped our first box in July (2020)," Assman said.
After a full year in business, Dakota Pure Bison has shipped boxes to all 48 continental states and has two trucks that sell bison meat locally around South Dakota.
As they've grown, so has their YouTube and Twitter presence. It's taken some getting used to.
People want constant updates on what you're doing, Assman said: "That is not the kind of people we are."
But as they've shared their story, they've been able to expand their business.
Dakota Pure Bison is essentially a "story sharing" business, Heim said, addmitting he didn't have a Facebook account when the business got started. Now he sees it allows consumers a direct look into how their meat is raised, by stewards of the land. People are able to purchase the meat with a clean conscience that the animals aren't being treated inhumanely.
With the videos and live updates on the farm, Heim said that they've been able to maintain a face-to-face connection with their consumers.
"They think they know us and that's great because we'd love to get to know them," he said.
Since the business began, Dakota Pure Bison has had its animals processed in various facilities – from Sturgis to Wisconsin, 572 miles away.
Now they're working to purchase the old Budweiser facility just off of Interstate 90 in Chamberlain and will convert it to a processing facility for their bison and other animals.
"Our whole goal is to get people back to consuming American beef," Assman said.
Raising the herd
Dakota Pure Bison's herd accounts for roughly 10% of all bison raised in the U.S. annually.
On pasture, Assman said their rotational grazing techniques are rooted in regenerative practices that are natural for bison.
"That's what rotational grazing is, mimicking that movement bison did hundreds of years ago," he said.
With four herds and 10 pastures at the main location, they utilize anywhere from a 65-95 day rest period per pasture. They've seen improvements in their grasses in the last five years ago.
"Seeing those native grasses that have never been tilled is happening a lot quicker than I thought it would," Assman said.
Their bison are grain finished in relatively large pens. The finishing space amounts to 750 square feet per animal.
"It's amazing what you can accomplish practicing that good animal husbandry," Heim saidd. "The bison is a wild animal but when you see them they do kind of look like a pet, but one that needs to be respected greatly."
Jager Robinson reports for Tri-State Neighbor from southeastern South Dakota. Reach him at jager.robinson@lee.net.