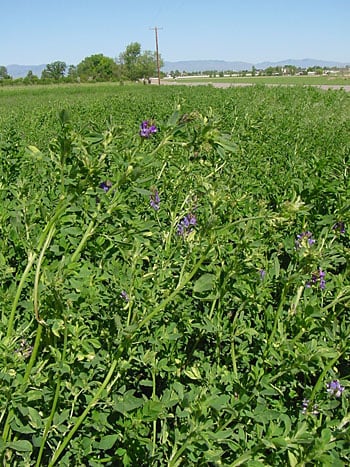 Alfalfa is a relatively drought-tolerant forage, but irrigation makes it possible to produce higher yields. This perennial crop does not have specific critical growth stages when it is less sensitive to water stress. If water is not available, the plant will slow or stop growing and go dormant. Then, when water becomes available, growth resumes.
Alfalfa has a longer growing season, and it uses more water annually compared to other crops. However, you can over-water alfalfa resulting in plant injury and possibly weed invasion. Maintaining water use efficiency can be complicated due to multiple harvests preventing irrigation for about 7 to 10 days per growth cycle and frequent heavy equipment traffic compacting soils. To reduce compaction, stop irrigating 2-3 days before cutting the alfalfa and irrigating again when alfalfa regrowth begins. Heavy irrigation of alfalfa stubble may encourage weed growth.
Irrigation scheduling efficiency can be improved with using ET gages and/or soil moisture monitoring technology. Accurate weather forecasts can also allow growers to take full advantage of rainfall events and reduce irrigation applications.
Now that our summer temperatures and growth rates are increasing, daily water use is also increasing. Generally, the most yield impacting irrigation occurs just before the second cutting followed by the third and fourth growth periods typically requiring 6 to 7 inches of irrigation. Peak water usage is about 1/3 inch per day in July and August. However, hot, windy and dry days can move the maximum water demand up to ½ inch per day; so ET scheduling can provide economic benefits.
For more details about alfalfa irrigation, visit our UNL website: https://water.unl.edu Our NebGuide, G1778, "Irrigation Management and Crop Characteristics of Alfalfa" is a free useful resource.